10 Pantry Staples For Easy, More Flavorful Meals
Happy Friday! I thought it might be fun to talk about kitchen staples. And I mean things beyond butter, eggs, kosher salt, etc. More along the lines of things I personally can't live without. I think if you asked 100 people this question, you would get 100 different lists, and that's what I love about it. What do I always have on hand, and why? Come to my house, snoop through my kitchen, and here's what I guarantee you'll see:
1. San Marzano Tomatoes – These are the best canned tomatoes available at most grocery stores. Sure, they cost a little bit more than some of the bigger brands, but they are so worth it. There's only super-ripe, perfect tomatoes included in these cans. They are great for makingsalad dressings and soups, and the best, easiest meal around? Follow the recipe on the back of the can for a quick marinara that can't be beat. Add pasta. Eat.
2. Sriracha & Sambal Oelek – It's not an either/or option for me. I must have both. Sriracha has a bit of a sweet and vinegar-y thing going on along with the spiciness, and sambal is just the heat. They're both good on/with/in eggs, stir fries, macaroni and cheese, soups, potatoes,roasted chicken and a million other things.
3. Maldon Sea Salt – I know, I know, salt is bad for us. But, a little sprinkle of flaky, crunchy sea salt on eggs won't hurt anyone. This salt is also great for baked goods – I sprinkle it on chocolate chip cookies and salted caramel cupcakes.
4. Applegate Naturals Sunday Bacon – I didn't really have a brand preference on bacon before I discovered this brand. As somebody who went through a weird phase for awhile where I just stopped liking bacon (for no good reason) and refused to eat it, I didn't think I would ever really love bacon again. But I do love this stuff. It doesn't just taste like salt and fake smokeflavor
. It tastes like meaty, porky, smoky, bacon goodness. It cooks up somewhere between crisp and soft, which is just where I like it. This stuff is good to eat on its own with a weekend brunch, or chopping up as part of a pasta sauce.
 5. Fage Total 2% Greek Yogurt – I'm a total Fage die-hard all the way. Sure, it's fun to pronounce (Fa-yeh!), but I personally like the flavor of it the best of all the brands I've tried. It's the perfect topping to dollop on sweet potato cakes and roasted beets. I think when it comes to Greek yogurt, you're in one of three camps – you like Fage, Chobani, or you're some hipster who likes another weirdo brand. Or, maybe you're like my friend Laurie and you make your own! I'm too lazy for that. I just buy Fage.
 6. Nielsen-Massey Vanilla Extract – Again, this will cost more than your average vanilla extract (seriously, my grocery bill is out of control), but I really think that you get what you pay for here. Especially in an item where vanilla is the main/only flavor (vanilla ice cream, crème brûlée, cake frosting, etc). It has such an intense and delicious vanilla flavor that I have no problem paying a little extra to keep it around.
7. Capers – These are basically just salt. I'm starting to realize that a good deal of this list is salty things. But hey, you have to season your food – we've been over that. Capers are just little balls of briny, salty awesomeness. I put them in pasta dishes mostly, but also in salads, on pizza, and Greek shrimp bruschetta.
8. Fresh Herbs – It can get a little expensive to keep fresh herbs around all the time, but I try to wash them and store them wrapped in damp paper towels so they stay fresh longer. I also grow as many as I can on my own in the summer. I think they're important to keep on hand, because they make even the simplest dish seem special and "finished." Fresh parsley is such an all-purpose herb, but I use a ton of cilantro, thyme, rosemary and basil as well.
9. Canned Black Beans – The ultimate food to make a quick meal out of. Put them in tortillas with some veggies, and you have vegetarian tacos. Stir them up with some salsa, put a fried egg on top, and you have huevos rancheros. Best of all, they cost like 70 cents a can. When you think you don't have the fixings for a meal – if you have black beans around, you do!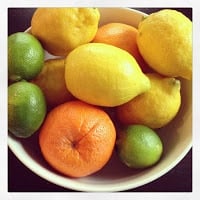 10. Citrus Fruits – Of course, it's obvious that I love lemons. But I probably love limes and oranges almost equally. They're nature's best source of acid to season your food with. If you have a microplane, free flavor is yours in the form of citrus zest. You can add lemon juice and zest to soup. You can put lime juice in salad dressing. You can put orange juice and zest intoorange chicken. I'm 100% serious when I say that citrus is nature's miracle. I wouldn't want to live in a world without it.
What are some of your personal can't-live-withouts? You don't need to list 10, but just a few of your favorites – those things that are always in your cupboards, fridge and freezer.