My 20 Favorite Home Chef Recipes For The New Year
Happy New Year, my friends! I hope you had a healthy, happy and restful holiday season. I certainly did, especially the restful part. I read books, started my annual Oscar movie watch-a-thon, cooked recipes I'd been meaning to try forever, napped, and cuddled #oneflops. I'm back in the test kitchen and photography studio this week, working on a few new healthy recipes (that I'll be sharing next week, so be sure to check back), as well as a whole slew of fun party food (psst – #FLLEpicGameDay starts January 15th!).
Until then, I wanted to collect a bunch of my favorite vibrant, fresh and healthful recipes, and corral them all here for you for easy meal planning. Whether you're looking for whole grain breakfasts, veggie-forward lunches, colorful smoothies or lean but satisfying dinners, I hope that you'll find something you love on this list!
*Breakfast*
Vanilla Bean Latte Overnight Oats
Slow Cooker Overnight Carrot Cake Oatmeal
Make-Ahead Breakfast Grain Bowls with Turkey Sausage Meatballs
Lemon Cardamom Coconut Granola
Everything Bagel Quinoa Cakes with Smoked Salmon & Crème Fraîche
*Lunch*
Warm Sautéed Apple & Lentil Salad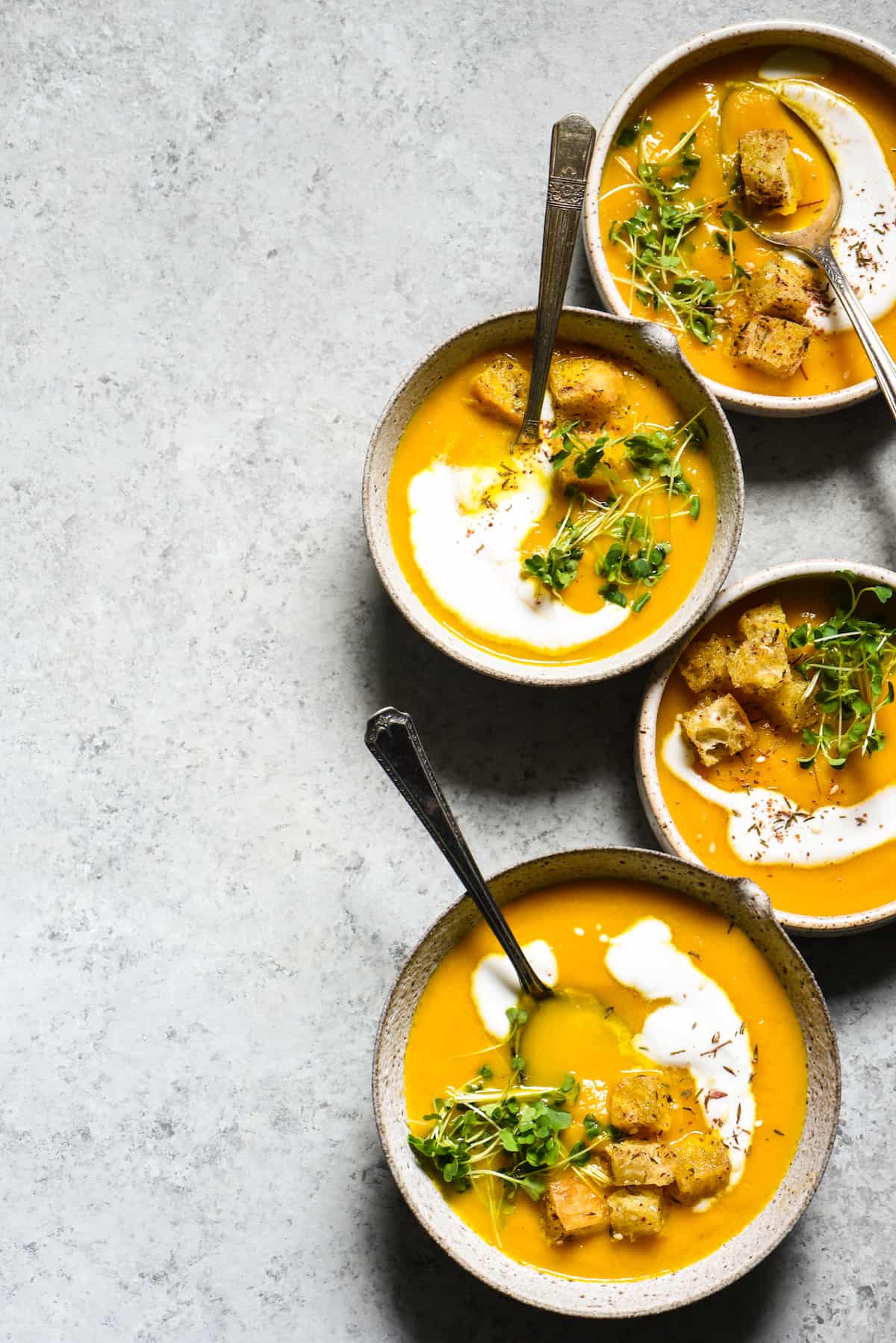 Slow Cooker Carrot & Apple Soup with Za'atar Croutons
Lemon Chicken & Rice Soup with Olive Tapenade Croutons
Everything Bagel Cottage Cheese Power Bowls
*Dinner*
Zucchini Noodle Bowl with Spicy Cashew Sauce
Mega Chopped Salad with Shrimp & Roasted Potatoes
Garlicky Greek Yogurt Pasta with Sautéed Lentils & Chickpeas
Cashew Chicken with Couscous & Grapefruit
Almond-Crusted Chicken Thighs with Winter Wild Rice Salad
*Drinks*
Sunshine in a Bottle Lemon Smoothie