Beet, Blue Cheese & Pistachio Picnic Sandwich
When summer starts to roll around each year, there's two things at the top of my agenda. First, some sort of home improvement project. Mind you, our house doesn't really *need* any improvement, but I always get the urge to do a little something something to beautify our space. Usually, this involves re-painting a room for no other reason than I am bored with the previous color.
Last summer, the project was a massive re-landscaping project after our entire front yard was destroyed by a sewer replacement. Assuming most of the things we planted sprout again this year, that's out of the way now. And Jeff used a warm weekend back in March to re-paint our bedroom while I was traveling for a photography workshop. Since it looks like the home improvement project is already in the "done and done" column for the year, I'm turning to the second item on my summer agenda: a bicycle picnic.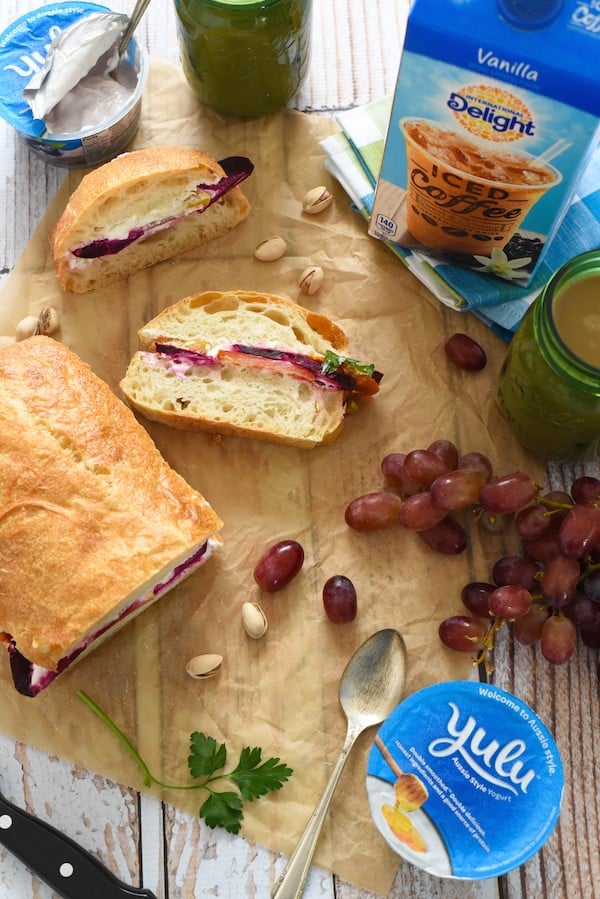 A bicycle picnic is simply grabbing a backpack (bonus points for an insulated cooler backpack!), loading it up with a delicious lunch, and then setting off on your bike with no real plan or destination in mind. If you have rolling countryside hills to ride along, that's great. But my bike rides are usually along side streets of Detroit suburbs, usually ending in a metropark or playground somewhere. Make the most of where you are!
Just about any food can be taken in a picnic backpack, provided you pack it properly. I've taken everything from chilled soups to roasted chicken to slices of cake. This time, I made a roasted beet picnic sandwich on a big loaf of ciabatta bread (we had plenty for our picnic, as well as leftovers for lunches throughout the week). The bread is slathered with a tangy homemade blue cheese spread, and the beets are topped with chopped pistachios for crunch, and a bit of parsley. I rounded out my picnic basket backpack with International Delight Vanilla Iced Coffee (packed in mason jars for easy transport), fresh grapes, extra pistachios, and tubs of Yulu Yogurt (we like the honey and blueberry flavors best).
For more information about International Delight, please sign up for their newsletter.
Beet, Blue Cheese & Pistachio Picnic Sandwich
Ingredients
6 medium beets (I used a combination of red and golden beets)
1 tablespoon extra virgin olive oil
Juice of 1/2 lemon
1/4 cup crumbled blue cheese
1/4 cup mayonnaise
1/4 cup sour cream
Pinch of kosher salt and ground black pepper
1 loaf ciabatta bread (about 12 inches long), halved
2 tablespoons chopped fresh parsley leaves
2 tablespoons chopped pistachios
Instructions
Preheat oven to 425 degrees F. Scrub beets and trim stem and root ends. Line rimmed baking pan with foil. Place beets on pan and drizzle with olive oil; wrap foil around beets to form pouch. Roast beets 45 minutes to 1 hour or until tender (cooking time depends on size of beets, start checking at 40 minutes). Remove from oven; open pouch to release steam. Let stand 10 minutes, then use paper towel to rub and remove beet skins. Slice beets into 1/4-inch thick slices. Beets can be roasted up to 3 days in advance. Cover and refrigerate until ready to use.
Meanwhile, in small bowl, stir together lemon juice, cheese, mayonnaise, sour cream, and salt and pepper.
Spread blue cheese mixture on both sides of bread. Arrange sliced beets in even layer on one side of bread; sprinkle with parsley and pistachios. Top with other side of bread. To serve, cut sandwich crosswise into 2-inch pieces.
This conversation is sponsored by International Delight and Yulu Yogurt. The opinions and text are all mine.
Note: As of December 2015, Yulu yogurt as been discontinued.