Sometimes, I seriously wonder how I became such a foodie. I grew up in a small town, 45 minutes from the nearest "big" city (Ann Arbor or Toledo) in either direction. A fancy meal in my hometown meant a trip to Red Lobster. I return there for family gatherings, with a quiche or a couscous dish to offer at potlucks, and am met with incredulous cries of "WHAT is that?" from family members.
Don't get me wrong. I had a lovely childhood growing up there, and certainly wasn't on the playground feeling deprived because I'd never tried sushi. But looking back on it now, I am SO glad that I was able to move to a bigger city and experience a wider variety of cultures and foods. It's made me who I am today, as a person and as a cook.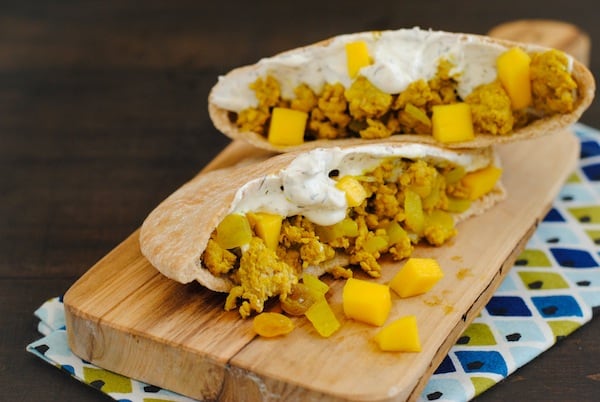 Curried anything was definitely not on my radar growing up. For that matter, I probably didn't eat much (if any) mango as a child either. And yogurt was strictly of the fruit-on-the-bottom variety. These Curried Turkey Pitas could really be considered a symbol of how far I've come. Too cheesy? I almost thought about not including that last bit.
The best part about these (well, besides the awesome flavor) is how they come together in under a half hour! Lean ground turkey is seasoned with fragrant curry powder, and combined with onions for a bit of bite and golden raisins for sweetness. The mixture is tucked into whole wheat pita pockets and topped with chopped ripe mango and a Greek yogurt-herb sauce. These are the perfect way to get a super-flavorful and nutritious lunch or dinner on the table quickly!
Yield: 4 servings
Curried Turkey Pitas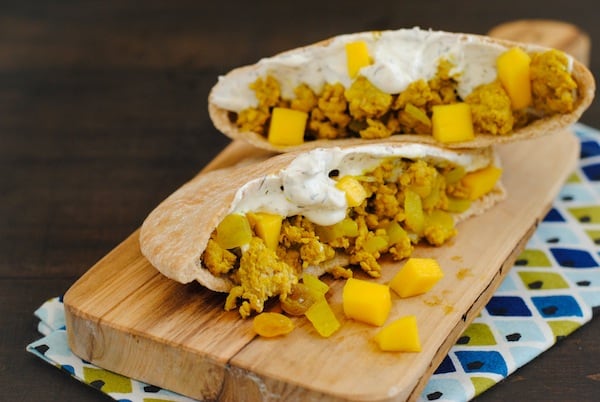 Prep Time 15 minutes

Cook Time 10 minutes
Ingredients
For the Curried Turkey:
1 tablespoon olive oil
1/2 small yellow onion, chopped
1 pound organic ground turkey
1/2 cup water
1/4 cup golden raisins
2 teaspoons curry powder
For the Yogurt Sauce:
Juice of 1/2 lemon
1 cup Greek yogurt
1/2 teaspoon dried dill
1/2 teaspoon dried oregano
Pinch of kosher salt and ground black pepper
For Serving:
4 whole wheat pita pockets
1 mango, peeled, pitted and chopped
Instructions
1. Make the Curried Turkey: In large skillet, heat oil over medium-high heat. Add onion and turkey; cook 6 to 8 minutes or until turkey is almost cooked through, breaking up turkey with side of spoon.

2. Reduce heat to medium; stir in water, raisins and curry powder. Cook 3 to 4 minutes or until most liquid is absorbed, stirring occasionally.

3. Meanwhile, make the Yogurt Sauce: In small bowl, stir together all ingredients.

4. Serve turkey mixture in pita pockets with mango and Yogurt Sauce.