Easy Baked Brie with Grapefruit & Pistachios
With just 4 ingredients and a 10 minute prep time, this Easy Baked Brie with Grapefruit & Pistachios is ideal for a party, or just a delicious snack at home.
The holiday season is upon us, which may as well be called "snacks for dinner" season in my house. Certainly in the time between Christmas and New Year's, but sometimes starting even before that, Jeff and I put a low priority on official meals.
We generally spend most the the time relaxing at home with books, puzzles, pajamas and Netflix. The days are peppered with small snack plates throughout, with my mom's homemade Chex Mix, Christmas cookies, cheese and crackers, nuts and seasonal fruit making up the majority of our diet.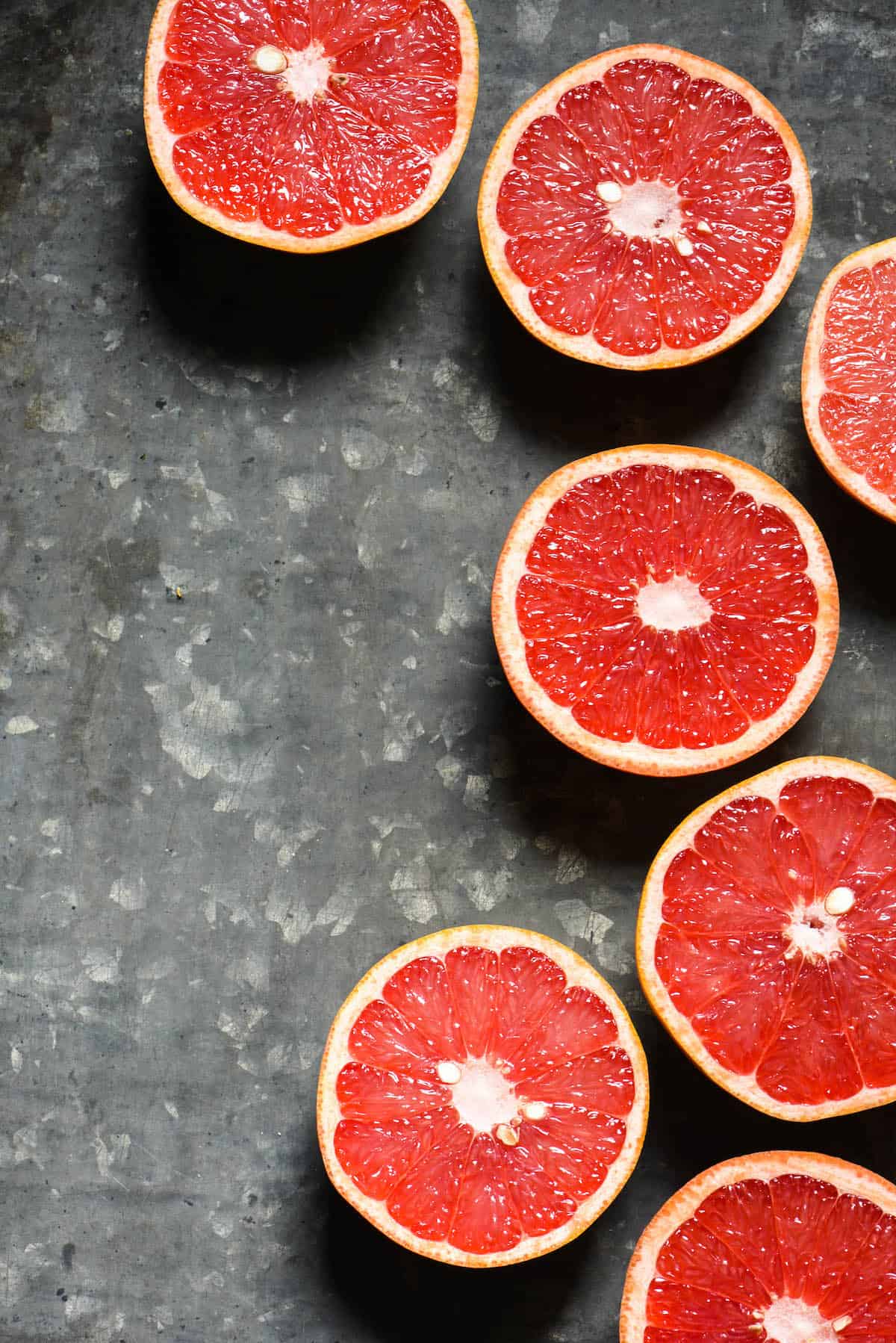 With this Easy Baked Brie with Grapefruit & Pistachios recipe, I've found a way to combine cheese and crackers, seasonal fruit and nuts, which basically just means that I win at living that snack plate life. If you have just four ingredients and 10 minutes between Netflix episodes to prep, you're all set. Simply scour a small round of brie (scouring makes it easier to cut apart and serve once it's melted) and slide it into the oven. When it comes out, top it with with Winter Sweetz grapefruit segments, chopped pistachios and a little bit of fresh mint. Done and done.
About that grapefruit. While I used to associate grapefruit with a mouth-puckering sourness, Winter Sweetz grapefruit has really changed my whole attitude about grapefruit. These Texas-grown grapefruit hit peak sweetness from November to March, and ripening during the winter leads to a sweeter fruit (pretty cool, right?). I've found that the best way to eat them is to segment them in order to remove the pith and peel. Once the grapefruit is segmented, you can eat as-is or incorporate into a recipe like this Easy Baked Brie with Grapefruit & Pistachios.
For more information about Winter Sweetz grapefruit, please visit WinterSweetz.com and follow them on Facebook, Instagram and Twitter. To learn how to segment grapefruit like a pro, check out this video. It's exactly how I learned to segment citrus in culinary school!
Prep Time 10 minutes

Cook Time 10 minutes
Ingredients
8 ounce brie round
1 Winter Sweetz grapefruit, peeled and segmented
1/4 cup shelled pistachios, roughly chopped
1 tablespoon chopped fresh mint
Crackers and/or toasted bread, for serving
Instructions
Preheat oven to 350 degrees F. Place brie on parchment-lined rimmed baking pan and lightly scour in a crisscross pattern with a sharp knife.
Transfer brie to oven and bake 8 to 10 minutes or until inside of cheese is softened, but outside remains in tact.
Transfer brie to serving platter; top with grapefruit, pistachios and mint. Serve immediately with crackers and/or bread.
Disclosure: This was a sponsored post written by me on behalf of Winter Sweetz. Sponsored posts help me pay for the costs associated with this blog (groceries…lots of groceries), and help support me as I pursue a career in recipe development and food photography. All opinions are 100% my own.