French Onion Soup with Cheese-Filled Gougeres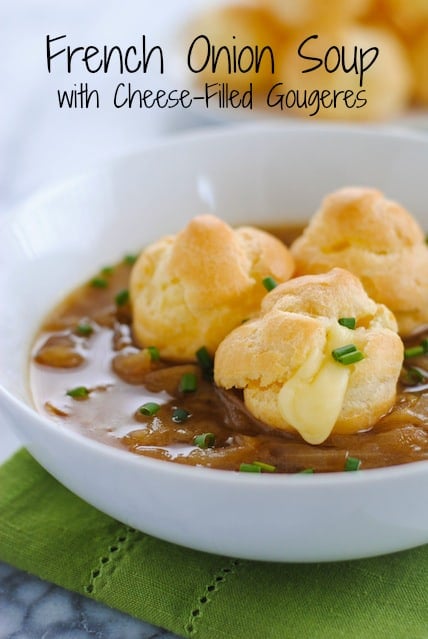 Food bloggers are often asked where they get inspiration for the recipes they create. I'm sometimes inspired by food I see in magazines and on TV, but most often, it's meals from great restaurants that make me want to get in the kitchen. As soon as I saw the French Onion Soup with Cheese-Filled Gougeres at The Ramos House Cafe, I knew I needed to re-create it. I mean, who doesn't love French Onion Soup, and who wouldn't love it even more with little cream puffs filled with gloriously melty cheese floating in it?
For this recipe, I started with a classic, simple French Onion Soup. The most important thing is to make sure the onions get really caramelized. Don't rush it – slowly caramelizing them to a very deep brown will be worth it in the end. The gougeres are filled with one of my new favorite cheeses, Leerdammer.
Leerdammer is a cow's milk Swiss-style cheese imported from Holland that is a cross between traditional Dutch Gouda and Emmental. It has a sweet, nutty mild taste, and it melts beautifully, as you can see from these photos. I kept snacking on it as I was cooking, and I had to stop myself so I would have enough to go inside the gougeres! I highly recommend picking up a chunk of it to make this dish, or even just to make the cheese-filled gougeres on their own as a savory party appetizer.
French Onion Soup with Cheese-Filled Gougeres
Yield: 8 servings
Prep Time: 20 minutes
Cook Time: 1 hour 30 minutes
Ingredients
For the French Onion Soup:
3 tablespoons unsalted butter
2 tablespoons extra virgin olive oil
4 large yellow onions, thinly sliced
1 teaspoon dried oregano
1 teaspoon kosher salt
3 tablespoons all-purpose flour
2/3 cup dry white wine
2 quarts less-sodium beef broth
2 tablespoons chopped fresh chives, for garnish
For the Leerdammer Gougeres:
½ cup water
4 tablespoons unsalted butter
¼ teaspoon kosher salt
½ cup all-purpose flour
2 large eggs
14 ounces Leerdammer cheese, cut into ½-inch cubes (you should have 48 cubes)
Instructions
Prepare French Onion Soup: In large pot, heat butter and oil over medium heat. Add onions, oregano and salt; cook 45 minutes or until onions are deep golden brown, stirring frequently.
Add flour; cook 3 minutes, stirring constantly. Add wine, cook 2 minutes, stirring occasionally. Stir in broth; simmer 40 minutes, stirring occasionally. Makes about 2 quarts soup.
Meanwhile, prepare Leerdammer Gougeres: Preheat oven to 425 degrees F. Line rimmed baking pan with parchment paper. In medium pot, heat water, butter and salt to boiling over medium heat. Add flour and cook 2 minutes, stirring rapidly the entire time. Mixture should form dough that pulls away from side of pot. Remove from heat and transfer mixture to bowl of stand mixture fitted with whisk attachment.
Mix at medium-low speed 1 minute. Add eggs 1 at a time, mixing until just combined. Using spoon or piping bag, dollop dough by tablespoonful onto prepared baking pan (you should have about 24 gougeres). Wet finger with water and gently press down any peaks.
Transfer to oven; bake 10 minutes. Reduce oven temperature to 350 degrees F and bake 15 minutes longer or until deep golden brown. Remove from oven; let cool slightly and then use tip of paring knife to cut small hole in center of each gougere. Gently press 2 cheese cubes into each gougere. Return to oven and bake 2 minutes or until cheese is melted.
Serve soup topped with gougeres and garnished with chives.
Disclaimer: This post is part of a relationship I have with Saputo Specialty Cheese for recipe development. Posts like this help me pay for the costs associated with this blog (groceries…lots of groceries), and help support me as I pursue a career in recipe development and food photography. All opinions are 100% my own.