Herb Gougères with Pimento Cheese
Whenever I make anything involving pâte à choux (a light French pastry dough), I think of my Grandma Fox. Of course, Grandma probably never called it that.
We mainly just knew it as "cream puff dough," because that was her famous dessert. She passed the recipe and technique on to my mom, who now carries on the tradition.
Having watched each of them make cream puffs plenty of times over the years, I was actually in the process of making them myself when Grandma died years ago.
It was beautiful and sad and ironic and not ironic at all to be making one of her favorite desserts when I got the news that she had passed.
Fast forward a few years later to my first day of culinary school. In Pastries I, the chef assigns each student a different project to start with, and my assignment?
Cream puffs, of course. I smiled because I knew how to make them already, and also thought that my Grandma would have loved to hear that story.
The thing about pâte à choux dough is that it is extremely versatile. Of course, it can be used to make sweets like cream puffs, beignets and éclairs, but it can also go savory in things like dumplings and Parisian gnocchi.
Some of my favorite little savory party bites to make are gougères, which is a little puff of choux dough made with cheese (usually Gruyère or Parmesan).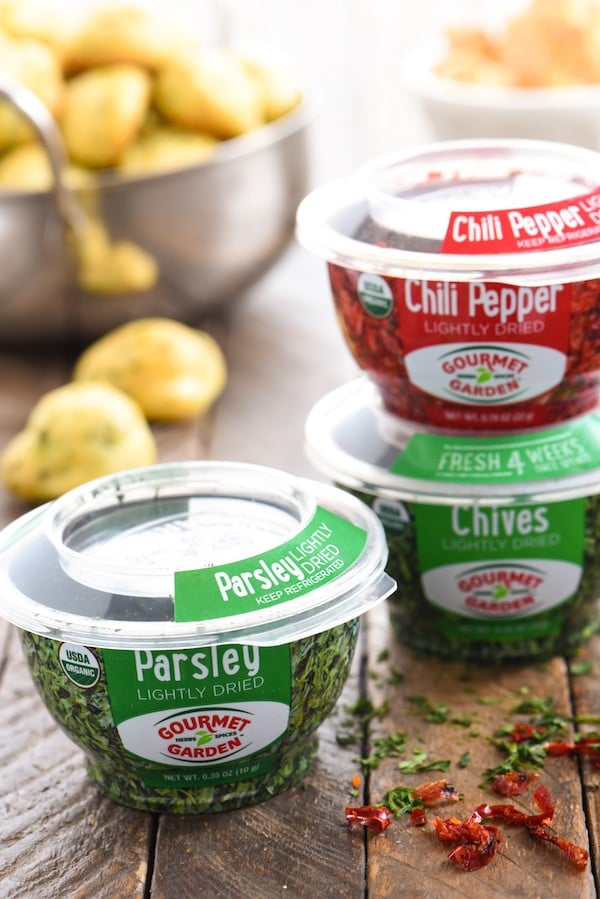 Today, I'm bringing you gougères with double the cheese action, plus triple the herb action. The gougères are full of Gruyère and lots of savory herbs.
While the gougères were just lovely on their own, I wanted to go crazy. My love of pimento cheese (including pimento mac and cheese, even) runs deep, and I'll pretty much use any opportunity to make a batch.
So, I made an extra light and fluffy batch of pimento cheese using whipped cream cheese and all the usual suspects, plus another hit of chives, as well as a pinch of dried chili pepper for a bit of heat.
I used a piping bag to fill the gougères to the very brim with pimento cheese. And that, my friends is a cheesy, herby wrap on these Herb Gougères with Pimento Cheese.
Herb Gougères with Pimento Cheese
Yield: 44 gougères
Prep Time: 45 minutes
Cook Time: 20 minutes
Ingredients
For the Herb Gougères:
1/2 cup water
3 tablespoons unsalted butter
Pinch of kosher salt
1/2 cup all-purpose flour
2 large eggs
3 ounces grated Gruyère cheese
2 tablespoons Gourmet Garden Lightly Dried Parsley
1 tablespoon Gourmet Garden Lightly Dried Chives
For the Pimento Cheese:
4 ounces extra sharp Cheddar cheese, shredded
4 ounces whipped cream cheese
1/4 cup mayonnaise
2 tablespoons diced pimientos, drained
1 tablespoon country Dijon mustard
1 tablespoon Gourmet Garden Lightly Dried Chives
1/2 teaspoon Gourmet Garden Lightly Dried Chili Pepper
Instructions
Make the Herb Gougères: Preheat oven to 400 degrees F. Line 2 rimmed baking pans with parchment paper. In medium pot, heat water, butter and salt to boiling over medium heat. Add flour and cook 1 minute, stirring rapidly with wooden spoon the entire time. Mixture should form dough that pulls away from side of pot. Remove from heat and transfer mixture to bowl of stand mixture fitted with whisk attachment.
Mix at medium-low speed 1 minute. Add eggs 1 at a time, mixing until just combined. Add Gruyere cheese, parsley and chives; mix until just combined.
Using spoon or piping bag, dollop dough by heaping teaspoonful onto prepared baking pans (you should have about 44 gougères). Wet finger with water and gently press down any peaks.
Transfer to oven; bake 20 minutes or until golden brown, rotating pans between upper and lower oven racks halfway through baking. Transfer baking pans to wire rack and let gougeres cool completely before filling.
Meanwhile, make the Pimento Cheese: In bowl of food processor fitted with knife blade attachment, combine all ingredients. Pulse 5 to 10 seconds or until mixture is very well combined.
Using the tip of a piping bag, poke a small hole in the bottom of each gougère. Use piping bag to fill each gougère with pimento cheese (you may have some pimento cheese left over - use it to make a sandwich, or serve with crackers). If desired, transfer filled gougères to 350 degree F oven for 3 to 5 minutes or until cheese is warmed through. Serve immediately.
Notes
Home Chef Tip: Want to make your gougères all exactly the same size? Grab a small circular item and use it to trace circles onto a sheet of parchment paper. Lay that sheet onto a rimmed baking pan, then place a clean sheet of parchment over it. Use your piping bag to follow the pattern while piping. Slide the patterned sheet out from under the second sheet of parchment before baking, and save your pattern to re-use again and again!
Disclosure: This is a sponsored post written by me on behalf of Gourmet Garden. Sponsored posts help me pay for the costs associated with this blog (groceries…lots of groceries), and help support me as I pursue a career in recipe development and food photography. All opinions are 100% my own.