Hungarian-Style Stuffed Cabbage
In this monthly series, I commit to cooking whatever is on the cover of Bon Appetit, Saveur or maybe some other food magazine. There's a reason these particular dishes are on the cover – they're usually the best recipes in the magazine.
When I started this series, I was cooking the covers of Bon Appetit. While I'll mostly be sticking with that, I've learned recently that it's best I branch out and give myself a few cover options each month to choose from. For example, this month, Bon Appetit  had a five-pound pork roast on the cover. Being a household of two people and one scrawny dog, that's just not something we would be able to eat! If I had had time this month to throw a little dinner party, maybe. I did not have time. So, I turned to the cover of Saveur. 
Stuffed cabbage – that was more my speed for a Sunday dinner for two. My husband comes from a Polish family, so stuffed cabbage is one of his favorite meals. It didn't appeal to me when we first started dating, but I've grown to appreciate it over the years. His family makes a traditional Polish version with beef, pork, rice and other tasty ingredients. I've also tried 
Ina Garten's recipe
 (which I've been told is more of a Jewish version) that includes beef, rice and raisins (I LOVED that version!)
This was my first experience with Hungarian-Style Stuffed Cabbage, and sadly, I have to report that it wasn't my favorite. There just…wasn't much to it. The filling is 70% cornmeal, 20% smoked ham steak and 10% onions. I followed the instructions exactly as written, but it was just sort of bland somehow. In a way, if it's possible, it was a bit spicy (from the hot paprika) AND bland. Can something be spicy and bland at the same time? Maybe not. Maybe I'll borrow a favorite Top Chef critique: it was one-note.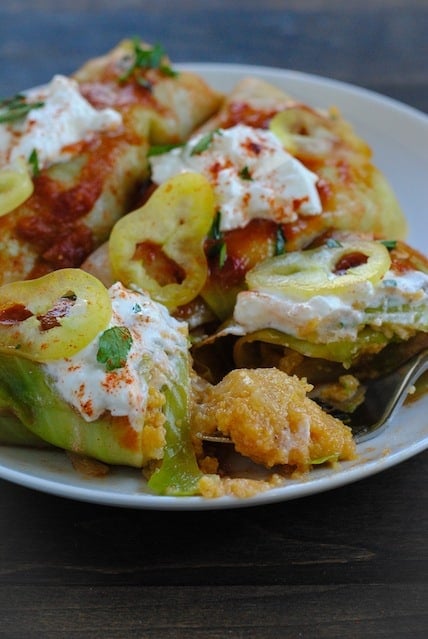 I think this would have been OK as a side dish to an entree like roasted chicken or something. I think as an main course itself, it just fell flat for me. Cornmeal mush studded with a little bit of ham, surrounded by mushy cabbage = not the Sunday night meal of my dreams.  
Sorry to report that this recipe was a flop, but we all know that it happens sometimes! If you've come here looking for a great recipe for stuffed cabbage, I would strongly recommend 
Ina Garten's version
.
Get the recipe for Hungarian-Styled Stuffed Cabbage (Töltött Káposzta) HERE!
For more recipes straight from the cover of food magazines, check out my Cook The Cover Archive!