Classic Chicken Pot Pie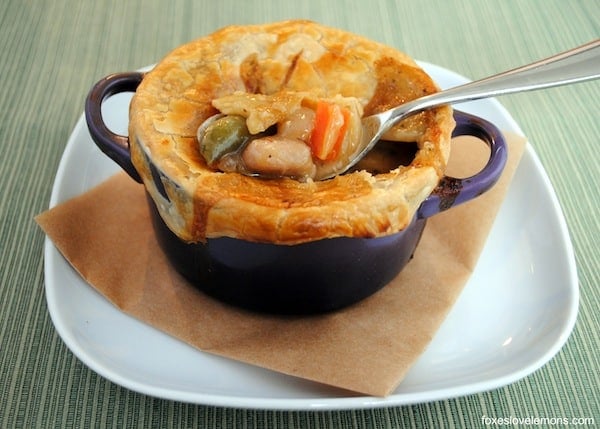 To close out my celebration of Oscars week, I needed a cozy meal to eat while watching the awards. Since I already enjoyed my Crabby Snacks earlier in the week, I decided to celebrate another Best Picture nominee – a film that I really enjoyed, Life of Pi. This is my Life of (Chicken Pot) Pi.
This chicken pot pie was definitely a "
food hoard
" recipe – the only new ingredients I had to buy were the potato and snap peas.
And I finally FINALLY used up that frozen pie crust that had been in the freezer since I made some quiches for a Mother's Day brunch 10 months ago (gross, I know, but it's frozen, so whatever).
This pie took a little bit of time to put together, but it was well worth it. Packed with vegetables and a richly-flavored chicken sauce, it's comforting and perfect for a night spent at home.
The best part is that it can be endlessly adapted. Swap out the carrots and snap peas for parsnips and chopped green beans. Make it vegetarian by omitting the chicken and using vegetable stock in place of the chicken stock. Go crazy.
I prefer my pot pies to have a high filling to crust ratio, so I used a top crust, but no bottom crust lining the plate. If you'd like more crust, you can certainly make it that way – you should probably just pre-bake the bottom crust for 10-15 minutes before you add the filling and top crust, so the bottom crust cooks through and isn't soggy.
Love chicken pot pie?  Try out a twist on a classic with these Chicken Pot Pie Baked Potatoes!
Want eve more little savory pies? Check out my Mini Shepherd's Pies!
Classic Chicken Pot Pie
Ingredients
1 tablespoon olive oil
3/4 pound boneless, skinless chicken thighs, cut into 1/2-inch pieces
2 celery stalks, chopped
2 medium carrots, peeled and chopped
1 medium potato, peeled and cut into 1/2-inch cubes
1/2 large yellow onion, chopped
1 teaspoon kosher salt
3/4 cup dry white wine or water
2 garlic cloves, minced
1/2 cup snap peas, cut in half
1/2 teaspoon chopped fresh rosemary
5 tablespoons unsalted butter
1/2 cup all-purpose flour
4 cups chicken stock
1/4 cup milk (I used 2%, but any % will be fine)
1 tablespoon fresh lemon juice
1/2 teaspoon ground black pepper
1 tablespoon chopped fresh parsley
1 refrigerated pie crust, thawed if necessary
1 egg beaten with 1 tablespoon milk (egg wash)
Instructions
Preheat oven to 375 degrees F. Heat oil in large saucepan over medium-high heat. Add chicken and cook 5 to 7 minutes or until no longer pink, stirring occasionally. Remove chicken from pan and transfer to large bowl.
Add celery, carrots, potato, onion and salt to pan; cook 5 minutes, stirring frequently. Add wine, scraping any browned bits off bottom of pan. Simmer 12 to 15 minutes or until potato is almost tender, stirring frequently (adding more wine as needed so there is some liquid in the pan at all times). Add garlic, snap peas and rosemary; cook 2 minutes. Transfer vegetables to bowl with chicken.
Lower heat to medium; melt butter in pan. Whisk in flour and cook 2 minutes, stirring constantly. Slowly whisk in chicken stock. Bring to a boil and cook 4 to 6 minutes or until slightly thickened (sauce will continue to thicken in oven); stir in milk, lemon juice and black pepper. Remove from heat; add chicken and vegetables, and parsley, and stir until well combined.
Pour filling into very large pie dish or medium baking dish (or 6 individual baking dishes – see Step 5). Brush outer rim of dish with egg wash. Place pie crust over dish and press edges against rim of dish to adhere. Brush dough with egg wash. With sharp paring knife, cut 4 slits into dough. Place on a rimmed baking pan; bake 1 hour or until top is golden brown and filling is bubbling. Let stand 10 minutes before serving.
If using individual baking dishes, divide pie crust into 6 pieces and re-shape them the best you can so that they will cover your baking dishes (you may need to use a rolling pin). Proceed with step 4, baking 30 minutes or until top is golden brown and filling is bubbling. Let stand 5 minutes before serving.