One Pan Sausage & Tortellini
This One Pan Sausage & Tortellini can be on the table in minimal time with minimal dishes. It's a perfect balance of creamy, spicy and sweet, and there's tons of hidden veggies, too!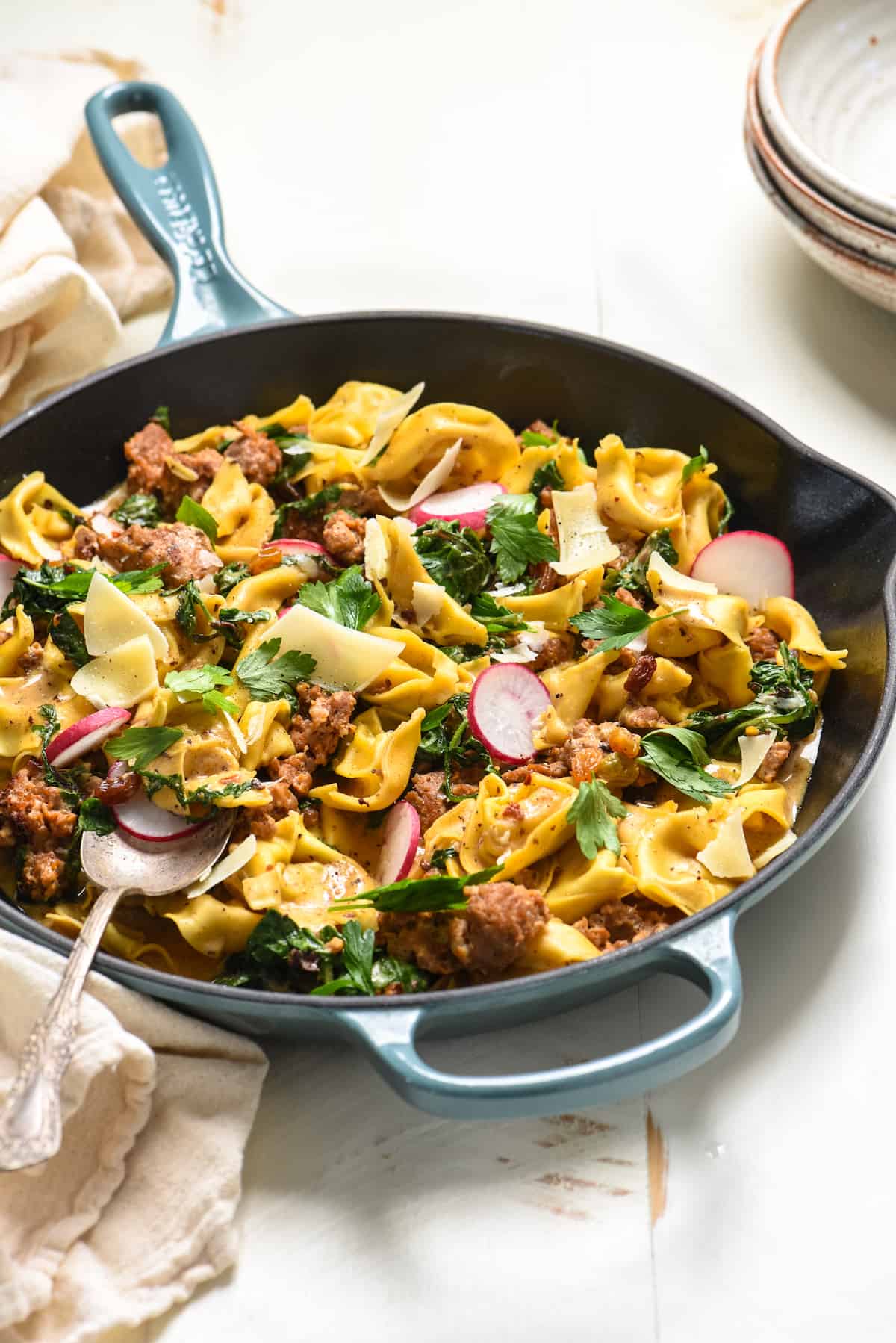 The year is finally starting to wind down, and I am R-E-A-D-Y for that break from work between Christmas and New Year's. That glorious week where I can stay in my pajamas as long as I want, watch movies, eat snacks and pretend they're meals, read books, do puzzles, and generally just unwind and do nothing. I especially look forward to this time because as a small-business owner, December is one of my busiest months. Lots of clients requesting lots of projects, as well as gearing up for 2018.
December is a time where complicated dinners are just not possible. I have neither the time nor the mental energy to figure that out. This One Pan Sausage & Tortellini is a meal I turn to time and again in busy seasons of life.
To get started, grab some Italian sausage (I like the spicy kind but mild works, too). Cook that up with a bit of garlic, and then you're gonna plop cheese tortellini right into the skillet. No need to boil them first, we'll do it in the skillet by adding some chicken broth. A little bit of half and half for creaminess, golden raisins for a pop of sweetness, and crunchy radish go into the skillet, too. Does anybody else always seem to have random radishes rolling around in their crisper? No, just me?
Now, you KNOW I don't have time to mess with side dishes this time of year. Nope, all the veggies are going in this One Pan Sausage & Tortellini, too. A full box of organicgirl supergreens has all the superfood nutrition power I need. I mean, there's red and green chard, bok choy, arugula and spinach, all in this one box. Done and done. Take that, busy season.
organicgirl supergreens! are powerful dark leafy superfood baby greens packed with minerals, vitamins, phytochemicals and protective compounds. To learn more about organicgirl, be sure to connect with them on Instagram, Facebook, Twitter, and Pinterest.
Ingredients
1 tablespoon olive oil
2 garlic cloves, minced
3/4 pound hot or mild Italian sausage (casings removed, if necessary)
2 cups chicken broth
1 package (8 to 10 ounces) cheese tortellini
1/4 cup golden raisins
1 package (5 ounces) organicgirl supergreens
1/2 cup half and half
1 tablespoon fresh lemon juice
1/2 teaspoon kosher salt
3 radishes, thinly sliced
1/4 cup shaved Parmesan cheese
2 tablespoons chopped parsley
Instructions
Heat oil in large high-sided skillet over medium-high heat. Add garlic and sausage and cook 6 to 8 minutes or until sausage is cooked through, stirring occasionally and breaking up sausage with back of spoon.
Stir in chicken broth and heat to boiling. Stir in tortellini and raisins; cook 2 minutes, stirring frequently.
Stir in greens, half and half, lemon juice and salt. Cook 2 to 3 minutes longer or until greens are slightly wilted and tortellini is tender. Remove from heat; let stand 3 minutes before serving to allow sauce to thicken.
Serve tortellini garnished with radishes, Parmesan cheese and parsley.
Disclosure: This was a sponsored post written by me on behalf of organicgirl. Sponsored posts help me pay for the costs associated with this blog (groceries…lots of groceries), and help support me as I pursue a career in recipe development and food photography. All opinions are 100% my own.