Roasted Garlic and Almond Dip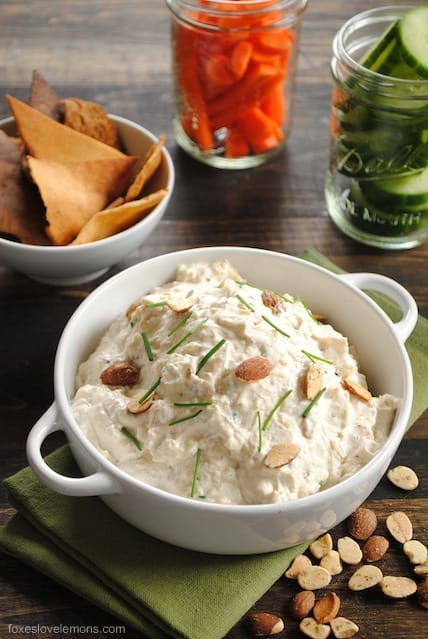 Hey Everyone, Happy Thursday! Only one more day until the weekend, right? Woohoo! I'm in an especially good mood this week, because I'm very happy to announce that I'm teaming up with NatureBox! I'll be creating some fun recipes using their products. The folks at Naturebox saw the Tropical Mango Banana Bourbon Bread that I made using the dried mango from one of their boxes, and they gave me a shout to see if I wanted to create some more recipes for them.
I said yes immediately, because I'm a huge fan of them, and recipe development is my passion. I've been a paying subscriber for several months now, and I'm in love with the healthy, all-natural snacks I receive in the mail.
The first recipe I created was a healthy, but creamy and delicious roasted garlic and almond dip featuring their Sour Cream & Onion Almonds. The recipe includes Greek yogurt, a smidge of low fat mayo, Parmesan cheese, chives, sherry vinegar (the vinegar love of my life lately) and roasted garlic. If you like roasted garlic as much as I do (I really, really do), you'll love this dip.
It's perfect to take to a party, or to eat with vegetables or pita chips as part of your lunch throughout the week. It's also good as a spread for sandwiches or burgers. The almonds add a little crunchy element that is missing from a lot of dips – call me crazy, but I like my dips to have something crunchy in them sometimes!
Roasted Garlic and Almond Dip
Yield:
Makes about 1-1/4 cups dip
Ingredients
1 head of garlic
1 teaspoon extra virgin olive oil
7 ounces 2% Greek yogurt
1/4 cup mayonnaise
1/4 cup shredded Parmesan cheese
2 tablespoons Naturebox Sour Cream & Onion Almonds, roughly chopped, plus additional for garnish
1 tablespoon chopped fresh chives plus additional for garnish
1 teaspoon sherry vinegar
1/4 teaspoon ground black pepper
1/4 teaspoon cayenne pepper (optional)
Instructions
Preheat oven to 400 degrees F. Slice 1/4-inch off top of head of garlic. Place garlic cut side up on foil and drizzle with oil. Wrap garlic in foil to seal. Place on baking sheet and bake until garlic cloves are dark brown and very soft, about 50 minutes. When cool enough to handle, squeeze out garlic cloves into medium bowl and mash with fork. (This step can be done up to 3 days in advance).
Add remaining ingredients to bowl and stir to combine. Transfer to serving bowl; cover and refrigerate at least 2 hours or up to 3 days.
To serve, garnish with chives and almonds. Serve with pita chips and/or cut vegetables.
Disclaimer: This post is part of an ongoing relationship I have with NatureBox for recipe development. Posts like this help me pay for the costs associated with this blog (groceries…lots of groceries), and help support me as I pursue a career in recipe development and food photography. All opinions are 100% my own.