Rome, Florence & Venice, Italy
Let's pick up this fantastic European vacation recap where we left off:
Wake up well before dawn in Santorini to hop a flight back to Athens, then to Rome. Take a taxi into town and get settled into our hotel. Decide we have to bite the bullet and pay to have some laundry done, otherwise we'll never make it the full 14 days. Totally exhausted from the early wake up call, but venture out for pizza. The pizza is . . .  just OK. Not off to a good start, but not too worried about it.
Take an evening food tour of the Trastevere neighborhood with Eating Italy. Our guide Anna takes us to classic family-owned restaurants, bakeries and markets. Eat fried artichokes, burrata, cookies, [better] pizza, pecorino romano, suppli (fried rice balls) and pasta. Visit a crazy old wine cellar. Drink some fantastic red wine. See a crazy old pizza oven that burns hazelnut shells. Learn the difference between real gelato and fake gelato. Take a million mental notes of great places to return to during the remainder of our stay. Fall into food comas and sleep like babies.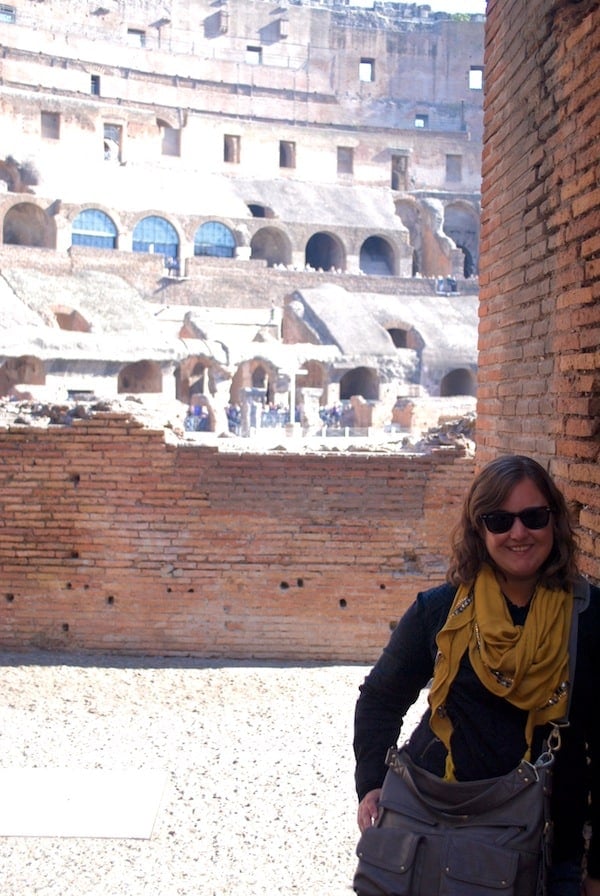 Wake up with plans to see all the big Rome sights in one day. Realize it's the first Sunday of the month, so admission is free everywhere. Score. Walk a couple blocks to the Colloseum. There are people everywhere. Walk to the Roman Forum. People everywhere. Trevi Fountain is under construction. People everywhere. Spanish Steps are underwhelming. PEOPLE EVERYWHERE.
Have a hot, sweaty, hungry, thirsty, people everywhere cranky meltdown. Decide we need to get some lunch, but don't want to get sucked into a tourist trap. Find a little restaurant in a quiet alley. End up having the most amazing pasta of all time. Cacio e pepe literally just means "cheese and pepper". It's a revelation. The day starts to look a little brighter. Finish the afternoon by checking out the Pantheon then going back to Trastevere for dinner.
Wake up and head to the Vatican with "skip the line" passes in tow. After scoping out the mile-long line, passes seem like they'll be worth every penny we spent on them. Crazy lady in our skip the line group wonders if skipping the line is "all we get" for what we paid. We basically tell her "Lady, have you SEEN that line? It's like 4 hours long!"
Leave crazy lady behind and head into the Vatican. Get shooed by an old Italian woman who determines that we're in the way of the statue of her favorite saint. Finally make it to the Sistine Chapel. Score a bench seat to sit and admire the ceiling for awhile. Glare at the morons taking photos, because that's not allowed. Finish our our day with a panini for lunch, a nap, and another awesome dinner in the Trastevere.
Take the train to Florence. Sit next to some old man who calls everybody he knows to tell them that he's on a train. Take a taxi out to the Tuscan countryside villa where we're staying. Determine we're the youngest and least-rich patrons of said villa. We do not care. Since we're Maserati-less, borrow some bikes and ride around the property. Bikes are terrible, but there are lemon trees everywhere. Tuscan countryside heaven.
This applies to our entire stay in Italy:
Gelato. Gelato. Gelato. Gelato. Gelato. Gelato. Gelato. Gelato. Gelato. Gelato. Gelato. Gelato. Gelato. Gelato. Gelato. Gelato. Gelato. Gelato. Gelato. Gelato. Gelato. Gelato. Gelato. Gelato. Gelato.Gelato. Gelato. Gelato. Gelato. Gelato. Gelato. Gelato. Gelato. Gelato. Gelato. Gelato. Gelato. Gelato. Gelato. Gelato. Gelato. Gelato. Gelato. Gelato. Gelato. Gelato. Gelato. Gelato. Gelato.Gelato. Gelato. Gelato. Gelato. Gelato. Gelato. Gelato. Gelato. Gelato. Gelato. Gelato. Gelato. Gelato. Gelato. Gelato. Gelato. Gelato. Gelato. Gelato. Gelato. Gelato. Gelato. Gelato.
Walk around Florence for the afternoon. Buy pasta for everybody we know. Sit in a little plaza with a row of tourist-trap restaurants. Drink Peroni while watching restaurant workers try to lure tourists in. Make small bets with each other as to who will fall into the trap and who will escape. Research better restaurants and find a great place for dinner. Eat rabbit and truffles and drink lemoncello.
Take a walking tour of Florence and see some museums, the Duomo and the statue of David. He's about two million feet tall. Cameras didn't used to be allowed, but the rules changed a few months ago. Quietly refer to one of the women in our group as "Ansel Adams" as she views the entire tour through the viewfinder of her camera. Rub the famous bronze boar for good luck. Say goodbye to the tour and head to the market area for lunch.
Walk through the market and buy more dried porcini mushrooms than we'll be able to use in a lifetime. Realize that a town famous for it's leather goods will have surplus of beef because of it. Head to a tiny, bustling restaurant were we have ribbolita (bread and vegetable soup), pasta with deer meat, and the famous Bistecca alla Fiorentina. It's a gigantic T-bone served rare, drizzled with olive oil and sea salt. Fantastic.
Head to the Leather School of Florence to hunt for a new purse, but everything is insanely expensive, even though it's made by students. Head back to the villa for a nap. Have one last meal in Florence and decide that while Florentine food may not be beautiful, it's definitely delicious. The free-form lasagna is creamy and meaty and all the good things. Head back to the villa to reorganize the suitcases for our trek to Venice. Realize we're totally out of clean clothes now.
Take the train to Venice and arrive late afternoon. Get a water taxi into town. Totally prove all the guidebooks right by getting lost on the walk to our hotel, dragging our suitcases. Finally find hotel. It's the most disgusting hotel pretty much ever. Drop our stuff and get out of there immediately. Go have a late lunch on Pizza San Marco. Pay about five million dollars for a couple sandwiches and cocktails. Decide we're paying for the experience more than anything.
Walk around Venice as the sun sets. Desperately try to find somebody to take a nice photo of us. Everybody is scared of my camera and would prefer to take a cell phone photo instead. Sign of the times, we guess. Enjoy strolling through the alleys and seeing all the little waterways.
Find a nice little corner bar and have a few Aperol spritzes. Chat with some other young Americans that have just started their vacation. Decide we're too exhausted to eat dinner and just want to go to sleep. Head back to the hotel and almost die from how bad the room smells. Remind ourselves we're going home in the morning.
Take a water taxi back to the airport, then head back to Detroit via Paris. Adjustment back to the real world is a dark, harsh reality after two weeks of eating great food, and drinking great wine and coffee. 'Twas a trip of a lifetime. The end.
Where We Stayed & Restaurants We Liked
Rome
Florence
Venice

Best Western Albergo San Marco (DO. NOT. STAY. HERE.)
Bacaro Risorto (bar, not a restaurant)
Disclosure: Special thanks to Eating Italy for providing my Twilight Trastevere Tour free of charge, and Jeff's at a discounted rate. All opinions are 100% my own.