While it's only 70-ish degrees this week in Michigan (seriously, the most beautiful weather ever!), I'm already anticipating a hot July. I can just feel it coming. I thought I would start getting ready with some cold salad recipes, for lunches and light dinners.
This tuna salad is actually tasty all year 'round, but it's best in the summer, with fresh in-season corn, juicy cucumbers, and from-the-garden (errr…flower pot) basil. There's a few ways to eat it, besides just on its own. You could shove it in a tortilla or pita. Or, you could serve it on top of spinach, lettuce, or mixed greens for a salad-on-top-of-salad effect.
If you're not a big fan of tuna, you can substitute shredded rotisserie chicken or some grilled shrimp. Or, feel free to be all vegetarian about it. Just get ready. Because those days where it's so hot that you wonder if you can just eat three Popsicles for dinner will be here before you know it.
For some other cold salad ideas, check out out my Gazpacho Chopped Salad and Mediterranean Chopped Salad with Israeli Couscous.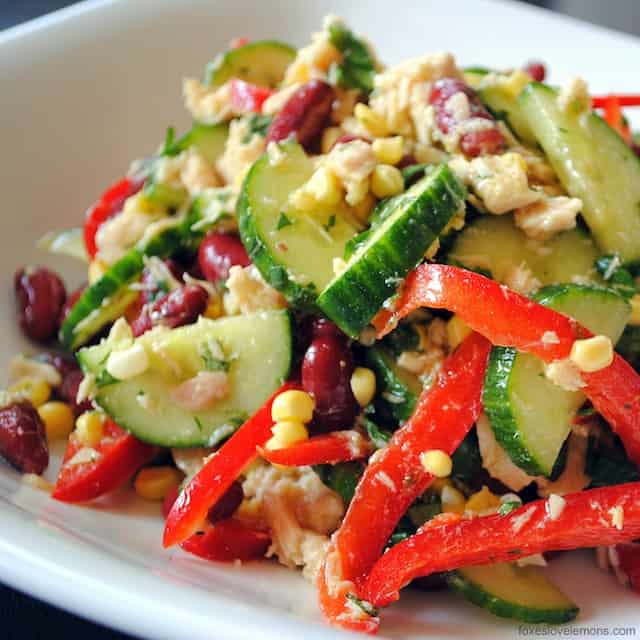 Yield: 2 servings
Santa Fe Tuna Salad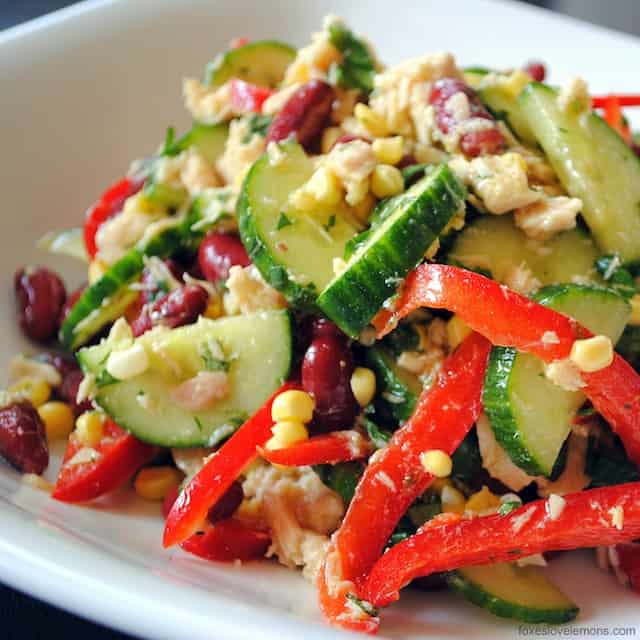 Ingredients
2 tablespoons extra virgin olive oil
2 teaspoons fresh lime juice
1 teaspoon grated lime zest
1 teaspoon red wine vinegar
1/2 teaspoon ground cumin
1/2 teaspoon kosher salt
1 can (5 ounces) solid white albacore tuna in water, drained
1 cup black beans or red kidney beans, rinsed and drained
1/2 red bell pepper, thinly sliced
1/4 English cucumber, halved lengthwise and thinly sliced
1/2 cup fresh corn kernels (from about 1 ear)
1-1/2 tablespoons chopped fresh basil
1-1/2 tablespoons chopped fresh cilantro
Instructions
In a small bowl, whisk together oil, lime juice and zest, vinegar, cumin and salt. In a medium bowl, flake tuna with fork. Add remaining ingredients to tuna. Pour dressing over everything; toss to combine.