Seared Chilean Sea Bass with Potatoes & Herb Sauce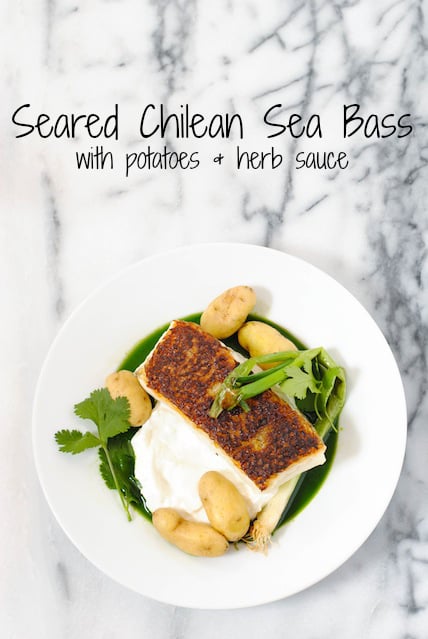 In this monthly series, I commit to cooking whatever is on the cover of Bon Appetit, Saveur or maybe some other food magazine. There's a reason these particular dishes are on the cover – they're usually the best recipes in the magazine.
I totally crushed on the cover of Bon Appetit this month. In one image, one headline, one cover, it summed up what I aim to do with this blog – teach people how to cook restaurant-quality food at home. I was already in love with this beautiful plate of healthy food, but when I realized I could pull it all together in less than 20 minutes? Even bigger crush. Here's how you can make this dish like the home chef that you are.

Minutes 1-4: Realize you don't have a juicer to make the green juice. Shrug your shoulders, pull out your blender, and puree all of the juice ingredients. Dump the resulting herb smoothie into a fine-mesh strainer and set it over a bowl – the green juice drips into the bowl. Success. Chef Trick: Work with the equipment you have to make what you need.
Minute 5: Get super lazy about boiling potatoes and decide to microwave them instead. Scrub them, put them in a bowl and zap them. Chef Trick: Take shortcuts. Sometimes.
Minute 6: Get out a skillet and pre-heat it on the stove. Pat the Chilean sea bass dry and season it with salt. Chef Tricks: Always start with a screaming hot pan when cooking fish. Always start with dry fish. Always season with salt.
Minutes 7 – 13: Place the fish skin-side down in the screaming hot pan. Crispy skin is the best! Turn it and cook it a few minutes longer. While this is happening, get the yogurt out of the fridge and wash and trim your scallions. Chef Trick: Don't just stand around and watch your food cook. Multitask and work on the next step of the recipe.
Minutes 14 – 17: Transfer fish to a plate to rest, put the scallions in the skillet for a quick char. Gather all of the elements and assemble the plates: green juice, potatoes, yogurt, fish and scallions. Go all Picasso on that plate and make it pretty. Chef Trick: A beautiful presentation never goes out of style, even at home.
Seared Chilean Sea Bass with Potatoes & Herb Sauce
Ingredients:
For the Green Sauce:


2 celery stalks, roughly chopped


2 cups packed fresh cilantro


1 leek (dark green top only), roughly chopped


Juice of 1/2 lemon


Pinch of kosher salt


For the Potatoes, Fish & Assembly:


1 pound small fingerling potatoes


4 pieces (4 ounces each) Chilean sea bass


Kosher salt


2 tablespoons olive oil


8 scallions, trimmed


1/2 cup Greek yogurt


Cilantro sprigs for garnish


Directions:


Make the Green Sauce: Puree all ingredients in blender until smooth. Pour into a fine-mesh strainer set over a medium bowl. Let sit, stirring mixture in strainer occasionally so all juice drains into bowl; discard solids.


Place potatoes in medium microwave-safe bowl and microwave on high 4 minutes or until tender (or boil potatoes on stovetop, if desired).


Heat large skillet over medium-high heat until skillet is very hot. Pat fish dry with paper towel and season with salt. Pour oil in pan; place fish skin side-down in pan. Cook 4 minutes or until skin is very crisp. Turn and cook 2 minutes longer. Transfer fish to plate.


Place scallions in same skillet; cook 1 minute or until slightly softened and charred in spots.


Divide yogurt, potatoes, fish and scallions between 4 plates. Spoon green juice around fish and garnish with cilantro.


Making one of my recipes?
Please let me know by sharing a photo on
my Facebook page
, or uploading to
Instagram
or
Twitter
with the tag
#foxeslovelemons
. It would make my day!
For more recipes straight from the cover of food magazines, check out my 

Cook The Cover Archive!