Shrimp Fried Farro (Farro Fried "Rice")
The whole concept of fried rice is so strange. Most people think it's super unhealthy because "fried rice" implies that it would contain a ton of oil. Yet when I make it at home, I use a very minimal amount of oil. Instead, it's pretty unhealthy because you're eating a giant bowl of white rice! Whoopsies. That's why I like to re-invent this dish by using brown rice, or even grains that aren't rice at all, like farro.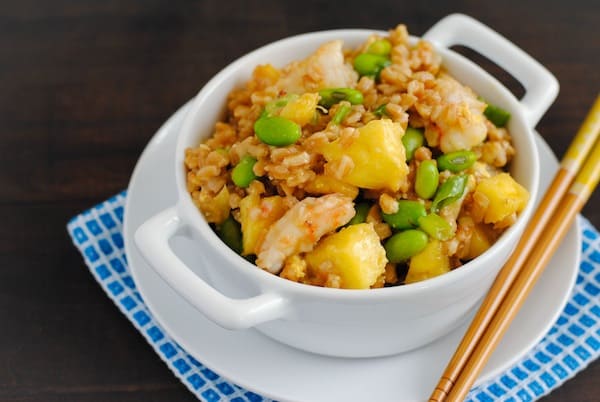 Fried rice (or um, fried grain) works best when you cook the rice/grain the day before, spread it on a baking pan and put it in the fridge overnight, uncovered. The rice/grain gets all dried out and crusty, which normally sounds like a bad move, but leads to a better outcome when you're stir-frying it. Here, I've combined my day-old farro with chopped shrimp, pineapple and edamame for a filling and healthful twist on a classic.
Yield: 6 servings
Shrimp Fried Farro
Prep Time 15 minutes

Cook Time 8 minutes
Ingredients
1 tablespoon vegetable oil
1 pound peeled and deveined shrimp, chopped
3 cups cooked and chilled farro
1 cup chopped pineapple
3/4 cup shelled edamame beans
2 eggs
4 green onions, thinly sliced
1-1/2 tablespoons low-sodium soy sauce
1/2 teaspoon ground white pepper
Instructions
1. In wok or large skillet, heat oil over medium-high heat. Add shrimp; cook until almost cooked through, stirring frequently, about 2 to 3 minutes.

2. Add farro, pineapple and edamame; cook 2 minutes, stirring frequently.

3. Push farro mixture to sides of wok, creating a well in center of wok. Crack eggs into well, scramble vigorously with spoon; cook 2 minutes (keeping eggs in well) or until eggs are full cooked.

4. Add onions, soy sauce and white pepper; toss until all ingredients are well combined.