Slow Cooker Barley & Chickpea Risotto
When you make this Slow Cooker Barley & Chickpea Risotto, your crock pot does all the work for you! Slow cooked whole grains packed with chickpeas and vegetables.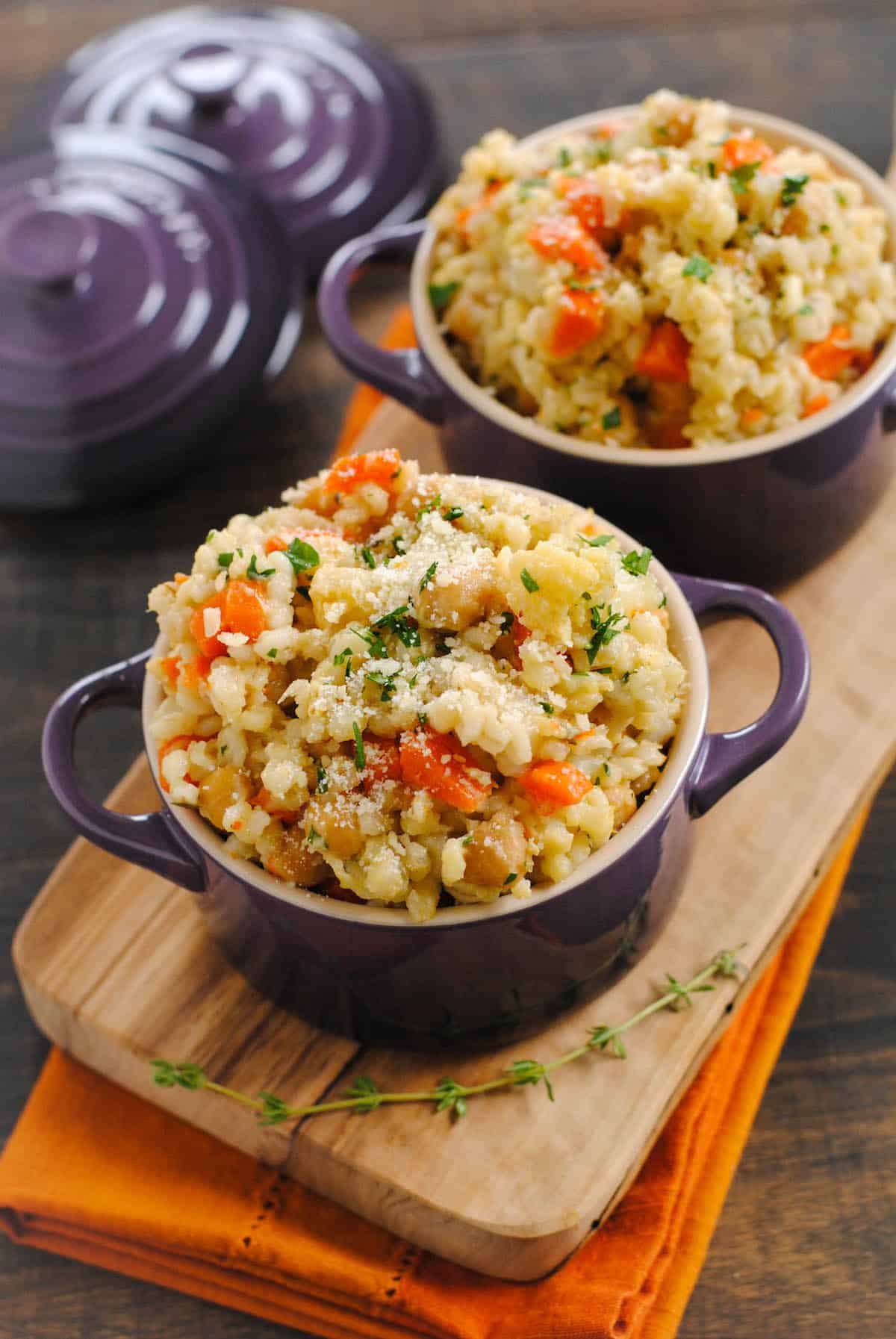 After many years of experimenting and discovering that the risotto cooking method works for just about any grain, I make whole grain risottos for dinner quite often. I've conquered steel-cut oat risotto and farro and kale risotto. The time has come to let my slow cooker do some of the work with this Slow Cooker Barley & Chickpea Risotto.
Of course, since the "risotto method" refers to stirring small amounts of hot stock into rice or grains gradually, this recipe isn't a true risotto. But I've found that using a slow cooker allows the barley to slowly simmer in broth, and the end product is very similar to barley cooked using the traditional risotto method.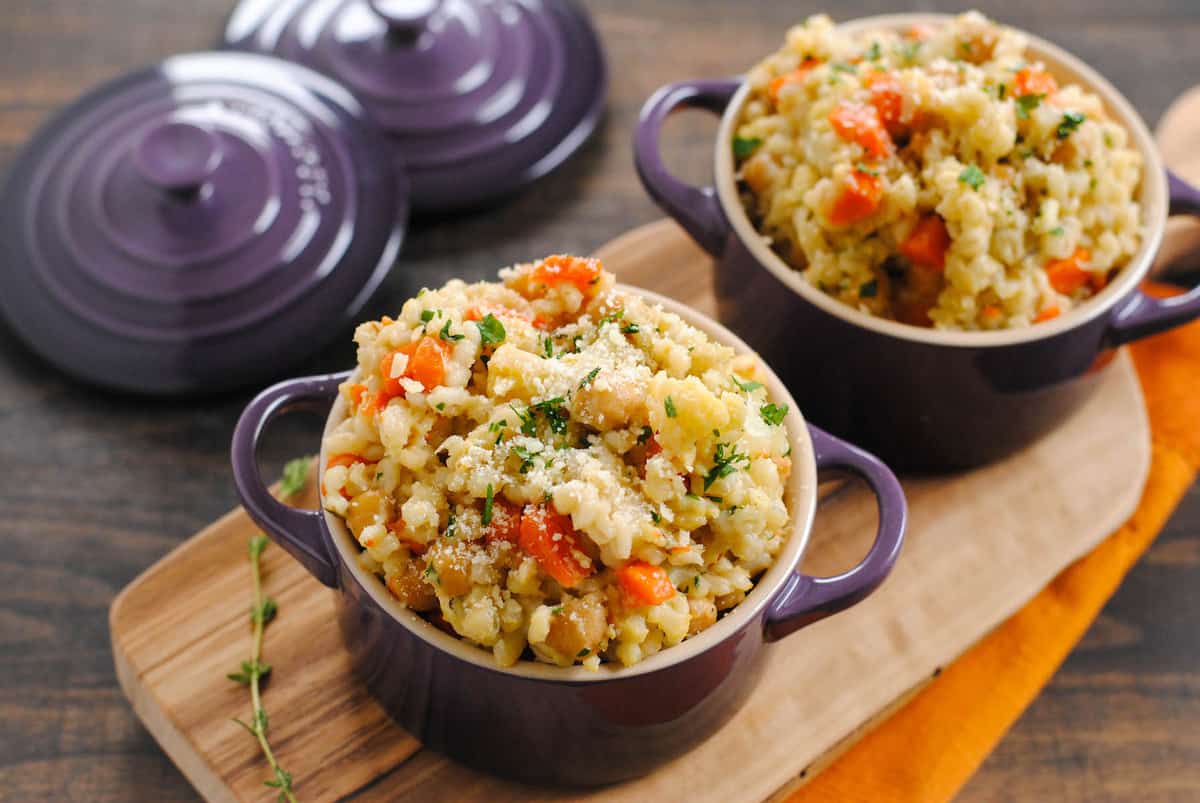 About this Slow Cooker Barley & Chickpea Risotto
This isn't a traditional slow-cooker recipe that you can set and forget for eight hours. Barley only takes about two hours to cook using this method. So while you can't leave for work all day, you can leave for a few errands. Or clean your house. Or relax on the couch and drink a glass of wine.
Just stir the ingredients into your slow cooker bowl as soon as you get home from work, and in two hours, a big pot of barley, carrot, cauliflower and chickpea risotto will be waiting for you! Get the Parmesan cheese out of the fridge, pour yourself [another] glass of wine, find some forks, and you're ready for dinner.
What kind of barley do I use for barley risotto? What is the difference between barley and pearl barley?
This particular barley recipe calls for pearl barley (sometimes called pearled barley), which is barley that has been processed to remove the outer hull and some of the bran layer. This means that it cooks faster and is less chewy than traditional unprocessed barley.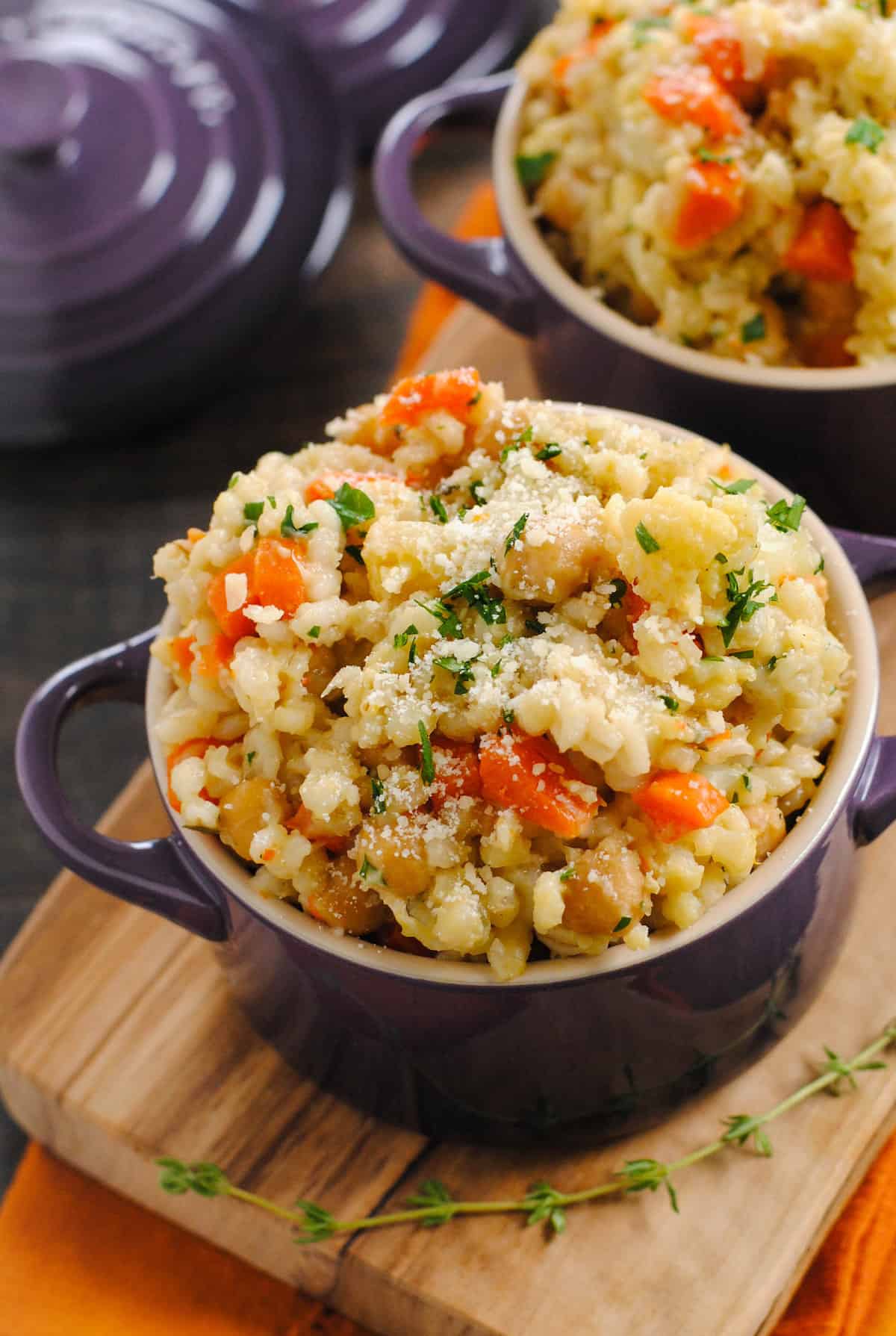 What are the ingredients in barley risotto?
olive oil
carrots
garlic
cauliflower
onion
thyme
pearl barley
garbanzo beans (chickpeas)
chicken or vegetable broth
salt and pepper
lemon juice
Parmesan cheese
parsley
Can I make this crockpot barley risotto vegetarian or vegan?
Absolutely! For a vegetarian dish, be sure to use vegetable broth instead of chicken broth. For a vegan dish, use vegetable broth, and omit the Parmesan cheese. Or, while I haven't tried it personally, I've read that nutritional yeast makes a good vegan substitute for Parmesan cheese.
Cook Time
2 hours
30 minutes
Total Time
2 hours
50 minutes
Ingredients
1-1/2 tablespoons olive oil
3 carrots, peeled and chopped
3 garlic cloves, minced
1/2 head cauliflower, cut into small florets
1/2 small yellow onion, minced
4 sprigs fresh thyme
1-1/4 cups pearl barley, rinsed
1 can (15.5 ounces) garbanzo beans, rinsed and drained
2-1/2 cups less-sodium chicken or vegetable broth
1-1/4 cups water
1/2 teaspoon kosher salt
1/4 teaspoon ground black pepper
1-1/2 tablespoons fresh lemon juice
1/3 cup grated Parmesan cheese
3 tablespoons chopped fresh parsley
Instructions
Heat oil in large saucepan over medium-high heat. Add carrots, garlic, cauliflower and onion. Cook until vegetables being to soften, about 5 minutes, stirring occasionally.
Stir in thyme and barley; cook 2 minutes, stirring frequently.
Transfer mixture to slow cooker bowl. Stir in garbanzo beans, broth, water, salt and pepper. Cook on high 2 to 2-1/2 hours or until barley is tender and most liquid is absorbed.
Remove and discard thyme sprigs; stir in lemon juice. Serve in warm bowls garnished with cheese and parsley.
Nutrition Information:
Yield:
4
Serving Size:
1
Amount Per Serving:
Calories:

434
Total Fat:

20g
Saturated Fat:

5g
Trans Fat:

0g
Unsaturated Fat:

13g
Cholesterol:

86mg
Sodium:

680mg
Carbohydrates:

35g
Fiber:

8g
Sugar:

6g
Protein:

29g
Other delicious barley recipes: