Slow Cooker Moroccan Spiced Stew with Fruit and Nut Couscous Pilaf
People assume that since I'm a food writer / photographer / blogger, I probably spend hours each day prepping that night's dinner. Sometimes, that's true. But rarely. The truth is, cooking is only a small part of my job! Some nights, Jeff and I end up re-heating something I've made earlier in the day.
But other nights, 6:30 will roll around, and I don't know WHAT the heck we'll do for dinner. I always think to myself "Hmmm…if I would have put something in the slow cooker this morning, we could be eating that right now!" Truth is, I love my slow cooker, but I don't use it as much as I should.
I'm actually a little afraid of the slow cooker. I have neuroses about it. I don't know what to actually put it in it, unless I'm following a recipe. In most other areas of the kitchen, I like to just wing it. But I'm scared to do that in the slow cooker. What if I don't add enough liquid and everything burns? What if I add too much liquid and everything is watery?
Some mornings, I'd like to get something in the slow cooker for that night's dinner, and fast. Luckily, the folks at Campbell's have heard my worries! They have a new line of slow cooker sauces in flavors like Sweet Korean BBQ, Mexican Red Chile Taco and Hawaiian Luau. The only instructions? Put meat in slow cooker. Tear open packet of sauce. Pour sauce over meat. Close lid. Cook for however long the package tells you. Eat. Yesssss – that's my kind of slow cooker meal!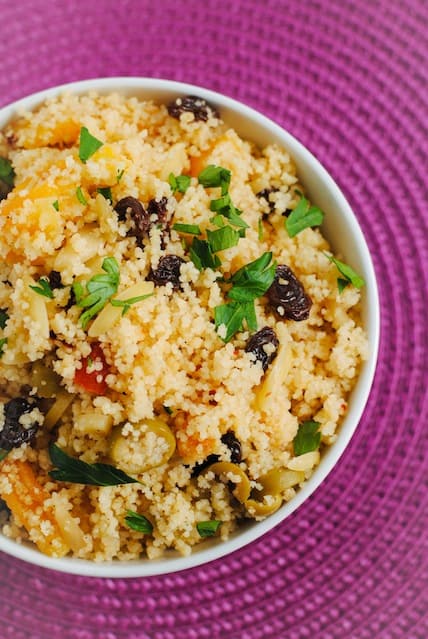 Campbell's also has a variety of new Skillet Sauces in flavors like Marsala, Toasted Sesame and Thai Green Curry. These meals take just 15 minutes start to finish in one skillet! Another meal that I could handle making after a long day!
While all of these sauces were tempting me at the grocery store, I finally settled on Moroccan Spiced Stew Slow Cooker Sauce. I used chicken thighs which slowly cooked all day in this glorious sauce. I served them over a quick couscous pilaf made with lots of dried fruits and nuts. And just like that, we were eating a super flavorful stew with minimal effort on my part!
Yield: 6 servings
Slow Cooker Moroccan Spiced Stew with Fruit and Nut Couscous Pilaf
Ingredients
2 to 3 pounds chicken breasts or thighs*
1 packet Campbell's Moroccan Spiced Stew Slow Cooker Sauce
1 tablespoon extra virgin olive oil
1 large garlic clove, minced
1/3 cup slivered almonds
4 dried apricots, thinly sliced
3 tablespoons raisins
1/4 teaspoon ground black pepper
1/4 teaspoon red pepper flakes
1-2/3 cups chicken or vegetable broth
1 cup couscous
1/3 cup pimento-stuffed sliced green olives
3 tablespoons roughly chopped fresh parsley
2 tablespoons fresh lemon juice
Instructions
Place chicken and sauce in slow cooker and cook according to package instructions (3-4 hours on high or 6-7 hours on low).
About 10 minutes before end of cooking time, prepare pilaf: heat oil in medium saucepan over medium heat. Add garlic and almonds; cook 1 minute, stirring constantly.
Stir in apricots, raisins, black pepper and red pepper flakes. Cook 1 minute, stirring constantly. Add chicken broth, heat to boiling.
Stir in couscous and olives; return to boiling. Cover with lid and remove from heat; let stand 5 minutes. Fluff with fork, then stir in parsley and lemon juice. Serve couscous with chicken immediately.
Notes
*You can use either boneless/skinless chicken, or bone-in/skin-on. If you go the bone-in route, just be prepared to skim the extra fat off the surface of the sauce at the end of the cooking time.
This post brought to you by Campbell's Dinner Sauces. Weekend-worthy dinners with only weekday-level effort needed! Learn more at http://www.campbellsauces.com/. Sponsored posts help me pay for the costs associated with this blog (groceries…lots of groceries), and help support me as I pursue a career in recipe development and food photography. All opinions are 100% my own.