Blue Cheese & Apple Turkey Breast Roulade
Not cooking for a huge crowd this Thanksgiving? This Blue Cheese & Apple Turkey Breast Roulade makes 6 servings, and can be prepped a day in advance. It is so packed with sweet and savory flavor that you might end up wishing you had made two!
I know in Monday's post, I sort of lamented about how small my Thanksgiving gathering is, thus, not allowing me to make a HUGE feast with a million different dishes. I shouldn't complain at all, because the way things are means it's simple and relatively easy to prepare the meal.
I've heard from several of you in the past few days, and it turns out, small family groups similar to my own are very common for Thanksgiving. Not everybody is cooking for 30! And while I DO have a recipe for a whole roasted turkey being published next Monday, I wanted to share a turkey recipe fit for a smaller gathering today. This Blue Cheese & Apple Turkey Breast Roulade provides about five pounds of turkey, making it just the right size for my family of six. If you had a slightly larger (but still pretty small) guest list, you could serve this roulade plus a few roasted turkey drumsticks.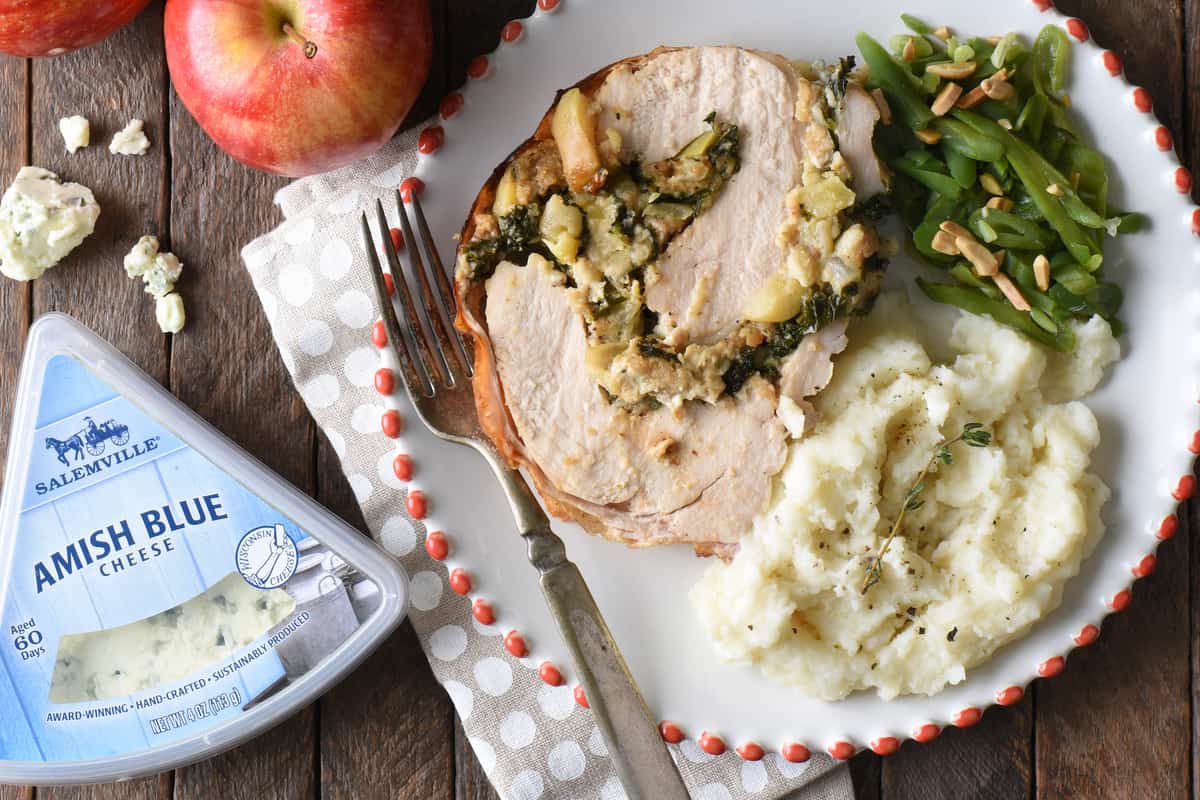 About this Blue Cheese & Apple Turkey Breast Roulade:
I know that blue cheese is not a traditional Thanksgiving flavor, and to be honest, I was a little skeptical myself, of how it would turn out, the first time I tested the recipe. But the combination of the apples, kale, onion, herbed stuffing mix and cheese is just so so SO good. And even if you have somebody at your table that isn't a big fan of blue cheese, I would encourage them to try a slice anyway. After combining with the other ingredients and roasting for several hours, the flavor of the cheese really mellows and simply becomes a melty, tangy component that holds everything together.
I found that one (4 ounce) wedge of Salemville Blue Cheese was the exact right amount of cheese for this Blue Cheese & Apple Turkey Breast Roulade. It is rich and smooth while still retaining a slight tang, which is why it works so well with things like apples and kale.
You'll need one whole turkey breast (both halves) for this recipe, and it needs to be boned and butterflied (it will be about five pounds). This is a special-order item at most stores and butcher shops, but just call your local store's meat counter and explain what you need. It shouldn't be an issue, especially around the holidays (lots of people make roulades!). You can even request that they save the bones for you if you want to use them to make homemade turkey stock.
If you like to get as much of your Thanksgiving prep work out of the way ahead of time (I do!), you can make the stuffing, and stuff, roll and tie your roulade the day before you plan to roast it. The great thing about this plan is that if you keep the assembled roulade in the fridge, uncovered, overnight, the skin will have a chance to dry out, leaving you with extra crispy skin once it's roasted the next day. Yum!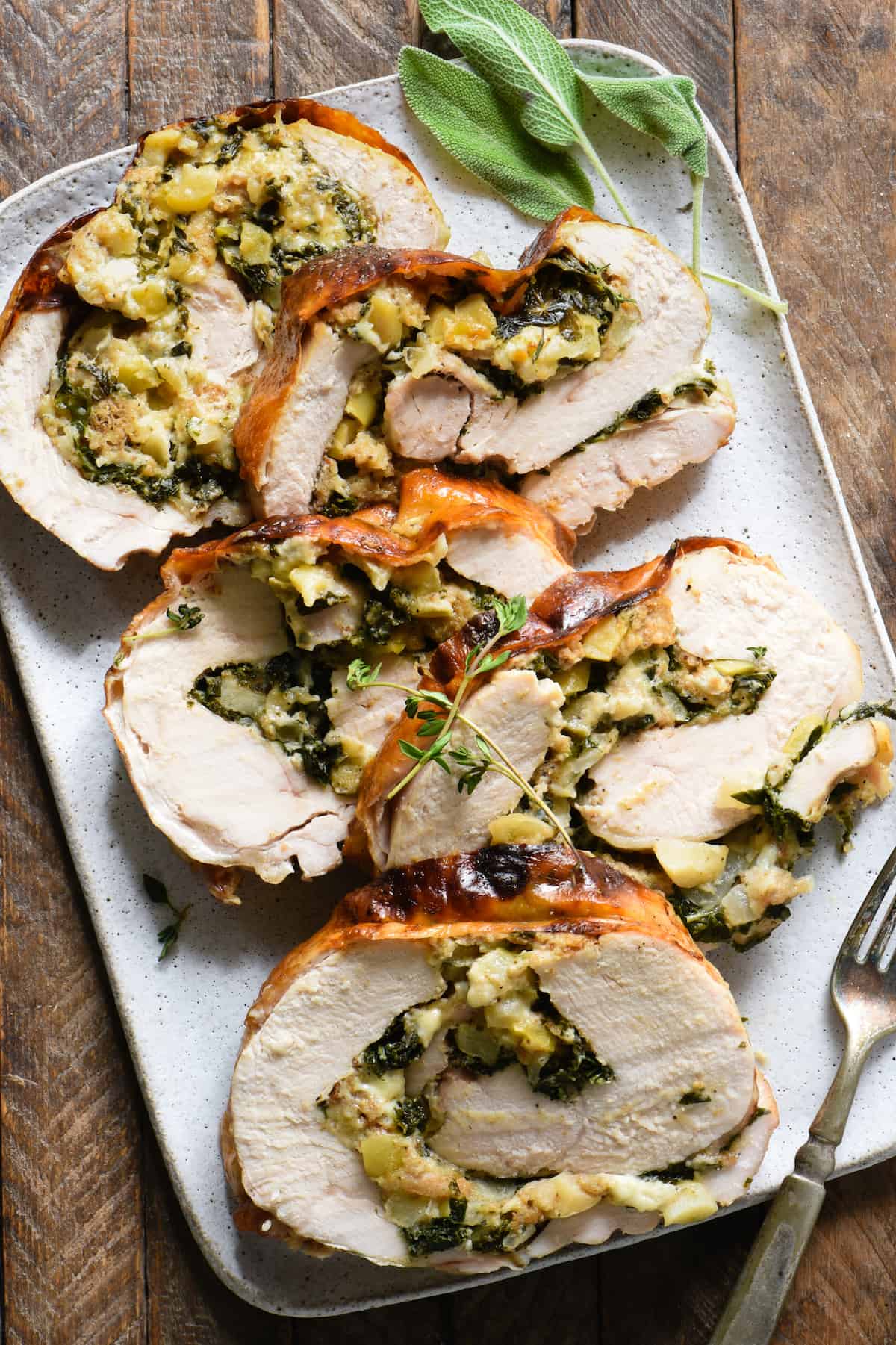 Happy Thanksgiving to you and your (large or small!) family, and be sure to connect with Salemville Cheeses on Facebook, Instagram and Pinterest.
Prep Time 35 minutes

Cook Time 2 hours 8 minutes

Total Time 2 hours 43 minutes
Ingredients
6 tablespoons unsalted butter, divided
1 medium white onion, chopped
2 apples, chopped
1 bunch kale (ribs removed and discarded), thinly sliced
1 egg
2 cups herb-seasoned stuffing mix
1 cup chicken stock
3 teaspoons kosher salt, divided
1-1/2 teaspoons ground black pepper
1 whole (2 halves) turkey breast, boned and butterflied (about 5 pounds)
1 wedge (4 ounces) Salemville Blue Cheese, crumbled
Butcher's twine
Instructions
Heat 4 tablespoons butter in large skillet over medium heat. Add onion and cook 4 minutes, stirring occasionally. Add apples and kale and cook 3 to 4 minutes or until kale is wilted, stirring occasionally.
Meanwhile, place egg in large bowl and whisk until smooth. Add stuffing mix, stock, 1 teaspoon salt, 1/2 teaspoon pepper and onion mixture, stir until well combined.
Preheat oven to 325 degrees F. Place baking rack on rimmed sheet pan.
Lay turkey breast, skin side down, on work surface. Sprinkle turkey with remaining 2 teaspoons salt and 1 teaspoon pepper. Spread the stuffing mixture evenly over meat, leaving 1/2-inch border on all sides. Sprinkle cheese evenly over stuffing.
Starting at one short end, roll turkey like a jelly roll, tucking in any stuffing that may fall out on the sides. Using twine, firmly tie the roll every 2 to 3 inches to make a compact cylinder.
Place the roulade seam side down on prepared rack on sheet plan. Melt remaining 2 tablespoons butter and brush over roulade.
Transfer to oven and roast 2 hours or until center of roulade reaches 150 degrees F. Remove from oven and cover roulade with foil. Allow to rest at room temperature 15 minutes before slicing and serving.
Notes
Home Chef Tip: You can make the stuffing, and stuff, roll and tie your roulade the day before you plan to roast it. Keep the assembled roulade in the fridge, uncovered, overnight.
Recipes to round out your Thanksgiving dinner:
Disclosure: This is a sponsored post written by me on behalf of Saputo Cheese USA Inc. Sponsored posts help me pay for the costs associated with this blog (groceries…lots of groceries), and help support me as I pursue a career in recipe development and food photography. All opinions are 100% my own