Turkey, Brie & Peach Panini
Hey friends! I'm about to scoot on out of here for a few days. Tomorrow I'll be in the kitchen all day, cranking the radio up and doing a bunch of Thanksgiving prep. I'm getting the stuffing, cranberry sauce, pies and maybe even the gravy all ready before the big day so that come Thursday, I can just pop the bird in the oven, mash some 'taters and relax with my fam! I'll be back here Friday with another Thanksgiving leftover idea, but I wanted to bring you the first one today. Make sure you save some turkey for these sandwiches!
Grab some leftover turkey (or turkey lunchmeat), gooey brie cheese (obsessed with it in Savory Baked Brie), grainy Dijon mustard and some leafy arugula. If you're a cranberry lover, use some leftover cranberry sauce for this sandwich. But if you're not (I'm not), it's super simple to whip up a homemade chutney using another dried fruit (in this case, peaches) instead. Whatever fruit you choose, you'll love the taste of the sweet fruit, savory turkey and creamy cheese together in these Turkey, Brie & Peach Panini.
Happy Thanksgiving! I hope you have a great day with your loved ones and a delicious dinner!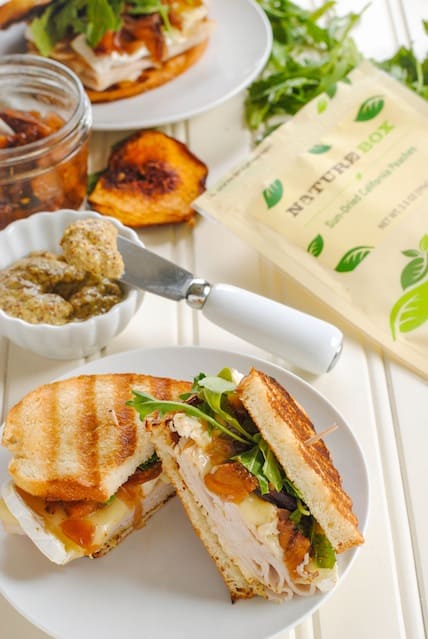 Turkey, Brie & Peach Paninis
Ingredients
For the Peach Chutney:
3 ounces NatureBox Sun-Dried California Peaches, roughly chopped
1 garlic clove, minced
1/2 small yellow onion, thinly sliced
1 cup water
1/4 cup apple cider vinegar
2 tablespoons light brown sugar
1/2 teaspoon kosher salt
1/4 teaspoon cayenne
For the Panini:
12 slices crusty bread
Nonstick cooking spray
6 tablespoons country Dijon mustard
12 slices roasted turkey breast
6 ounces Brie cheese, thinly sliced
1-1/2 cups arugula
Instructions
Make the Peach Chutney: In medium saucepan, combine all ingredients. Heat to boiling over medium-high heat. Reduce heat to medium-low; simmer uncovered 25 minutes or until most liquid is absorbed. Let cool. This step can be done up to 1 week in advance. Store chutney in airtight container in refrigerator until ready to use.
Make the Paninis: Spray 1 side of each bread slice with cooking spray. Spread opposite side of 4 bread slices with mustard. Over mustard, place turkey, brie, Peach Chutney and arugula. Place remaining bread slices, sprayed side up, over arugula.
Preheat panini press or pan over medium heat. Cook sandwiches until bread is golden brown and cheese melts, about 3 minutes per side, pressing down occasionally with large spatula.
Disclaimer: This post is part of an ongoing relationship I have with NatureBox for recipe development. Posts like this help me pay for the costs associated with this blog (groceries…lots of groceries), and help support me as I pursue a career in recipe development and food photography. All opinions are 100% my own.