Guacamole Potato Salad
It finally happened. Technology bit me in the butt. You see, my camera has a wifi feature, which always makes me go "whoa, we're living in the future!" Not only can I take photos and instantly see them on my camera screen (which is cool enough for somebody who grew up with film cameras), but I can now instantly transfer them to my computer . . . no cord needed. So occasionally, while I'm doing a photo shoot, I'll wifi transfer a few (low-res) photos to my computer, just to see what they're looking like on a bigger screen.
I did that with this Guacamole Potato Salad. The photos looked good, so I called it a day. Except that I forgot to ever transfer the rest of the (hi-res) photos to my computer with the cord. Call it a case of this photo shoot happening on Friday, and I was just DONE for the week. But about 24 hours after my monthly memory card reformatting, I realized my mistake. And then proceeded to kick things.
Three lessons learned. 1.) Buy a bigger memory card so you don't have to reformat as often. 2.) Double check for computer files before reformatting. 3.) Guacamole Potato Salad is just as delicious the second or third time around.
I'm pretty grateful for lesson #3. I mean, if I HAD to re-make a recipe because of my own carelessness, at least I get to eat this delicious salad again. Also, this salad was just as simple to make as Guacamole Rice, so it wasn't a huge undertaking to make another batch. Simply boil a pound of Idaho® Mixed Medley Fingerling Potatoes. Any variety of Idaho® potato will work well here, jus be sure to look for the "Grown In Idaho" seal. Boil the potatoes until tender, then toss with all the classic fixings for guacamole – mashed avocado, a touch of sour cream, lime juice, tomatoes, jalapeño, cilantro and red onion. Serve with grilled fish or chicken tacos, or a Southwestern-inspired hamburger!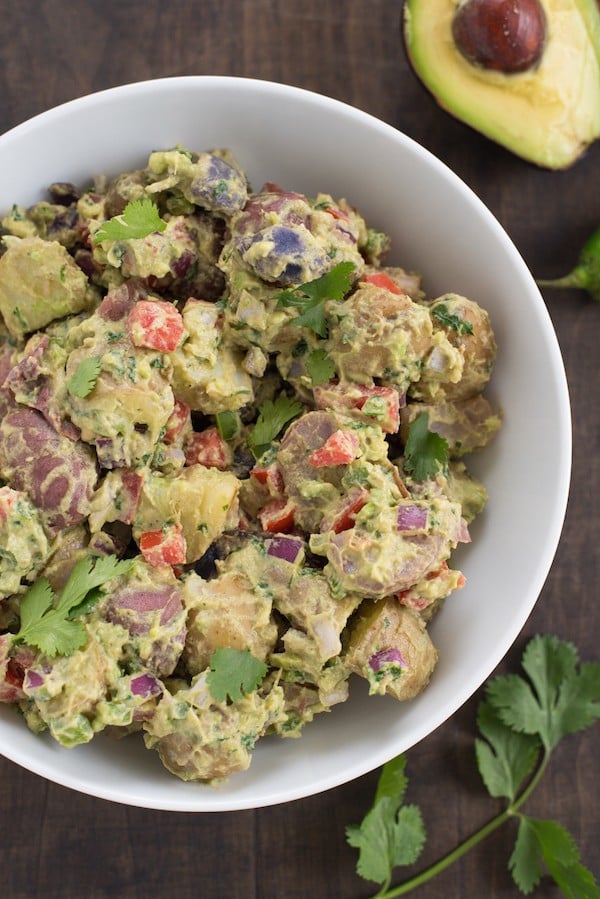 Be sure to connect with Idaho® Potatoes on Facebook, Twitter, Instagram and Pinterest.
Guacamole Potato Salad
Ingredients
2 pounds fingerling potatoes
2 ripe avocados, peeled, pitted and diced
1/4 cup sour cream
2 tablespoons fresh lime juice
2 teaspoons minced garlic
1/2 teaspoon ground cumin
1/2 teaspoon kosher salt
1/4 teaspoon ground black pepper
2 Roma tomatoes, chopped
1 medium jalapeño, minced
1/2 cup chopped red onion
1/2 cup chopped fresh cilantro
Instructions
Place potatoes in large saucepot and cover with cold water; heat to boiling over medium-high heat. Cook 12 to 15 minutes or until potatoes are just tender. Drain; rinse with cold water until cool. Transfer potatoes to cutting board; cut into 1-inch pieces.
Meanwhile, in large bowl, place avocados, sour cream, lime juice, garlic, cumin, salt and pepper. Use fork to mash together until smooth.
Add tomatoes, jalapeño, onion and potatoes to bowl with avocado mixture; gently toss to combine. Refrigerate at least 1 hour, or up to 2 hours before serving. Just before serving, gently fold in cilantro.
Disclosure: This was a sponsored post written by me on behalf of Idaho® Potatoes. Sponsored posts help me pay for the costs associated with this blog (groceries…lots of groceries), and help support me as I pursue a career in recipe development and food photography. All opinions are 100% my own.