Baked Coconut Shrimp with Creamy Sweet Chili Sauce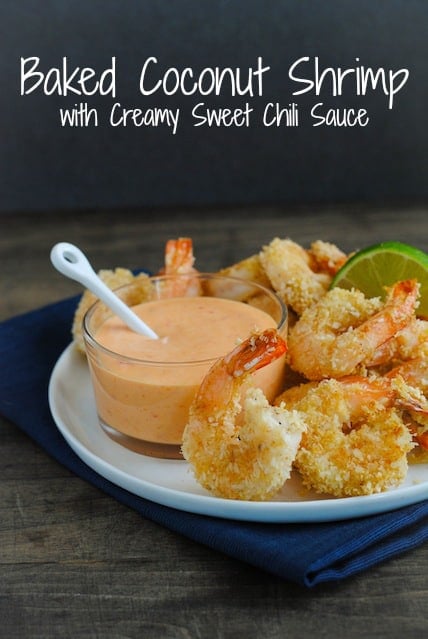 Do you ever look at your hands and think about how they silently tell the story of your life? I remember when I was a child, looking at my dad's hands, which were scarred from years of working in an auto factory (seriously, could we BE more Michigan?). I was curious as to how he got those scars, and why some of them never seemed to fade with time.
Fast forward several decades, and here I am with similar, if more feminine, hands. I look at my hands and see the many burns I got in culinary school, particularly on a day searing fish fillets on the hottest flattop ever.
The oil kept splashing and burning, but I kept working. I see a scar from another cooking incident – this one at home, when I decided I had to make Kraft macaroni and cheese after several drinks at a Detroit biergarten. Lesson learned on that one.

And then there was that time I somehow grabbed a pan of spicy potato chips without a potholder. Ouch.
I see the cuticles that I pick during times of stress, nervousness, sorrow or even boredom (so, almost constantly). I see the indent my wedding ring leaves. I insist on wearing it a half size too small, as my husband is on his third wedding ring and I refuse to let him give me the same grief I've given him for losing his rings over the years.
Most of all, I see the comedy in the fact that I asked Jeff for a camera remote for Christmas so that I could take "action shots" of my food, then quickly realizing that I am the world's worst hand model.
Well, except for shots like the one below, where you can only see my nails. Because I really can grow quite lovely and strong nails.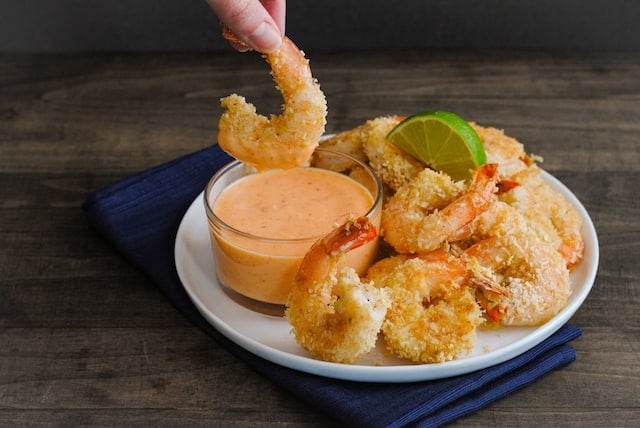 What am I hand modeling, you ask? Why, this amazing baked coconut shrimp. I love the combination of coconut and shrimp, as demonstrated by my coconut risotto topped with lime shrimp.
Ever since I realized how quickly coconut shrimp comes together at home, and how healthy it is if you bake it, I've been making it several times a month. It is such a light and delicious meal, but makes you feel as though you're eating at a restaurant.
These coconut shrimp can be served with a variety of sauces – cocktail sauce, apricot preserves, hot sauce or no sauce at all. Here, I've used one of my favorite Asian condiments, sweet chili sauce (I use Mae Ploy brand). It's also the condiment for my crab rangoon pizza!
It's sweet, but also has a kick of spice at the same time, and it's addictive. I combined it with low fat mayo to keep things light, lime juice, and a dash of sriracha.
I also use a very similar type of sauce to top my wonton nachos.
Coconut lovers, you'll also want to check out my coconut creme brulee!
Baked Coconut Shrimp with Creamy Sweet Chili Sauce
Ingredients
For the Baked Coconut Shrimp:
Nonstick cooking spray
1/3 cup shredded unsweetened coconut
1/3 cup panko breadcrumbs
1/4 cup whole wheat or all-purpose flour
2 eggs
1 pound 16-20 count peeled and deveined shrimp
For the Creamy Sweet Chili Sauce:
Juice of 1/2 lime
1/2 cup low fat mayonnaise
1/4 cup Asian sweet chili sauce
2 teaspoons sriracha
Instructions
Preheat oven to 425 degrees F. Spray rimmed baking pan with nonstick spray. In shallow bowl, stir together coconut, breadcrumbs and flour. In medium bowl, whisk eggs. Add shrimp to eggs; toss to combine. One at a time, toss shrimp in coconut mixture, pressing lightly to adhere. Place shrimp on prepared baking pan; repeat with remaining shrimp. Lightly spray shrimp with nonstick spray. Bake shrimp 8 to 10 minutes or until golden brown on the outside and opaque all the way through, turning once.
Meanwhile, make Creamy Sweet Chili Sauce: In small bowl, stir together all ingredients.
Serve shrimp with Creamy Sweet Chili Sauce.