Creamy Salmon Pasta Recipe – With Video!
This Creamy Salmon Pasta recipe is a great way to show off what a "home chef" you are. Simple yet impressive, this is a perfect recipe for a date night at home.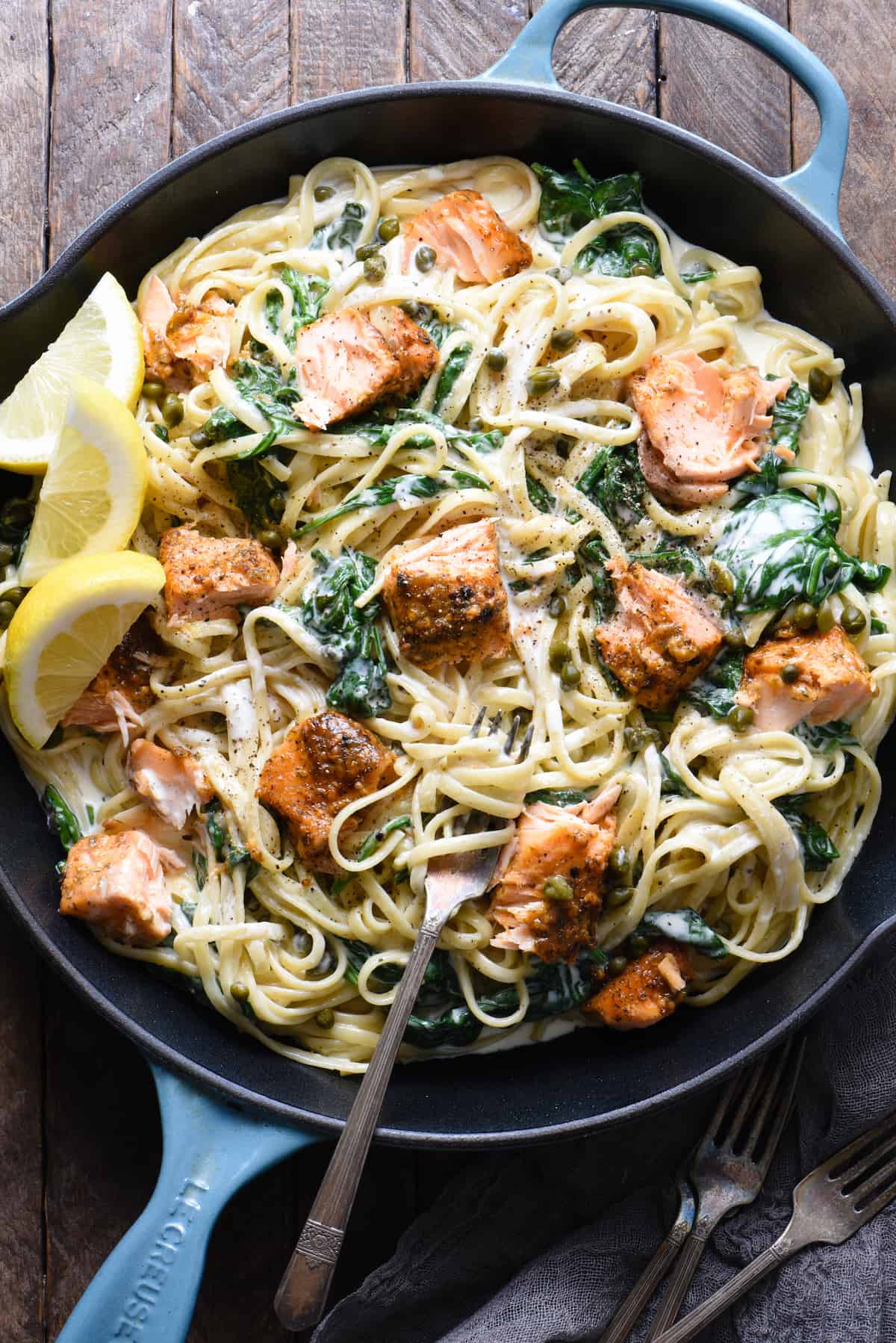 Whenever my parents or my husband's (well, boyfriend at the time) parents would take us out to dinner when we were in college, my order was always either a steak, or seafood pasta.
Living in the dorms, it's not like the cafeterias were known for their stellar crab stuffed salmon, New York strip steaks or seared Chilean sea bass. And let's face it: the pasta was ALWAYS overcooked.
So when I had a chance to go out to a restaurant, I was sure to order one of these things.
Even now, seafood pasta like salmon alfredo is one of my top "luxury" meals, whether it's at a restaurant or eaten at home. It always seems like a decadent indulgence, even when I'm sneaking a whole box of spinach into it.
About this Creamy Salmon Pasta:
This Creamy Salmon Pasta with Spinach recipe is perfect for a "date night" at home (we'll often make some version of this, or pesto salmon, for Valentine's Day).
It seems pretty fancy, but trust me, it's just cooking pasta + making a simple cream sauce + roasting a piece of salmon (you could even make instant pot salmon or grilled sockeye salmon if you prefer not to turn on the oven).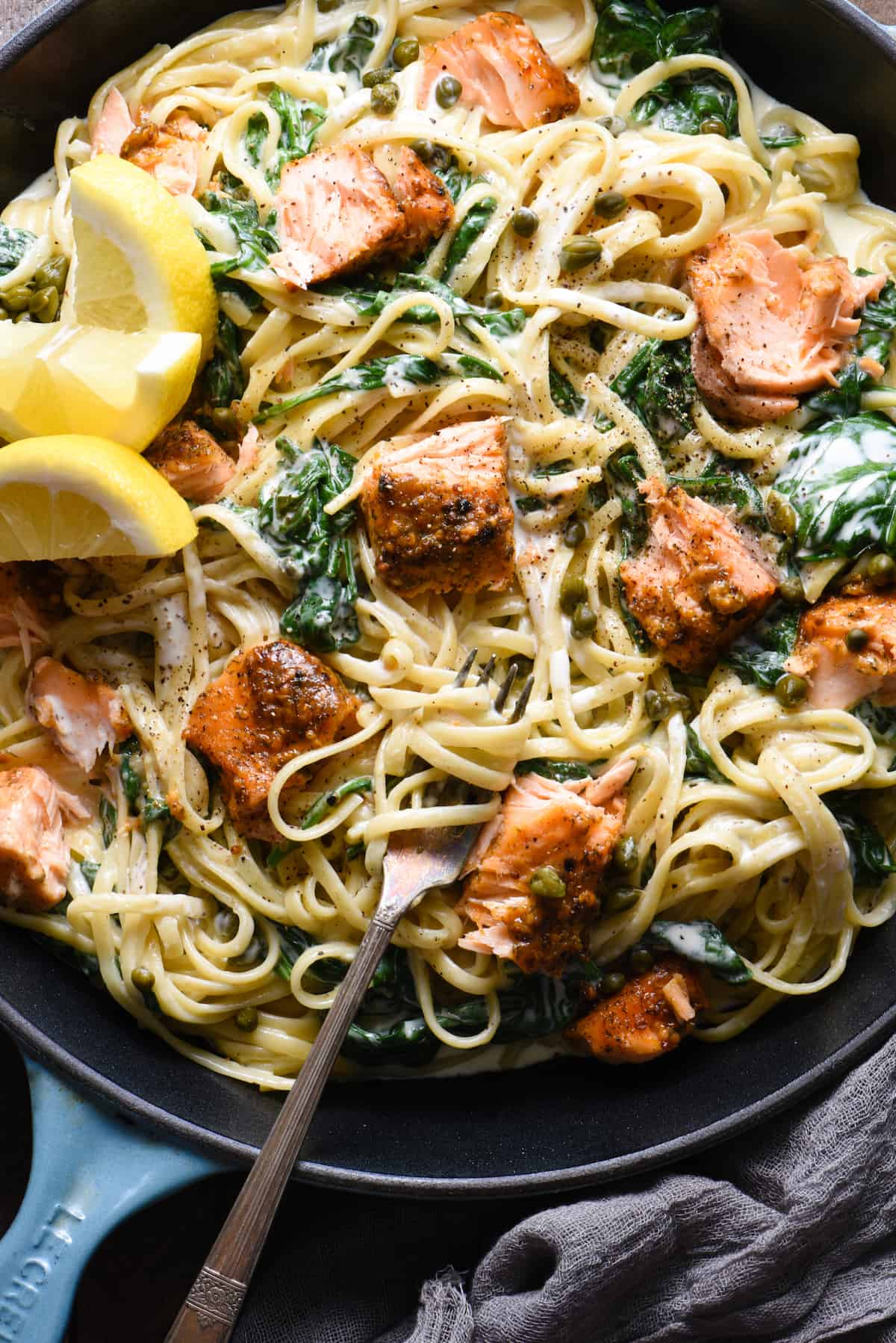 The ingredients for this Linguine with Cream Sauce and Salmon are easy to find:
Nonstick cooking spray
salmon fillets
salt and pepper
linguine
butter
garlic
heavy cream
white wine
lemon
spinach
capers
Tips for making this pasta with salmon recipe successful:
So, you're going to be cooking three things at once (fish, pasta, sauce) in this recipe, but trust me: you can do this. I promise.
First, get your salmon into the oven. All you're doing here is putting the fish on a pan, seasoning it, and popping it into the oven (you can also start with my Lemon Herb Baked Sockeye Salmon recipe for extra flavor). Set a timer and forget about it for awhile.
Next, get your pasta going: dump some linguine into a pot of boiling, salted water, and again: set it and forget it (well, maybe give it a stir or two if you remember).
The "home chef" part comes in with your sauce. You'll start by cooking some garlic in butter, and then adding cream, white wine, lemon zest, salt and pepper. You'll cook this mixture about 5 minutes or until it thickens into a, well, sauce.
By now, your pasta should be done cooking. Drain it well, pour it into the skillet with the sauce, add some capers and spinach, and give everything a good stir until the spinach is wilted.
By now, your salmon should be done cooking, too! Take that out of the oven, break it into big chunks and put it on top of your pasta.
Grab a fork, use any extra lemons to make a lemon margarita, and it's time to eatttttttt!
Can pasta with salmon be reheated or frozen?
While I love recipes where leftovers can be reheated for lunch the next day or even frozen (like my lasagna with cottage cheese), this recipe is one that is best eaten immediately.
Seafood never reheats well, and cream sauce tends to break when reheating. I also don't recommend freezing this.
So, while this recipe as written below would serve a family of four (or a double date at home!), if you're serving just two people for date night, I'd recommend cutting the recipe in half.
If you're looking for a salmon recipe that can be frozen and reheated, check out my Salmon Cakes! They're made with fresh, flavorful ingredients and are easy to prepare. This restaurant-quality recipe will win over even the seafood skeptics in your family.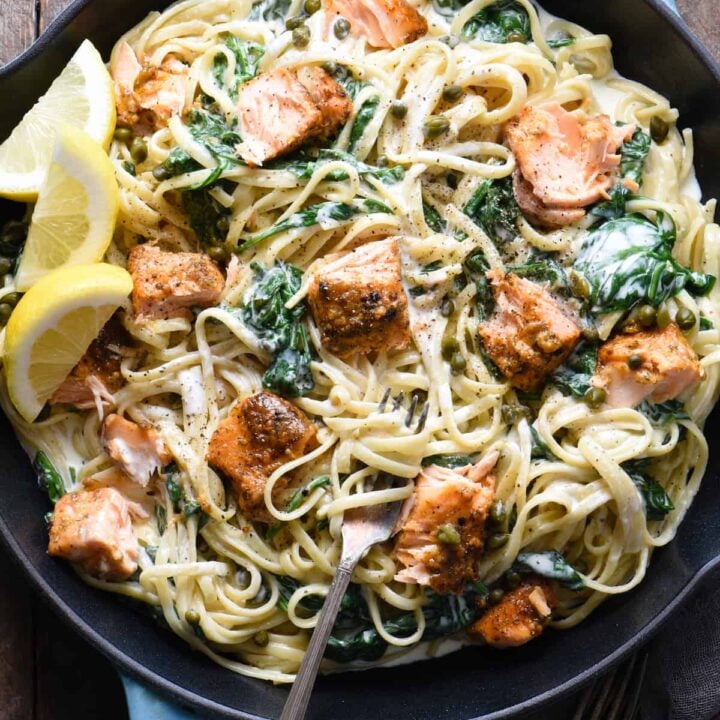 Creamy Salmon Pasta with Spinach
This Creamy Salmon Pasta recipe is a great way to show off what a "home chef" you are. Simple yet impressive, this is a perfect recipe for a date night at home.
Ingredients
Nonstick cooking spray
2 salmon fillets (about 3/4 pound)
1 teaspoon kosher salt, divided, plus more for pasta water
1/2 teaspoon ground black pepper, divided
12 ounces linguine
2 tablespoons unsalted butter
3 garlic cloves, minced
1-1/4 cups heavy cream
1/2 cup dry white wine
1 teaspoon grated lemon zest
1 box (5 ounces) baby spinach
2 tablespoons capers
Lemon wedges, for garnish (optional)
Instructions
Preheat oven to 400 degrees F and heat large pot of water to boiling on stove. Spray small rimmed baking pan with nonstick spray. Place salmon, skin side down, on prepared pan and sprinkle with 1/2 teaspoon salt and 1/4 teaspoon pepper. Bake 12 minutes or until salmon is almost opaque throughout and internal temperature reaches 145 degrees F.
Meanwhile, salt pot of boiling water and cook linguine according to package instructions.
Meanwhile, heat butter in large high-sided skillet over medium heat. Add garlic and cook 1 minute, stirring constantly. Add cream, wine, lemon zest and remaining 1/2 teaspoon salt and 1/4 teaspoon pepper. Heat to boiling over medium-high heat, then reduce heat to medium and cook 5 to 6 minutes or until mixture is thickened to a thin sauce consistency, stirring frequently. Reduce heat to low.
Drain linguine and add to skillet. Stir in spinach and capers and cook over low heat 1 to 2 minutes or until spinach is just wilted.
Remove salmon from oven. Slip spatula between salmon skin and flesh to remove skin; break into large chunks over linguine. Serve garnished with lemon wedges, if desired.
Recommended Products
Foxes Love Lemons, LLC is a participant in the Amazon Services LLC Associates Program, an affiliate advertising program designed to provide a means for sites to earn advertising fees by advertising and links to Amazon.com. There is no additional cost to you.
Nutrition Information:
Yield:

4
Serving Size:

1
Amount Per Serving:
Calories:

759
Total Fat:

48g
Saturated Fat:

24g
Trans Fat:

1g
Unsaturated Fat:

20g
Cholesterol:

171mg
Sodium:

732mg
Carbohydrates:

42g
Fiber:

3g
Sugar:

4g
Protein:

35g
More great pasta recipes: