Good Midwestern Potato Salad
This Good Midwestern Potato Salad is the side dish of your dreams. Potatoes, eggs, celery and onion, dressed with a creamy, tangy sauce. So simple and so good!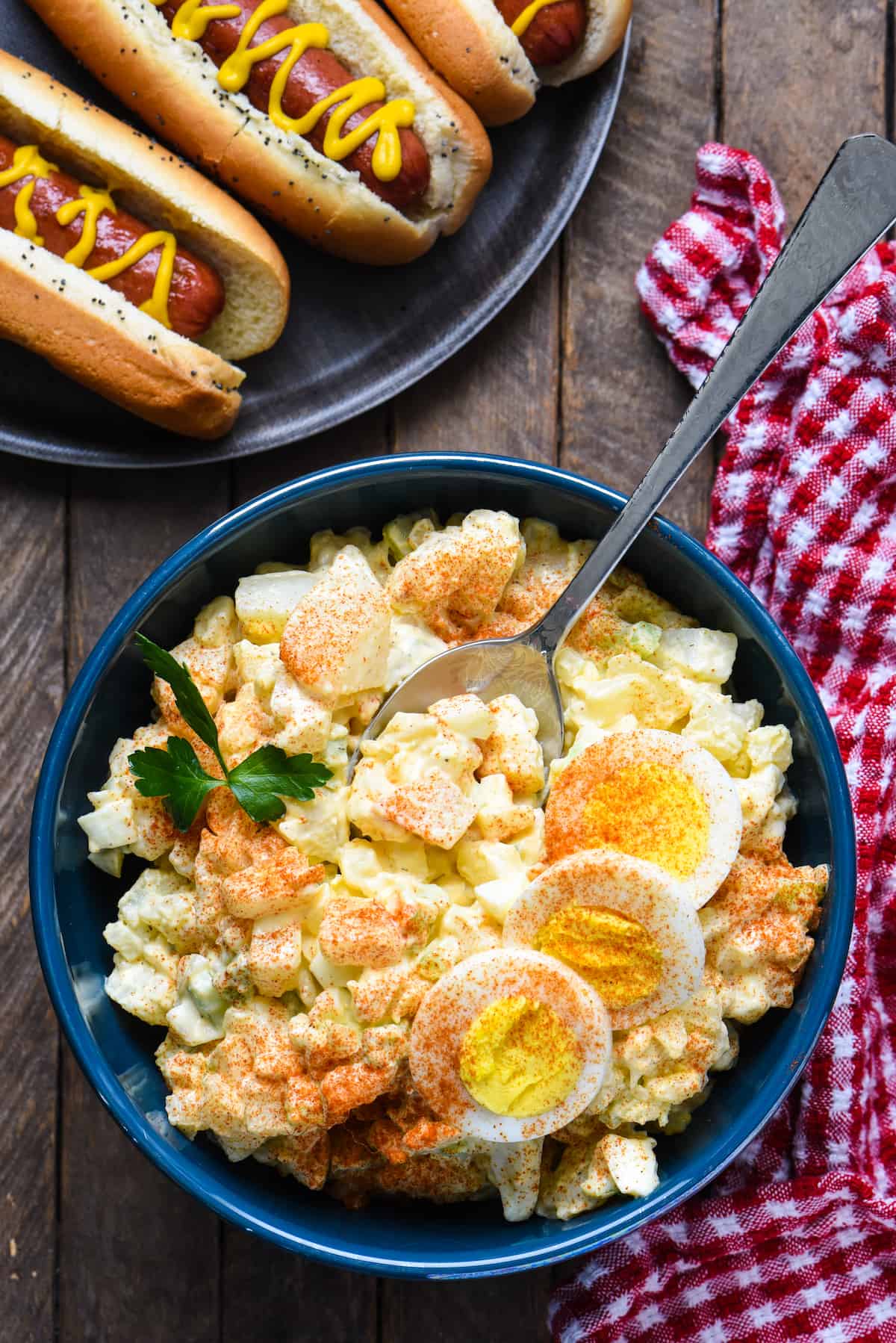 Earlier this summer, I saw a satire-type article circulating on Facebook about the types of foods that are and are not allowed at a barbecue.
And when it came to potato salad, the only type allowed was that made by a "certified potato salad maker."
I've gotta say, I really agree with this. Potato salad is a seemingly easy dish to make, but not everybody knows how to make it right. It's best to leave it to the certified potato salad makers, and in our family, that's my mom (I'll stick to making root beer ribs).
Luckily, she's sharing her recipe with us today, so we can all become certified!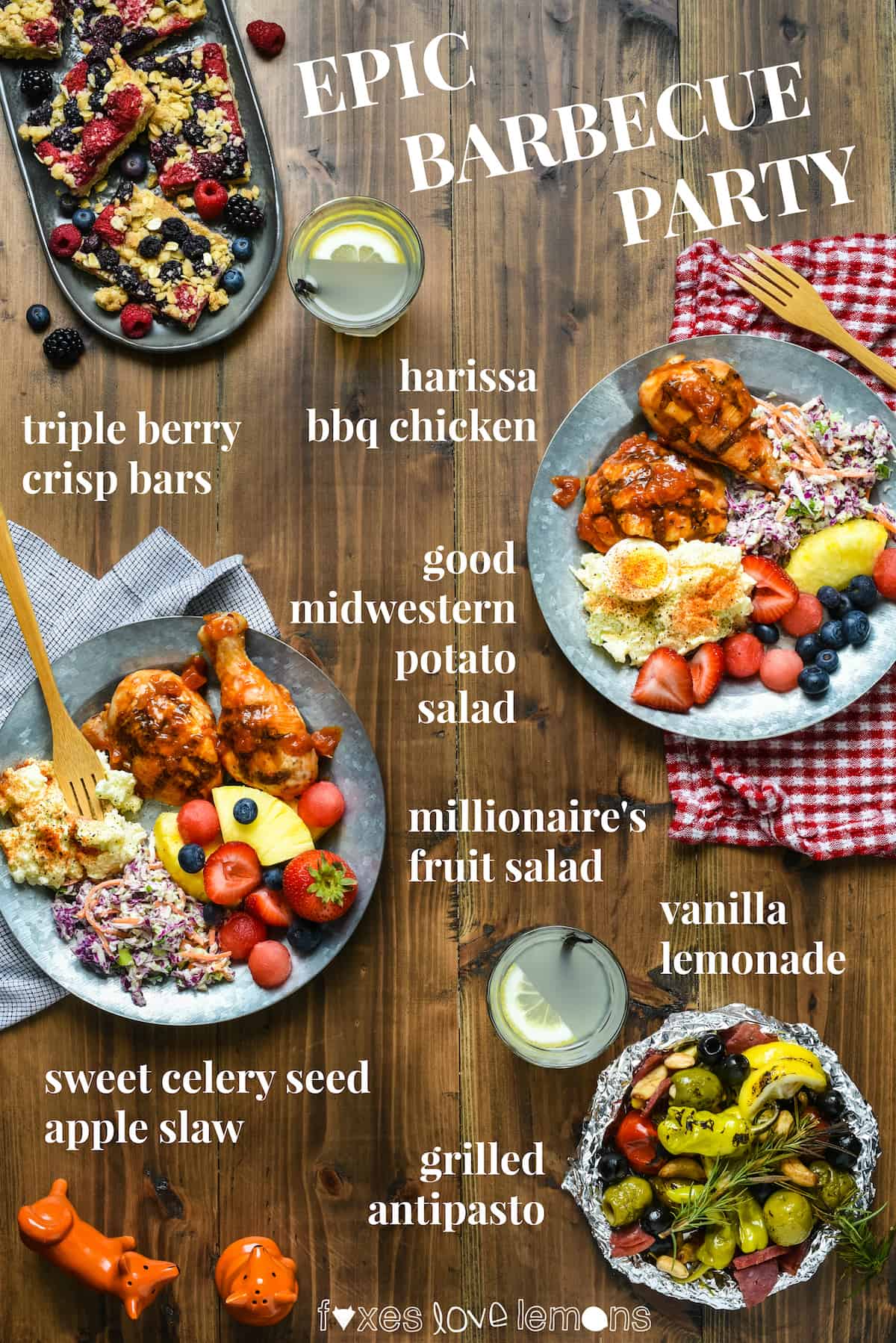 Her recipe is just a classic, really good potato salad that a lot of us in the Midwest grew up eating (complete your Midwest meal with a brandy old fashioned).
It's made with boiled, peeled, russet potatoes, onion, celery and hard boiled eggs.
The "sauce" is simply mayonnaise (Hellmann's, NOT Miracle Whip – gross), yellow mustard (don't get fancy and use any other type of mustard), Thousand Island dressing, and salt and pepper.
Perhaps the Thousand Island dressing is the secret that makes my mom's potato salad so good.
I've seen a lot of recipes that call for pickle relish instead, but Thousand Island has pickle relish IN it, plus some other flavors.
A sprinkle of paprika (also good for making spicy potato chips) plus some extra hard boiled eggs on top completes The Certified Awesome Midwestern Potato Salad.
Oh, and I promised to tell you about Millionaire's Fruit Salad today!
Honestly, the name Millionaire's Fruit Salad is mostly a joke, but the idea for it sprang out of me being tired of going to parties and seeing crappy, pre-cut grocery store fruit salad that was composed of 90% cantaloupe and honeydew.
Millionaire's Fruit Salad (MFS) has a few simple rules
First, cut everything up yourself (it's so easy, come on).
Second, NO cantaloupe or honeydew, unless you actually love those fruits.
Which leads to me . . .  third, ONLY use the very best fruits that you love the very most. Don't feel obligated to include anything because it's "traditional" in fruit salad.
I love pineapple, strawberries, watermelon and blueberries the very most, so those are in my MFS. Your MFS may look slightly different, and that's great.
MFS is really just about taking a stand against crappy fruit salad everywhere.
Good Midwestern Potato Salad
This Good Midwestern Potato Salad is the side dish of your dreams. Potatoes, eggs, celery and onion, dressed with a creamy, tangy sauce. So simple and so good!
Ingredients
3 pounds russet potatoes
1 cup mayonnaise
1/3 cup Thousand Island dressing
2 teaspoons yellow mustard
1/2 teaspoon salt
1/4 teaspoon ground black pepper
4 celery stalks, chopped
3 hard boiled eggs, chopped, plus 1 hard boiled egg, sliced, for garnish (optional)
1 small onion, chopped
Ground paprika, for garnish (optional)
Instructions
Place potatoes in large pot and cover with cold water by two inches. Heat to boiling over high heat. Reduce heat to medium and cook until potatoes are just tender when pierced with a paring knife. Drain. Place potatoes on plate and transfer to refrigerator until completely cool (this step can be done up to 1 day in advance).
Meanwhile, in medium bowl, whisk mayonnaise, Thousand Island dressing, mustard, salt and pepper until smooth.
When potatoes are cool, peel and discard potato skins. Chop potatoes into 1/2-inch cubes and place in large bowl. Add celery, chopped eggs and onions, toss until well combined. Gradually add mayonnaise mixture until your desired level of "sauciness" is achieved (you may not need all of the mayonnaise mixture). Cover and transfer to refrigerator for at least 4 hours and up to 2 days.
Serve potato salad garnished with sliced hard boiled egg and paprika, if desired.
Epic Barbecue Party Recipe Schedule:
Other Barbecue & Picnic Ideas:
Making one of these recipes? Please let me know by sharing a photo on social media with the hashtag #FLLEpicBarbecue