Hearts of Palm Salad with Avocado
This citrusy Hearts of Palm Salad with creamy avocado is an exotic but easy side salad, no lettuce needed. Pair it with your favorite protein to make it a meal.
This Salad with Hearts of Palm is simple and flavorful!
What are your thoughts on hearts of palm? If you love this ingredient and you want that flavor to shine through, you've come to the right place.
Or maybe you've never heard of hearts of palm, or never cooked with it. In that case, you're also in the right place!
This Hearts of Palm salad recipe allows this unique but tasty ingredient to the be the star, no lettuce needed.
A simple citrusy dressing and additions like avocado and tomatoes will have you coming back for another scoop.
Why you will love this Hearts of Palm Salad
Works well for meal prep lunches. Just add avocado and serve!
Need an alternative to rice and beans for a side dish for a Mexican or Tex Mex dish? This is that!
Takes just 15 minutes to prep.
What is Hearts of Palm?
Heart of palm (also known as palmito) is the core of the stem of a certain type of palm plant. This vegetable has been eaten for thousands of years in South and Central America.
I don't think I had even heard of it before culinary school, but now it's a unique ingredient I enjoy when I want something different.
In the United States, it is most commonly sold canned (in my grocery store it is in the canned vegetable aisle near the artichokes).
What does Heart of Palm taste like?
Personally, I would categorize the flavor of hearts of palm as a cross between water chestnuts and artichoke hearts.
Avocado Hearts of Palm Salad ingredients
hearts of palm – the star ingredient! We'll be cutting them crosswise into half inch pieces so they look like little discs.
tomatoes – grape tomatoes (any variety – red, yellow or a mix) add a burst of juicy freshness.
jalapeno pepper – adds a touch of heat that balances the sweetness of the tomatoes.
onion – I like red onion here, but yellow or white onion work just as well.
avocado – adds creamy richness without cream, and healthy fats!
cilantro – plays well with all of the flavors we have going on here.
basil – adds a bit of sweet earthiness.
lime – both lime juice and lime zest will give the dressing a bright citrus flavor.
olive oil – the smooth base of the dressing.
sugar – a touch of sweetness balances the tangy lime.
paprika – for subtle smokiness and color.
salt and pepper – to season this hearts of palm salad recipe to perfection.
Salad with Hearts of Palm substitutions and additions
HERBS – if you don't have cilantro and basil, no big deal. You can use one or the other. You could also use parsley, chives or even a bit of oregano here.
HOT PEPPER – Don't like spice? Leave the jalapeno out. Like things hotter? Try a serrano pepper instead.
CITRUS – If you don't have a lime, a lemon works here too!
PROTEIN – Want to make this a full meal? Consider adding grilled shrimp or chicken.
How to make Hearts of Palm Salad
Make the dressing in a bowl large enough to hold all of the ingredients, by whisking together the lime juice and zest, olive oil, sugar, paprika and salt and pepper.
Add the hearts of palm, tomatoes, jalapeno and red onion and give it a gentle stir until everything is combined.
Just before you're ready to serve the heart of palm salad, add the avocado, cilantro and basil and gently fold everything together.
How to serve Hearts of Palm Avocado Salad
This heart of palm salad shines as a standalone dish or as a refreshing side dish alongside grilled meats or seafood.
Some of my favorite grilled entrees to serve this hearts of palm avocado salad with are my flat iron steak recipe and best marinated grilled chicken.
This salad also works exceptionally well alongside Tex Mex dishes like my shrimp fajitas recipe or a Sonoran hot dog.
Heart of Palm Salad FAQs
Do you rinse canned hearts of palm?
Yes, it's recommended to rinse canned hearts of palm under cold water to remove excess salt and brine. However, if you forget to do this, it's really not a big deal.
Should you cook hearts of palm?
No, hearts of palm are typically enjoyed raw to preserve their delicate texture and flavor.
Do you refrigerate hearts of palm?
Yes, once opened, store any unused hearts of palm or leftover hearts of palm salad in an airtight container in the refrigerator to maintain freshness.
More Foxes Love Lemons Favorites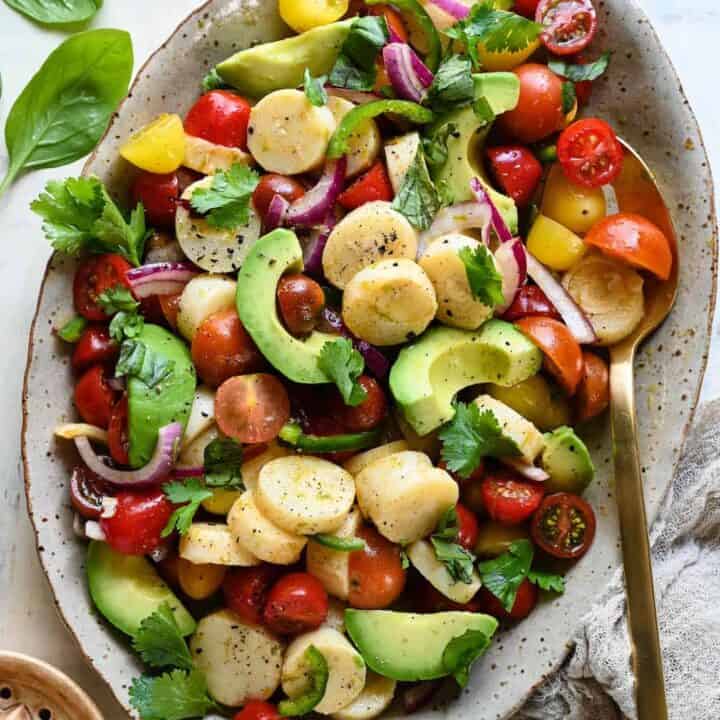 Hearts of Palm Avocado Salad
This citrusy Hearts of Palm Salad with creamy avocado is an exotic but easy side salad, no lettuce needed. Pair it with your favorite protein to make it a meal.
Ingredients
Zest of 1 lime
2 tablespoons extra virgin olive oil
2 tablespoons fresh lime juice
1/2 teaspoon granulated sugar
1/4 teaspoon kosher salt
1/4 teaspoon paprika
Pinch ground black pepper
1 can (14 ounces) whole hearts of palm, drained, rinsed and cut crosswise into 1/2-inch pieces
1 package (12 ounces) gourmet medley grape/cherry tomatoes, halved
1 jalapeño pepper, seeded and thinly sliced
1/4 small red onion, thinly sliced
1 avocado, peeled, pitted and sliced
2 tablespoons roughly chopped fresh cilantro
1 tablespoon roughly chopped fresh basil
Instructions
In medium bowl, whisk together lime zest, oil, lime juice, sugar, salt and paprika and black pepper.
Add hearts of palm, tomatoes, jalapeño and onion; toss until well combined.
To serve, gently fold in avocado, cilantro and basil.
Recommended Products
Foxes Love Lemons, LLC is a participant in the Amazon Services LLC Associates Program, an affiliate advertising program designed to provide a means for sites to earn advertising fees by advertising and links to Amazon.com. There is no additional cost to you.
Nutrition Information:
Yield:

4
Serving Size:

1
Amount Per Serving:
Calories:

201
Total Fat:

15g
Saturated Fat:

2g
Trans Fat:

0g
Unsaturated Fat:

12g
Cholesterol:

0mg
Sodium:

511mg
Carbohydrates:

17g
Fiber:

7g
Sugar:

5g
Protein:

5g
This website provides estimated nutrition information as a courtesy only. Nutrition information does not include any optional ingredients or toppings. You should calculate the nutrition information with the actual ingredients used in your recipe using your preferred nutrition calculator.