Heirloom Tomato Tart
I'm thinking I should re-name my blog Foxes Love Tomatoes for the month of August each year. And maybe part of September. Because I'm full-on tomato crazed. All the time. The more, the better.
I actually have several friends who hate tomatoes, and I'm not even mad at them. Because the less they eat, the more tomatoes there are for MEEEEEEEE.
I knew I wanted to use heirloom tomatoes to make this a visually stunning tart. However, they were a little bit harder to find than I was expecting. My farmer's market didn't have any the week I needed them, and I had to stop by several grocery stores to find enough for this recipe.
Was it worth it in the end? To be 100% honest, I don't think so. While the heirlooms are beautiful, to be sure, they're twice the price as normal tomatoes, and honestly, they taste just about the same.
To me, a yellow tomato with red stripes just tastes like a regular tomato. Use whatever tomatoes you'd like for this tart, just as long as they're in season and nice and ripe.
This is a very simple tart that can come together in about 30 minutes, if you're lazy/cool like me and use refrigerated pie crust. I use this for mini shepherd's pies, too.
While the crust is blind baking in a tart pan, you can stir together a simple filling of ricotta and blue cheese (blue cheese lovers, don't miss my blue cheese mashed potatoes). Add a touch of lemon zest to balance out the richness of the cheeses. Slice up a bounty of tomatoes.
Let the empty crust cool just a few minutes, then spread it with the cheese mixture and layer the tomatoes in. Garnish simply with torn basil, sea salt and cracked black pepper. Slice, serve and savor the all-too-short tomato season.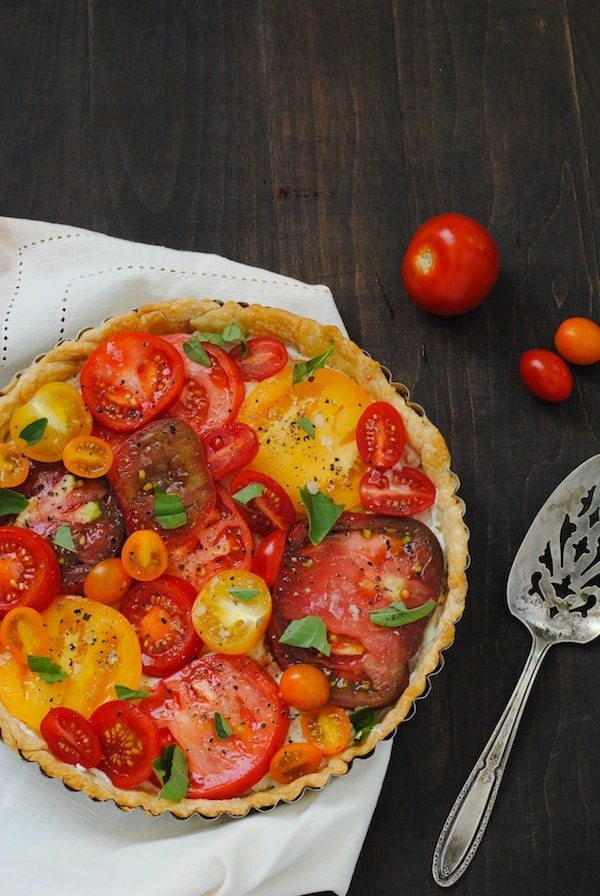 Heirloom Tomato Tart
Yield: 6 servings
Prep Time: 20 minutes
Cook Time: 16 minutes
Ingredients
1 refrigerated pie crust
1 cup ricotta cheese
3 ounces blue cheese
1/4 teaspoon grated lemon zest
1 pound assorted heirloom tomatoes, sliced
Torn fresh basil leaves
Freshly cracked black pepper
Instructions
1. Preheat oven to 400 degrees F. Press crust into 9-inch tart pan; cut off excess crust hanging over edge. Use fork to poke several holes in bottom of crust. Line crust with parchment paper; fill with pie weights or dried beans. Bake 16 to 18 minutes or until light golden brown. Remove pie weights and parchment paper; transfer crust to wire rack to cool completely.
2. Meanwhile, in medium bowl, whisk ricotta, blue cheese and lemon zest until well combined.
3. Spread ricotta mixture evenly in bottom of cooled tart crust. Arrange tomatoes over ricotta; sprinkle with basil, salt and pepper. Slice and serve immediately.