Garlicky Greek Yogurt Pasta Sauce
This Garlicky Greek Yogurt Pasta Sauce is a delicious and healthier alternative to Alfredo sauce. This creamy, flavorful sauce is perfect for serving with spaghetti for a high protein vegetarian dinner.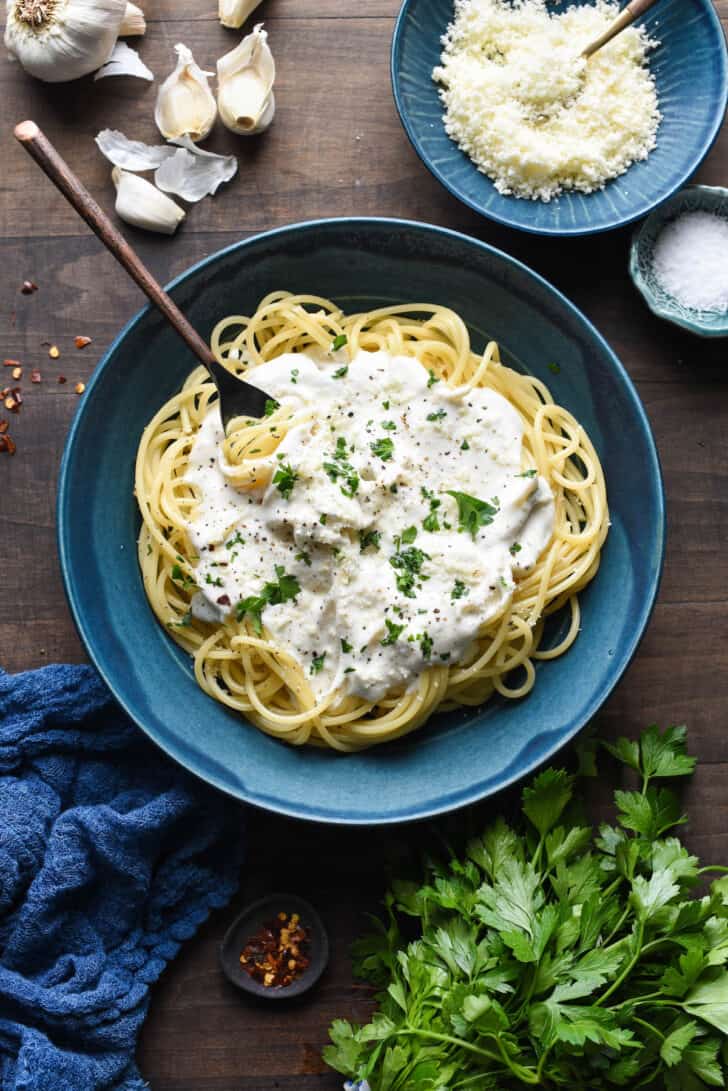 Do you participate in Meatless Monday? While we don't necessarily do it on a certain day of the week, at least once or twice a week, we try to enjoy a vegetarian meal.
To be honest, sometimes it's just a takeout meal of a bunch of appetizers that happen to not have meat in them. But I'll often cook meatless meals myself, too, like a vegetarian quiche with a side salad, or savory mushroom oatmeal for dinner with a side of glazed carrots.
Since my husband and I both like eating a wide variety of vegetables, grains and legumes, and our toddler turns her nose up at almost any type of meat (even mama's fettuccine bolognese!), we hardly feel like we're depriving ourselves of anything.
I've learned that the trick to eating a vegetarian dinner (and not feeling hungry a few hours later) is to make sure you include plenty of protein, as well as a healthy amount of good fat, to keep you full.
Did you know you can make a creamy pasta sauce with Greek yogurt? Yep, it's not all salmon alfredo a and Cajun salmon pasta with heavy cream around here.
This Garlicky Greek Yogurt Pasta Sauce is a healthier and flavorful alternative to Alfredo sauce. This healthy pasta sauce will rock your next Meatless Monday, I promise!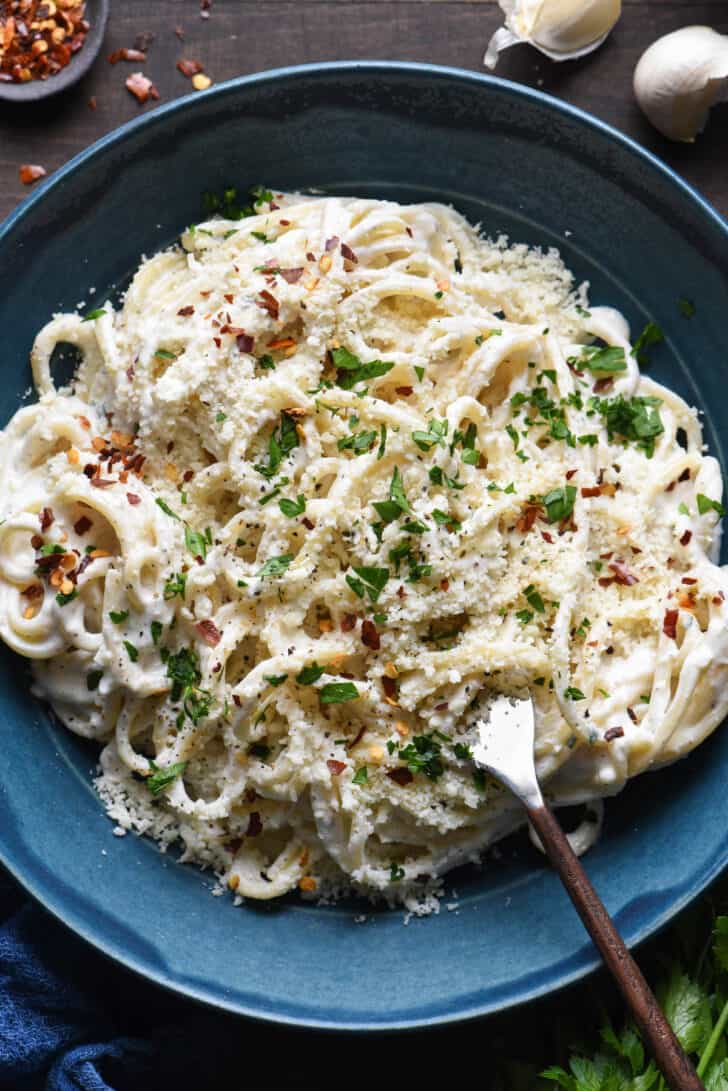 Why I love savory Greek yogurt recipes:
I was pretty quick to jump on the Greek yogurt bandwagon when it started gaining popularity in the United States years ago, and I'm STILL on that bandwagon. It's always in my fridge.
The #1 reason I love it so much is its versatility. You can eat it plain, with sweet parfait toppings, or as savory yogurt. It's also high in protein and has beneficial probiotics for our gut health.
I also love it as a condiment for Greek chicken meatballs, and I use it almost everywhere that sour cream would generally be appropriate, such as dolloped on top of my crock pot burrito bowl, or used as an ingredient for Greek yogurt mashed potatoes, crock pot beef stroganoff, and healthy buffalo chicken dip.
The tanginess of Greek yogurt has a way of cutting through the richness in an otherwise heavy dish, while the creaminess makes anything more satisfying.
If you've only experienced Greek yogurt on the sweeter side of the spectrum, I encourage you to try it in a savory Greek yogurt recipe!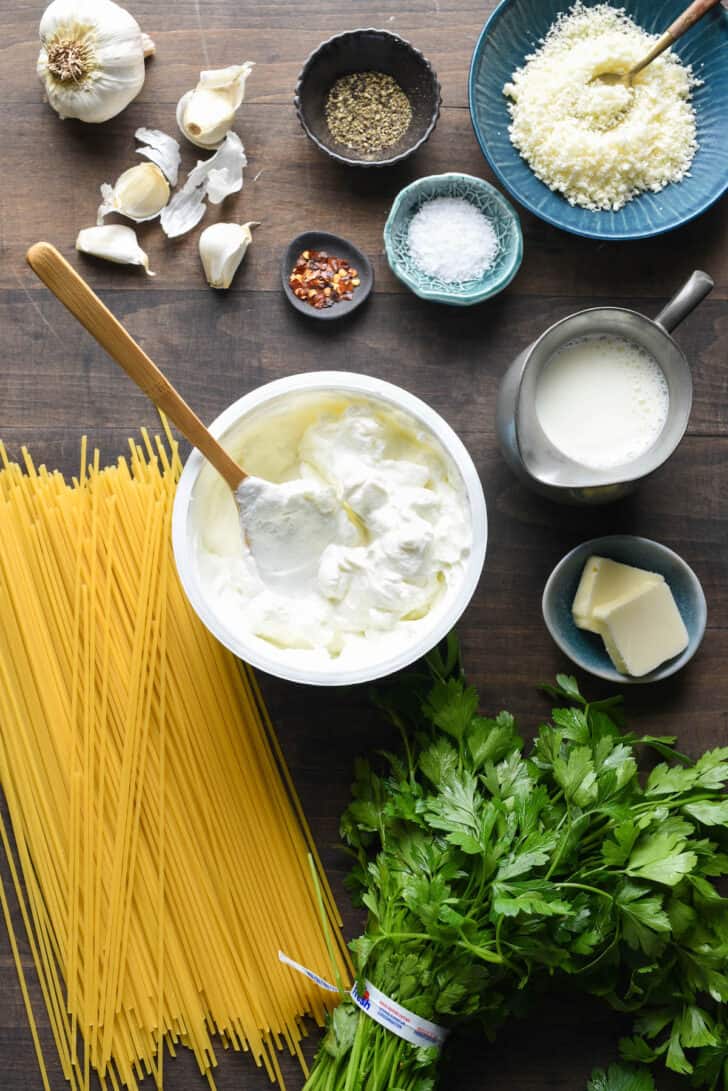 Ingredients you'll need for Greek yogurt pasta sauce:
unsalted butter – this is how we'll saute all the garlic. You can use olive oil instead, but I like the flavor that butter adds.
garlic – I usually use eight fairly large cloves. Measure with your heart.
full fat Greek yogurt – I cannot stress enough, it MUST be full fat or your sauce will curdle. I RECOMMEND FAGE TOTAL 5% MILKFAT YOGURT FOR THIS RECIPE.
grated Parmesan cheese – this adds a salty and nutty depth of flavor to this Greek yogurt Alfredo sauce (also great in potato cakes).
whole milk – this helps thin out the healthy pasta sauce and adds creaminess.
salt and pepper – don't forget the seasoning.
chopped fresh parsley and red pepper flakes – these are optional, but I like to add them just before serving for color and extra flavor and spice.
How to make Greek yogurt pasta sauce:
This basic Greek yogurt pasta sauce comes together in less than five minutes. It will take you longer to cook the pasta then it will to make the sauce!
First, you'll heat a bit of butter in a skillet. Add a hefty amount of minced garlic, and sauté it briefly just to perfume the oil (you don't want it brown, just soften slightly).
Then, you'll whisk in the Greek yogurt, Parmesan cheese, some milk, and salt and pepper.
You only need to cook it 2 minutes or until the sauce is just warmed through. Then, add cooked pasta, a splash of pasta water, toss, and serve!
Seriously, could this Greek yogurt alfredo be any easier?
How should I serve Greek yogurt Alfredo?
The way I most often serve Greek yogurt spaghetti nowadays is as-is, with a side salad tossed with citrus salad dressing.
However, a previous version of this post had the Greek yogurt pasta topped with a mixture of onions, chickpeas, lentils and arugula. This is also good, just a little bit more involved.
If you'd like to serve it the old way, feel free to comment below or e-mail me, and I'll send you the old recipe! It was basically caramelizing a yellow onion and adding it on top of the pasta, along with some chickpeas, cooked lentils and wilted arugula.
What if I want to add meat to Greek yogurt pasta?
Since Greek yogurt is a high protein food, there's a fair amount of protein in this Greek yogurt alfredo. But if you're looking to add something a little, well, meatier, to this spaghetti with yogurt sauce without going all the way to lamb bolognese, I have some ideas.
I highly recommend add some grilled chicken or a batch of air fryer turkey meatballs to this Greek yogurt pasta. Sliced chicken sausage would also be yummy.
Sautéed shrimp would be tasty (like in my pasta with capers), or chunks of roasted salmon, like I use in my salmon pasta.
A meat-free option to add even more protein would be a fried or poached egg. And sometimes I'll toss in some roasted broccoli with lemon, too!
Will non-fat Greek yogurt work for yogurt pasta sauce? How about regular yogurt?
Without getting too technical (I took a food chemistry class in culinary school so that you don't have to), you need to have a certain fat to protein ratio in your yogurt if you're going to cook with it, like with this Greek yogurt pasta sauce.
If there's not enough fat, your Greek yogurt Alfredo is probably going to curdle when you heat it up. If you want to learn more, Food52 has a great article on cooking with yogurt (without fear) that explains it all.
But long story short, to prevent a grainy or separated texture for your healthy pasta sauce, use full fat Greek yogurt for this Greek yogurt sauce recipe (and Greek lasagna). I have not tested this recipe with regular yogurt, only the Greek variety.
I RECOMMEND FAGE TOTAL 5% MILKFAT YOGURT FOR THIS GREEK YOGURT PASTA SAUCE RECIPE.
Save the lowfat or nonfat Greek yogurt for acini de pepe pasta salad and gyro pizza.
More Foxes Love Lemons Favorites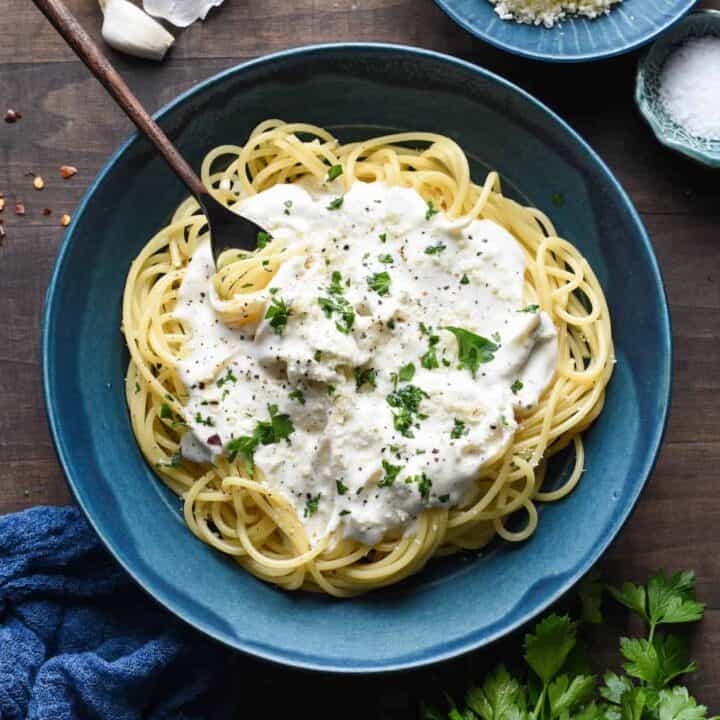 Garlicky Greek Yogurt Pasta Sauce
This Garlicky Greek Yogurt Pasta Sauce is a delicious and healthier alternative to Alfredo sauce. This creamy, flavorful sauce is perfect for serving with spaghetti for a high protein vegetarian dinner.
Ingredients
1 pound spaghetti noodles
4 tablespoons unsalted butter
8 garlic cloves, minced
3 cups full fat Greek yogurt
1 cup grated Parmesan cheese, plus additional for serving
1 cup whole milk
2 teaspoons kosher salt
1 teaspoon ground black pepper
Chopped fresh parsley, for serving (optional)
Red pepper flakes, for serving (optional)
Instructions
Bring large pot of salted water to boiling over high heat. Add spaghetti and cook according to package instructions. Reserve 1 cup pasta cooking water, then drain pasta.
Meanwhile, in large high-sided skillet, heat butter over medium-low heat. Add garlic; cook 1 minute, stirring constantly. Whisk in yogurt, Parmesan cheese, milk, salt and black pepper. Cook 2 minutes or until warmed through, whisking constantly.
Add drained pasta and 1/2 cup pasta water to yogurt mixture; toss to combine. If sauce is too thick, add additional pasta water a splash at a time until desired consistency is achieved. Serve pasta sprinkled with additional Parmesan cheese, and parsley and red pepper flakes, if desired.
Recommended Products
Foxes Love Lemons, LLC is a participant in the Amazon Services LLC Associates Program, an affiliate advertising program designed to provide a means for sites to earn advertising fees by advertising and links to Amazon.com. There is no additional cost to you.
Nutrition Information:
Yield:

4
Serving Size:

1
Amount Per Serving:
Calories:

525
Total Fat:

22g
Saturated Fat:

13g
Trans Fat:

0g
Unsaturated Fat:

7g
Cholesterol:

67mg
Sodium:

1176mg
Carbohydrates:

49g
Fiber:

2g
Sugar:

10g
Protein:

33g
This website provides estimated nutrition information as a courtesy only. Nutrition information does not include any optional ingredients or toppings. You should calculate the nutrition information with the actual ingredients used in your recipe using your preferred nutrition calculator.
Note: This recipe was originally published in 2016. The recipe was updated in 2023 to focus more on the pasta and sauce and less on the optional toppings. The photos were reshot, and the post was revised accordingly. The original photos appear below.