Sangria Party Week: Appetizers & Snacks
Wondering what kind of food to serve with sangria? These 6 Easy Make-Ahead Appetizers & Snacks will guarantee a delicious but stress-free sangria party.
My food goals for this year's sangria party were simple – 1.) Spend as little time in the kitchen during the party as possible (which totally worked, by the way), and 2.) Try out a bunch of recipes I've been meaning to try, either from Pinterest, magazines, or elsewhere.
The thing about food blogging is that you're endlessly trying to come up with original recipes. That's great, until you realize you don't have many meals left in which to give other recipes a try – you know, the ones you rip out of magazines or print from another food blog and tuck away, never to be seen again.
Seems like all party planning advice tells you to never make a new recipe for the first time for a party. Screw that. I live on the edge. Almost all of this stuff was new to me. I was able to prep all of it well in advance of the party, and it all turned out great.
Here is some of my favorite food to serve with sangria: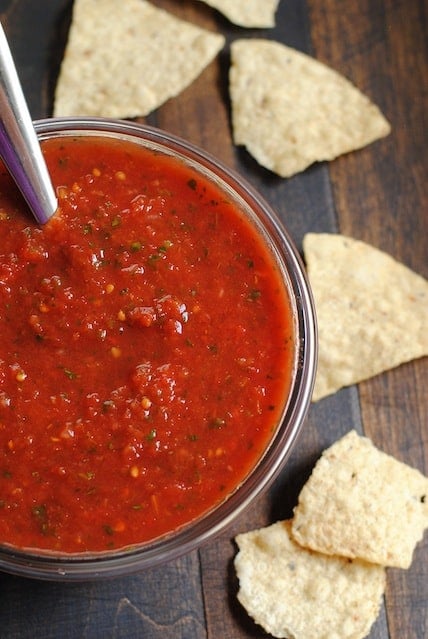 Homemade Restaurant Style Salsa – recipe from The Pioneer Woman Cooks: Food From My Frontier (recipe can be found here). I pretty much followed the recipe to a tee, without actually measuring anything. It was a little spicy and a lot tasty. I made it two days in advance of the party, but I'd say it would keep in the fridge up to a week.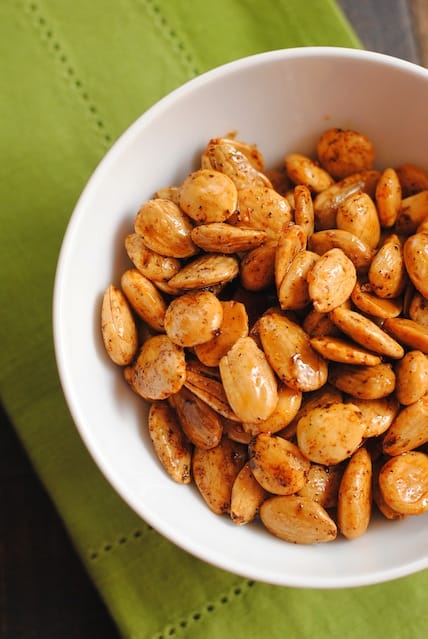 Marcona Almonds with Smoked Paprika – recipe from Bon Appetit, March 2013 (recipe can be found here). I would say these were the dish I got the most questions about and compliments on.
And wouldn't you know it, they were the ones that took me 30 seconds (seriously) to stir up and pop in the oven. A perfect smoky, salty finger food to complement sweet sangria. I made these the day before the party and kept them in an airtight container.
Spinach & Artichoke Stuffed Mushrooms – inspired by a recipe from Snixy Kitchen, but I didn't make homemade filling. My grocery store sells awesome spinach-artichoke dip made in-house. Done and done. I had a friend who was helping me with some day-of prep work clean the mushrooms, pop out their stems, spoon in the store-bought dip, and sprinkle Parmesan cheese on top.
We put them on a baking sheet so they would be all ready to go, then threw them in the fridge until the party started. Then, I popped them in a 350° oven for 15 minutes (then broiled them 2 minutes to brown the tops). Apparently, these inspired at least one non-mushroom eater to eat a mushroom. Win.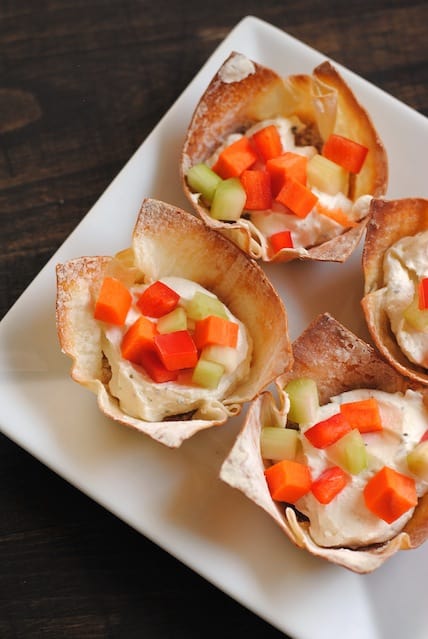 Veggie Pizza Wonton Cups – the only exception to the "all new to me" recipes for this party. Originally inspired by a recipe from Joyously Domestic, and previously adapted by me here. I loved these so much I just had to make them again. They pretty much taste like veggies and ranch dip, but they're inside a crunchy, portable wonton cup.
I made the dip filling and diced the vegetables the day before the party, and kept them refrigerated. I baked the wonton cups themselves the morning of the party, and let them sit at room temperature. Right before people arrived, I had a friend plop the dip into the cups and sprinkle with the veggies.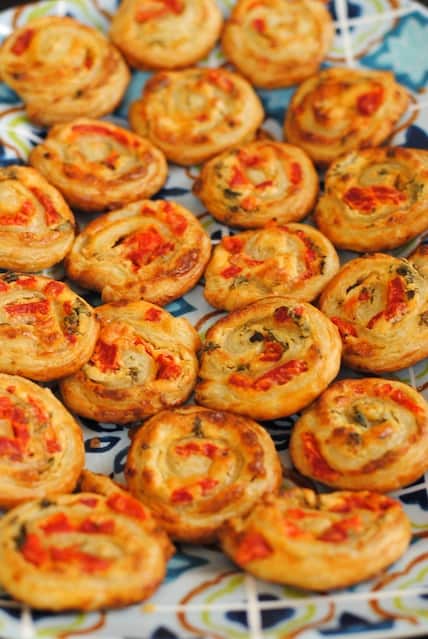 Red Pepper & Basil Pinwheels – recipe from Inspired Taste, except I subbed basil for parsley. I assembled and baked these about an hour before the party. They held really well at room temperature, and were another tasty finger food that can be eaten with one hand while there's a glass of sangria in your other hand.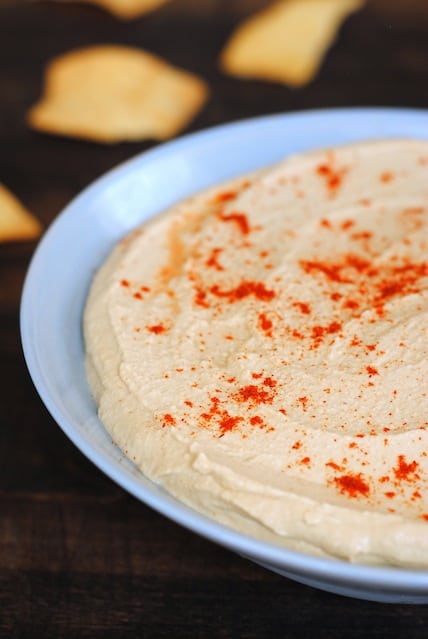 Homemade Hummus served with Pita Chips, Carrots & Celery – I didn't follow any one recipe for this, instead combining techniques from Food52 and Amateur Gourmet.
Long story short, it involved canned chickpeas (and some liquid from their cans), tahini, fresh garlic, ice water, and lots and lots of lemon juice. I made this two days in advance of the party and kept it in the fridge. Who doesn't love hummus?
As for amounts, I had about 12 guests that were around for the time I was serving appetizers. I made approximately 18-20 pieces of each of the individual finger foods, 1 cup of Marcona almonds, and about 3 cups each of salsa and hummus. The only thing left at the end of the night was some salsa and hummus.
Stop back tomorrow for the details of what came next – more food to serve with sangria, in the form of dinner!