Italian Mac and Cheese Stuffed Peppers
What kind of party do you like to throw for the holiday season? Personally, I love having a few friends over for dinner. It give us a chance to relax and unwind, and gives them the night off from cooking! Because of course, I'm always cooking, so it's no trouble for me at all.
I confess that I've eyed Gourmet Garden's offerings in the refrigerated area of the produce section near the fresh herbs for years, but had never made the leap and actually bought a tube. However, I've recently realized that I waste a lot of money buying fresh herbs that I simply can't use up before they go bad. Every time I throw away a half a bunch of slimy cilantro, I can't help but think how much money I am throwing in the trash!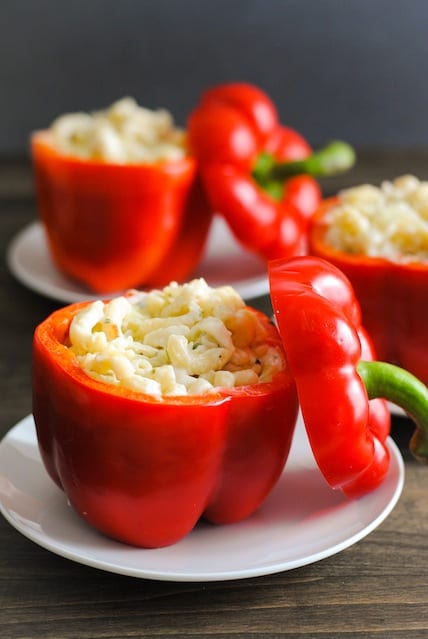 Gourmet Garden has quickly become a game-changer for me in the kitchen – these products are fresh herbs, just in tube form! You can use Gourmet Garden exactly like you use fresh herbs – it's a one-to-one ratio, which means you don't have to do any mental math for recipes that call for fresh herbs. Gourmet Garden can also be used in place of dried herbs using a two-to-one ratio (2 tablespoons of Gourmet Garden Parsley paste would equal 1 tablespoon dried parsley. Simple!)
These products helped me bring a longtime recipe idea to life. I love mac and cheese. I love stuffed peppers. I've wanted to combine the two for years, and I finally did! This is a classic creamy mac and cheese made with Italian white cheeses. I jazzed up the flavor with Gourmet Garden Italian Herbs, Garlic, and Chili Pepper (because I always like my mac and cheese to have a bit of spice). Spoon this cheesy goodness into some bell peppers and bake until the peppers are soft and the pasta is nice and bubbly.
Before you impress your dinner party guests with these mac and cheese stuffed peppers, make sure you check out the Gourmet Garden website, where you can sign up for their newsletter and download a coupon. You can also find Gourmet Garden on Twitter, Facebook, Pinterest and Instagram.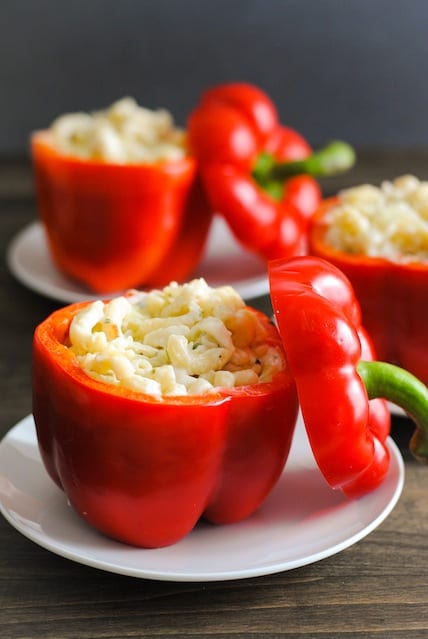 Italian Mac and Cheese Stuffed Peppers
Ingredients
12 ounces elbow macaroni
1 stick (1/2 cup) unsalted butter
1/2 cup plus 1 tablespoon all-purpose flour
4 cups whole milk
3 ounces shredded Parmesan cheese, divided
3 ounces shredded Asiago cheese
4 ounces shredded mozzarella cheese
2 tablespoons Gourmet Garden Italian Herbs paste
1 teaspoon Gourmet Garden Chili Pepper paste
1 teaspoon Gourmet Garden Garlic paste
1 teaspoon kosher salt
1/4 teaspoon freshly ground black pepper
6 medium red bell peppers
Instructions
Preheat oven to 350 degrees F. Bring a large pot of salted water to a boil. Add macaroni and cook according to package directions for al dente. Drain, rinse with cold water and drain well.
Meanwhile, melt butter over medium heat in medium saucepot. Whisk in flour; cook 4 minutes, whisking constantly (do not let brown). Slowly pour in milk, while whisking. Cook 5 to 6 minutes or until thick and smooth, whisking constantly. Remove from heat. Set aside 1/4 cup Parmesan cheese. Add Asiago, mozzarella, remaining Parmesan, Italian Herbs, Chili Pepper, Garlic, salt and pepper to milk mixture; stir until well combined. Stir in macaroni.
Slice tops off peppers and remove ribs and seeds. If peppers do not stand up straight, cut very thin slices off base of peppers until they are straight. Put peppers in large baking dish and spoon mac and cheese mixture into peppers; sprinkle with remaining 1/4 cup Parmesan cheese. Fill baking dish with 1/2-inch of water and bake 40 to 45 minutes or until peppers are cooked through. Let stand 5 minutes before serving.
This post is sponsored by Gourmet Garden Herbs & Spices. All opinions are my own. Sponsored posts help me pay for the costs associated with this blog (groceries…lots of groceries), and help support me as I pursue a career in recipe development and food photography.