Asian Shrimp Wonton Cups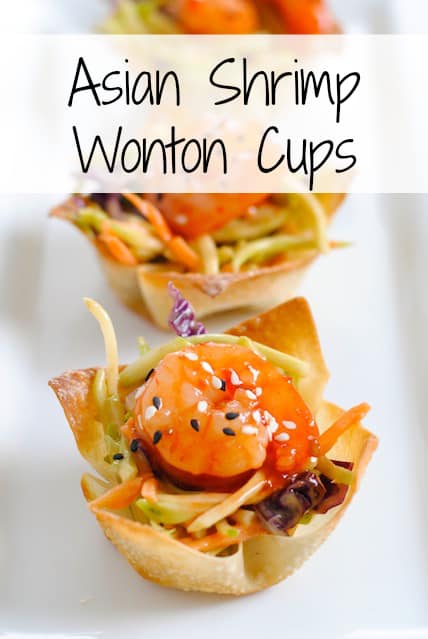 With the Golden Globes happening this past weekend, my Oscar frenzy is in full swing. You see, I was a film minor in college. I love movies, especially really good ones (not so much most blockbusters).
Most years, I'm able to see every single Best Picture nominee before the Oscars. While the nominations won't be announced until Thursday, I already have a pretty good idea of what will be nominated, and have planned accordingly.
So far I've seen 12 Years A Slave (terrific, heartbreaking, beautifully acted), American Hustle (I hated it and thought it was boring, although apparently I'm in the minority), Inside Llewyn Davis (I loved it, but I love the Coen Brothers) and The Wolf of Wall Street (I loved it, but Martin Scorsese is one of my most favorite people in the whole wide world). Next on my list are Nebraska, Her and Dallas Buyers Club.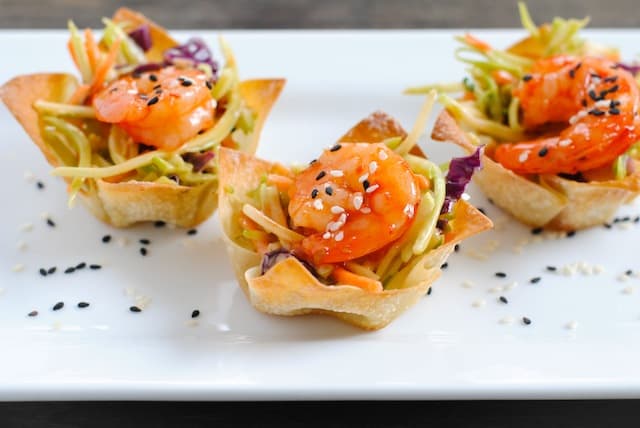 Perhaps it's a bit early to be planning for Oscar night, but oh well – I'm doing it anyway! Much like sporting events, when I think of awards shows, I think of snacks. Chips and dip are great, but I like to go beyond that for the Oscars – it's a special event that deserves black-tie snacks!
I never seem to tire of little wonton cup appetizers. I've made them in veggie pizza and buffalo chicken varieties, as well a version with chicken, mango and avocado. These shrimp wonton cups are one of my favorite so simple-but-look-fancy snacks.
Here, I've used a package of broccoli coleslaw mix and tossed it with a sesame and soy dressing. Sautéed shrimp coated in sweet chili sauce rest on top of the slaw for a simple yet special snack to crunch on during Hollywood's biggest night.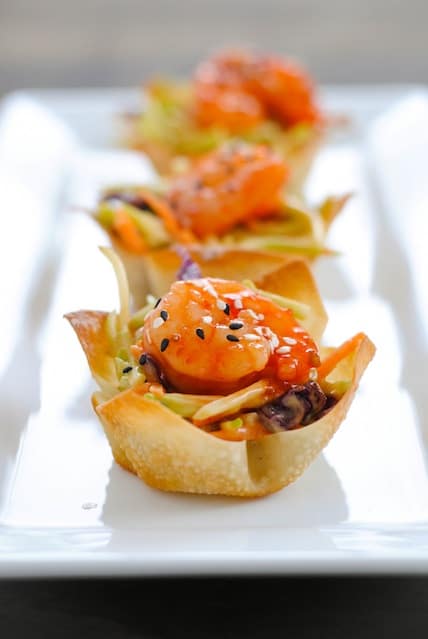 Psst – not a seafood lover? These cups are also great topped with my orange ginger chicken.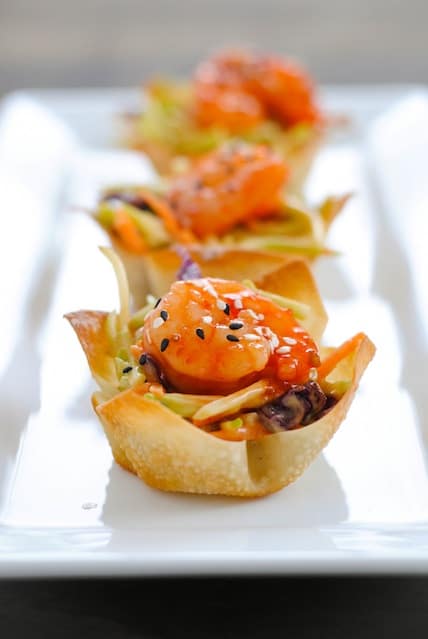 Asian Shrimp Wonton Cups
Ingredients
For the Wonton Cups:
Nonstick cooking spray
12 (4-1/2-inch square) wonton wrappers
For the Asian Coleslaw:
2 tablespoons toasted sesame oil
1 tablespoon peanut butter
1 tablespoon rice vinegar
1 tablespoon extra virgin olive oil
1 tablespoon soy sauce
2 teaspoons sugar
2 cups broccoli slaw
For the Shrimp:
1 tablespoon extra virgin olive oil
12 (26-30 count) peeled and deveined shrimp, tails removed, patted dry
1/3 cup sweet chili sauce
Black and/or white sesame seeds, for garnish
Instructions
Make Wonton Cups: Preheat oven to 350 degrees F. Spray a standard muffin tin with cooking spray. Press wonton wrappers into muffin cups, taking care to press against bottom and sides of cups. Lightly spray wrappers with additional cooking spray.
Bake 8 minutes or until golden brown and crunchy. Remove wonton cups from muffin pan and transfer to a cooling rack to cool completely before filling.
Meanwhile, make the Asian Coleslaw: In medium bowl, whisk together sesame oil, peanut butter, vinegar, olive oil, soy sauce and sugar. Add broccoli slaw and toss to combine.
Make Shrimp: In large nonstick skillet, heat oil over medium heat. Add shrimp; cook 5 to 6 minutes or until shrimp are opaque and cooked through. Remove from heat; add sweet chili sauce and toss to combine.
Divide coleslaw between wonton cups. Top each wonton cup with one shrimp. Sprinkle with sesame seeds and serve immediately.