Orange Ginger Chicken (Orange Juice Marinade)
This award-winning Orange Ginger Chicken is a healthier alternative to takeout or a frozen meal. The whole family will love this stir fried chicken breast made with an orange juice marinade.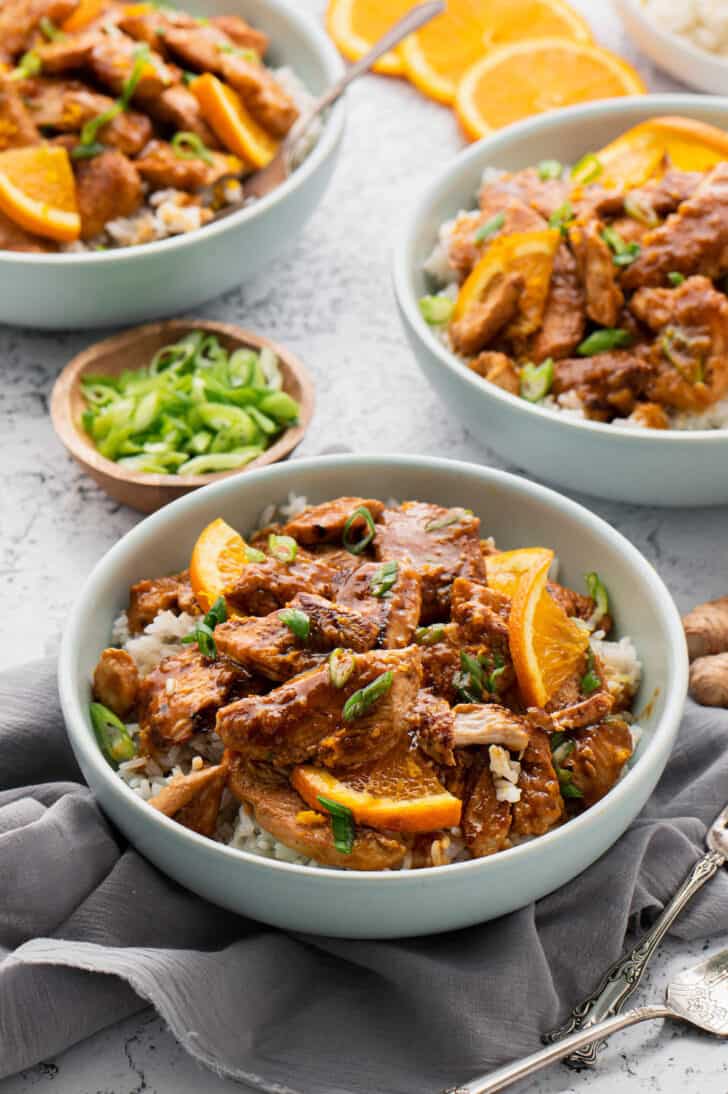 I don't go to Trader Joe's too often, but when I do stop by, I'm sure to pick up a bag or two of the frozen Mandarin Orange Chicken.
Breaded chicken covered in a sweet orange sauce that's ready in less than 30 minutes? Sign me up (that's even faster than my go-to fast meal, bourbon glazed salmon).
But maybe sign me up just once in awhile. Because this won't come as a surprise, but this dish is not outstanding in the health department.
So, just like my miso ginger dressing and balsamic glaze recipe, I took an item that is often store-bought and made it better (and healthier) at home with this orange ginger chicken recipe.
And, along with my sweet potato breakfast casserole, this is probably the Foxes Love Lemons recipe that my family makes most often.
What are the ingredients for spicy orange chicken?
orange zest – first things first, make sure you zest your oranges before you juice them, because you'll need fresh orange zest for this recipe. And trying to zest AFTER juicing is the. worst. Buy a few extra oranges and make an orange bundt cake or blackberry muffins with orange zest!
orange juice – you'll need 1-1/4 cups orange juice for the orange juice marinade. More on this below.
low-sodium soy sauce – I chose the low sodium version because this orange ginger chicken recipe uses kind of a lot of soy sauce (1/4 cup) and I wanted to make it a little healthier than the frozen dinner version, after all. This ingredient can also be used to add umami to homemade gravy!
fresh ginger – grated from a ginger root, not the dried ground kind. Buy extra fresh ginger so you can also make a batch of pear muffins and some Korean meatballs.
garlic – you'll need quite a bit – 2 tablespoons – of minced fresh garlic to add lots of flavor to the orange ginger marinade. Garlic lovers – don't miss my garlic dip recipe!
vegetable oil – some oil will go into the orange juice marinade and the rest will be used for sautéing the chicken.
sriracha – this is optional, so my recipe calls for 0 – 2 tablespoons on purpose. Use no sriracha at all if you don't want this dish to be spicy. Use up to 2 tablespoons (or even more, you daredevil) if you love heat and want spicy orange chicken.
rice vinegar – this adds acid and depth of flavor to the orange ginger sauce.
light brown sugar – for that classic touch of sweetness that orange chicken always has.
ground white pepper – I love ground white pepper because it really gives a Chinese restaurant flavor to this home-cooked dish, but feel free to use ground black pepper if you don't have white pepper.
cornstarch – this is used to thicken the marinade into a glazy sauce. Believe it or not, it's also the secret ingredient in my heart jam cookies!
chicken – This time around I used boneless, skinless chicken breasts, but I often use boneless, skinless chicken thighs instead. Thighs are my fav for chicken stroganoff, too.
green onions – to garnish the finished dish with a touch of green freshness.
Fresh is best for the orange juice marinade:
I know it's tempting to just grab a carton of orange juice and use it for this orange ginger chicken marinade, but I really encourage you to squeeze your own orange juice for this recipe!
First of all, the flavor of freshly squeezed orange juice in this orange ginger sauce simply cannot be beat. And squeezing 1-1/4 cups juice honestly doesn't take that long.
Another reason to splurge for fresh oranges is that this spicy orange chicken recipe also calls for orange zest for a more intense orange flavor. You'll need to buy at least 1 or 2 fresh oranges for the zest for the orange juice marinade anyway, so you might as well juice them, too!
How to make chicken with orange ginger sauce:
Just like with my shrimp fajita recipe, the marinade for this chicken couldn't be easier. Make the marinade with orange juice, soy sauce, ginger, garlic, vegetable oil, sriracha, rice vinegar, brown sugar, orange zest and white pepper.
Put the chicken breast strips in a zip-top bag and pour most of the marinade over them (reserve some extra marinade for sauce). Then, refrigerate for 1 hour so the chicken can marinate and have lots of flavor when you cook it.
Take the chicken out of the spicy orange chicken marinade and stir fry it in batches in a wok or large skillet. We're skipping the breading to make it a little healthier than the store bought version.
Next, bring the extra orange juice marinade to a boil, add a cornstarch slurry and cook until the orange ginger sauce becomes a glaze consistency (I also use a cornstarch slurry to thicken the sauce for my baked ham with pineapple sauce and Instant Pot sweet and sour chicken).
Toss the chicken in the orange ginger sauce, and then serve the orange ginger chicken and sauce over rice. Sprinkle with green onions for a pretty finish.
This orange ginger chicken recipe comes together quickly and easily:
The Trader Joe's version takes about 30 minutes to prepare (just like my chicken sloppy joes and General Tso's meatballs), and my version of orange ginger chicken shouldn't take you much longer than that, if you exclude the hour it's sitting in the fridge to marinate.
So, what I generally do is come home from work, prep the spicy orange chicken marinade (or even prep it the night before!), toss the chicken in, then spend an hour catching up on household chores or just relaxing with Netflix or a book.
Other tips and ideas for this orange ginger chicken:
Lean into the takeout theme and make shrimp wonton soup as a starter!
Spoon the orange ginger chicken over white rice, brown rice, quinoa or even coconut risotto.
Serve this chicken with orange ginger sauce with a side of Asian noodle salad instead of rice.
Serve over cauliflower rice for a lower carb meal.
Pair this orange ginger chicken stir fry with steamed or stir fried broccoli or snow peas to get your veggies in!
Sprinkle with sesame seeds for added flavor.
Make the orange juice marinade / sauce using blood oranges (see also: blood orange sangria) or cara cara oranges for a seasonal twist.
If you have leftover ginger after making this spicy orange chicken, try a lemon smoothie or blueberry lemon smoothie!
If you love the combination of citrus and chicken, check out my orange glazed chicken or almond crusted chicken!
This ginger and orange chicken recipe is award winning!
Back when I wrote this chicken with orange ginger sauce recipe in 2013, it was chosen as the winner of Whole Foods Market Cooking's "Your Best Stovetop Chicken" contest. Pretty cool, right?
More Foxes Love Lemons Favorites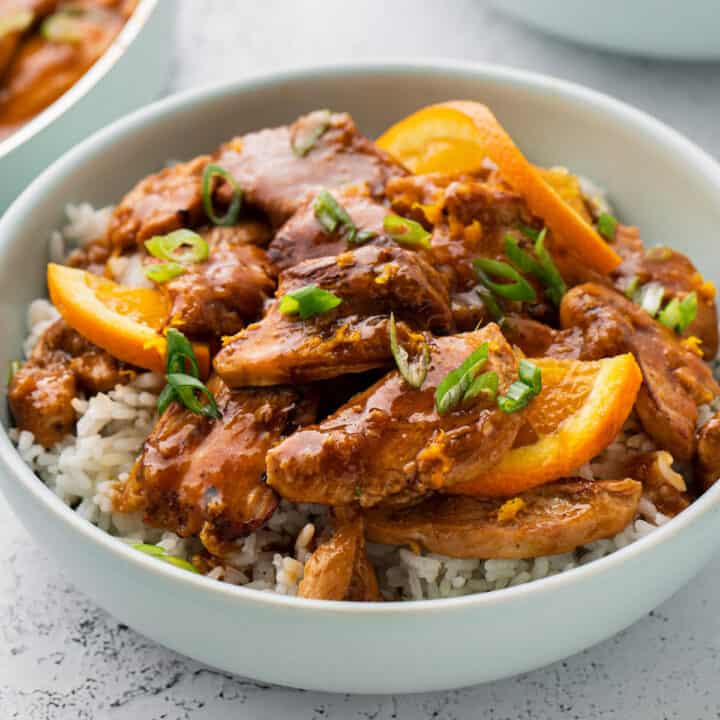 Orange Ginger Chicken
This award-winning Orange Ginger Chicken is a healthier alternative to takeout or a frozen meal. The whole family will love this stir fried chicken breast made with an orange juice marinade.
Ingredients
1-1/4 cups orange juice (preferably fresh squeezed) (make sure you zest 2 teaspoons of orange zest first!)
1/4 cup low-sodium soy sauce
3 tablespoons grated fresh ginger
3 tablespoons vegetable oil, divided
2 tablespoons minced fresh garlic
1-1/2 tablespoons rice vinegar
2 teaspoons grated orange zest
2 teaspoons light brown sugar
1/4 teaspoon ground white pepper
0 - 2 tablespoons sriracha*
1-1/4 pounds boneless, skinless chicken breasts, cut into thin strips
1 tablespoon cornstarch
3 tablespoons thinly sliced green onions
Instructions
In small bowl, whisk together orange juice, soy sauce, ginger, 1 tablespoon oil, garlic, vinegar, orange zest, brown sugar, pepper and sriracha (if using).
Place chicken in large zip-top bag; pour 1/3 cup marinade over chicken. Seal bag and refrigerate 1 hour.
Remove chicken from marinade; discard marinade in bag.
Heat large skillet or wok over medium-high heat. Add 1 tablespoon oil and half of chicken and cook 5 to 6 minutes or until chicken is golden brown and internal temperature reaches 165 degrees F, stirring frequently. Transfer chicken to medium bowl.
Repeat process with remaining 1 tablespoon oil and chicken. Transfer chicken to bowl.
Add remaining marinade to skillet; heat to boiling. In small bowl, whisk together cornstarch and 1 tablespoon water. Whisk cornstarch mixture into marinade; boil 1 minute or until thickened.
Return chicken to skillet; cook 1 minute or until heated through. Serve chicken sprinkled with green onions.
Notes
*Sriracha is optional. 1 tablespoon of sriracha will balance out the sweetness of the oranges without making the sauce too spicy for most eaters. 2 tablespoons of sriracha will make a noticeably spicier sauce. Use even more sriracha if you REALLY like spice!
Recommended Products
Foxes Love Lemons, LLC is a participant in the Amazon Services LLC Associates Program, an affiliate advertising program designed to provide a means for sites to earn advertising fees by advertising and links to Amazon.com. There is no additional cost to you.
Nutrition Information:
Yield:

4
Serving Size:

1
Amount Per Serving:
Calories:

478
Total Fat:

16g
Saturated Fat:

2g
Trans Fat:

0g
Unsaturated Fat:

12g
Cholesterol:

120mg
Sodium:

787mg
Carbohydrates:

34g
Fiber:

1g
Sugar:

24g
Protein:

48g
This website provides estimated nutrition information as a courtesy only. You should calculate the nutritional information with the actual ingredients used in your recipe using your preferred nutrition calculator.
Note: This recipe was originally published in 2013. The post was updated in 2022 to be more informative and improve the photos. The original photos appear below.