Brat & Pepper Breakfast Scramble
Jeff and I sometimes like to joke that having a human child would be easier than taking care of our dog, Izzy. We're joking, of course. But Izzy is definitely a handful.
She's a rescue dog who came to us with a fully-formed anxiety disorder. Mental breakdowns ensue when even the slightest change to the status quo occurs, like a squirrel in the yard or a repair person in our house.
She has extreme separation anxiety, and she can diagnose the cues that we are getting ready to leave the house – putting on our shoes, me putting on makeup – and a heartbreaking please don't leave meeeeeeee tantrum will occur then, too.
She also acts out in any number of ways, which are nearly impossible to predict. One day she might decide to eat a whole mess of chicken bones from the trash can when I look away for just a second, and the next day she'll jump on the couch (without permission) with muddy paws.
She could tear a hole in the curtains and get herself trapped in a curtain noose.
She might wake us up in the middle of the night to take her outside, then not go to the bathroom when she's out there, deciding to bark at a chipmunk instead.
She also hates the bottom of all dog cages, and has chewed through several of them, and pushed the others out to sea in a fit of rage.
For putting up with all of this silliness, I always make sure Jeff takes a minute to celebrate Father's Day. He may *just* be a father to a dog, but believe me, it's work.
It seems like moms get all the breakfast in bed for Mother's Day, and dads always get a grilled meal for Father's Day, so why not give the dads a breakfast that combines the best of both worlds? Cue the idea of bratfest in bed.
I started by grilling up some juicy, flavorful brats (you could also use bacon in the oven). I quickly sauteed some peppers and onions, then created a unique egg scramble by folding in whisked eggs, cheddar cheese and the sliced, grilled brats. Jeff loved this easy breakfast scramble, and Izzy loved cuddling up next to him, hoping for a piece of sausage!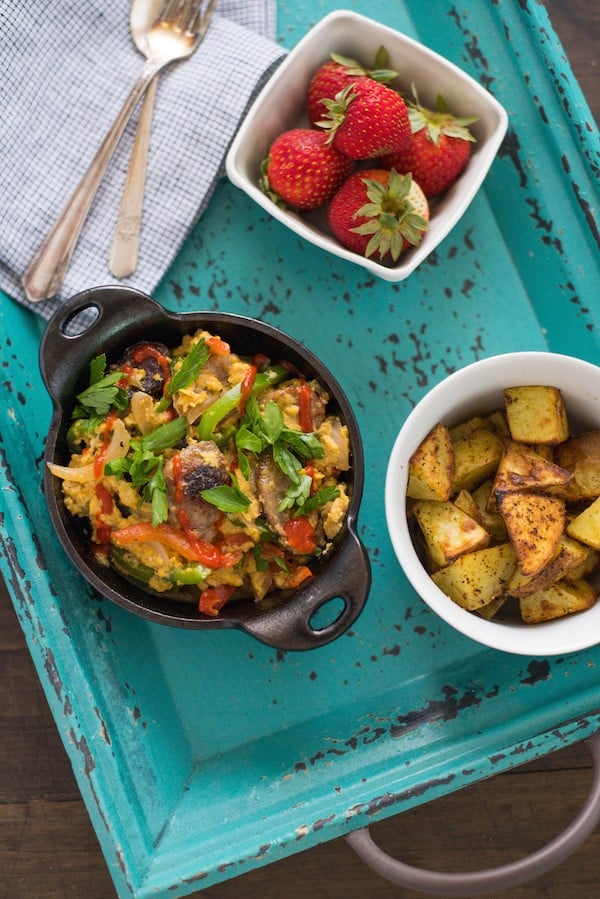 Brat & Pepper Breakfast Scramble
Ingredients
4 Johnsonville® Brats
12 eggs
1/2 cup milk
Pinch of kosher salt and ground black pepper
1 tablespoon olive oil
1 green bell pepper, thinly sliced
1 red bell pepper, thinly sliced
1 small onion, thinly sliced
4 ounces shredded sharp cheddar cheese
Instructions
Preheat outdoor grill or grill pan for direct grilling. Grill brats according to package directions. Transfer to cutting board and let stand 5 minutes; then slice into 1/4-inch slices.
Meanwhile, in medium bowl, whisk together eggs, milk, salt and pepper.
Heat oil in large nonstick skillet over medium-high heat. Add bell peppers and onion; cook 4 to 5 minutes or until vegetables are tender-crisp, stirring occasionally.
Reduce heat to medium. Add sliced brats and egg mixture to skillet. Cook 5 to 6 minutes or until eggs are cooked through, stirring and breaking up eggs with spatula frequently. Fold in cheese during last minute of cooking time. Serve immediately.