Culinary School Lesson: Bakin' Bacon (Oven Bacon)
In this Culinary School Lesson, learn a two-step technique to make perfect oven bacon, every time (with no splatters of bacon grease on your stovetop!)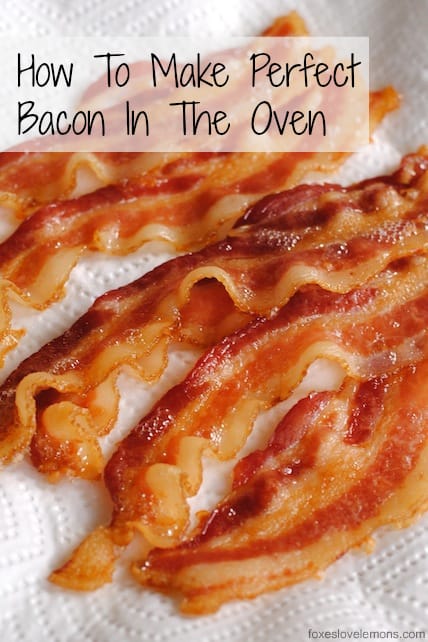 In my "What I Learned in Culinary School" series, I'll be sharing tips and tricks that I learned from two years of working with some of the country's best chefs. This will include big things like learning to work efficiently, and small things like how to make oven bacon. All of them will be applicable to your home kitchen, making you a faster, better, and more confident cook.
I'm gonna keep it short and sweet today, with a little trick that I'm guessing 80% of people who like bacon already know. However, before I went to culinary school, I was in the 20% of people who had never thought to do this. Granted, for a long time, I wasn't a big fan of bacon. And I think two major reasons for that were how smelly it makes your house when you cook it, and how big of a mess it is (grease splatters everywhere!).
With this oven bacon method, your house will still smell bacon-y, but maybe a smidge less so than with the old frying pan method. Some of the smell is kind of contained to inside your oven. And those grease splatters? Hey – better in the oven than on the counter. My oven has seen way worse.
Ok, so here we go. Let's get started with this oven bacon. This will only take a minute. Well, 18 minutes.
Line a rimmed baking pan with parchment paper. Please make sure the pan is rimmed, or you're going to have a huge bacon grease mess on your hands. Lay your bacon out on this pan in a single layer. If you need two pans, use two pans. They can be a little closer than I've done here, but just make sure the bacon pieces aren't overlapping or anything.
Bake your bacon at 375° for 18 to 20 minutes or until it reaches your desired level of crispness. You don't even need to flip it. Just let it do it's thing for 18 minutes. When it's done, use tongs to transfer the bacon to a paper-towel lined plate.
Beyond the less mess/smelliness factor, there are a few other advantages to the oven bacon method. First, it's a great method to use when you're preparing breakfast for a crowd. The bacon is just cooking away in the oven, unattended to, while you're finishing up the rest of the meal on the stovetop. Second, you get to eat almost cartoon-like perfect bacon. It's not shriveled up little pieces – it's mostly flat, perfectly cooked bacon. Beautiful, beautiful, cartoon bacon.