Spiced Sweet Potato Rolls with Bourbon Honey Butter
While I certainly have some room for improvement when it comes to the baking department, I've been working on my skills recently.
After tackling Quick Pumpkin Beer Bread and homemade pizza crust, I went into this recipe feeling pretty confident in my new skills.
What I learned this month can be summed up like this: Sometimes, you can do everything wrong and still get a really good result. I know it sounds counterintuitive, especially when it comes to yeast baking, but hear me out.
Building off of this recipe, I started by heating my apple juice in the microwave to try to get it between 100 and 110 degrees F (the correct temperature to activate the yeast). Well, let's just say that 60 seconds in the microwave is WAY too long to do that.
After the apple juice took a short rest in the fridge, and then, impatiently, the freezer, it was finally cooled down enough for me to stir in the yeast. Still, things were getting off to a somewhat rough start.
I can't be certain, but I *think* I forgot to add the salt to my dough. I remember looking at the sea salt in the pantry cupboard, but then I'm pretty sure my dog distracted me and I forgot to add it. I also did not use the dough hook attachment for my Kitchenaid while mixing the dough, even though I totally have one, and it would have been the correct time to use it (for the first time ever).
To further complicate matters, one step in the directions reads "Divide dough into 12 equal portions and form into rolls." Which I totally did. If you consider golf balls and baseballs to be equal portion sizes.
So yeah, I stumbled a little bit with this recipe. I seriously felt like I had done everything wrong. At one point while kneading the dough, it felt kind of tough, and I was fairly certain I was in over my head and I did NOT have the skills to tackle this recipe.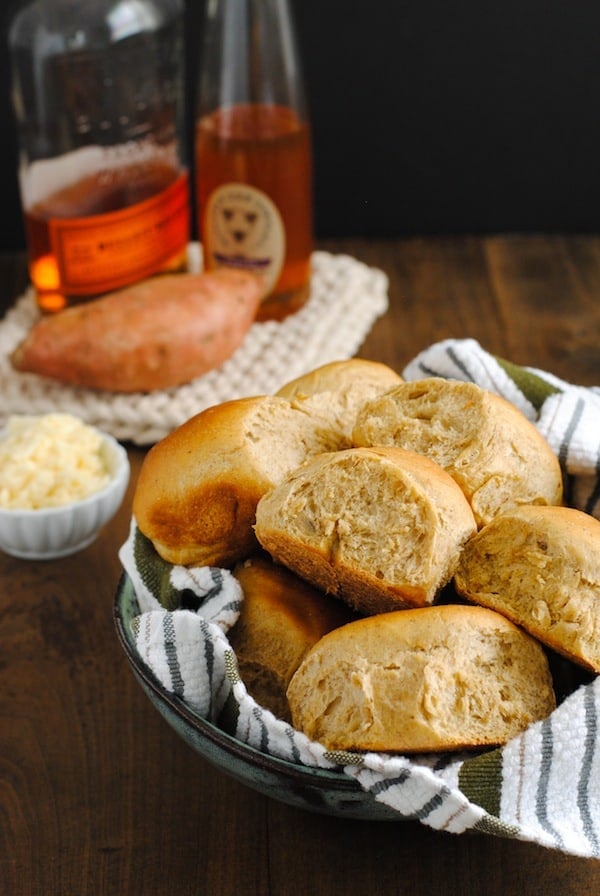 But you know what? These sweet potato rolls turned out AMAZING. They were airy, fluffy, and lightly sweet and spiced. They resembled the dinner rolls sold at my favorite bakery. Honestly, Jeff thought I had bought them.
I know a lot of bakers wouldn't want to hear that their homemade rolls resemble bakery-bought ones, but I considered it a compliment. They tasted professionally made!
The moral of the story is that everybody probably has more baking skills than they think they do. If I can tackle three yeast recipes and have three success stories, anyone can.
Grab some yeast and just go try it. Oh, and a compound butter made with honey and BOURBON never hurts, you know?
Psst – buy an extra sweet potato and try my sweet potato breakfast casserole!
Spiced Sweet Potato Rolls with Bourbon Honey Butter
Ingredients
For the Spiced Sweet Potato Rolls:
1 cup apple juice
1 envelope Fleischmann's® Active Dry Yeast
3-1/2 to 4 cups all-purpose flour
2 tablespoons sugar
1 teaspoon ground cinnamon
1 teaspoon salt
3/4 teaspoon ground ginger
1/4 teaspoon ground cloves
1 egg
1/2 cup cooked, mashed sweet potato
2 tablespoons butter, melted
Vegetable oil, for greasing bowl and baking pan
For the Bourbon Honey Butter:
8 tablespoons unsalted butter, room temperature
2 tablespoons honey
2 teaspoons bourbon
Instructions
Make Spiced Sweet Potato Rolls: In microwave-safe liquid measuring cup, microwave juice until warm (100 to 110 degrees F) (about 20 to 30 seconds on high). Stir in yeast; let stand 5 minutes.
In large mixing bowl, whisk together 3 cups flour, sugar, cinnamon, salt, ginger and cloves. Add egg, potato, butter and yeast mixture; beat 2 minutes. Add enough remaining flour to form a soft dough.
Knead on a lightly floured surface 6 to 8 minutes or until dough is smooth and elastic. Shape dough into ball and place in greased bowl, turning once to cover. Cover and let rise in warm, draft-free place until dough is doubled in size, about 1 hour.
Punch dough down. Divide dough into 12 equal portions; form into rolls. Place in greased 13 x 9-inch baking pan. Cover and let rise until doubled, about 40 minutes. Meanwhile, preheat oven to 350 degrees F.
Bake rolls 25 to 30 minutes or until well browned. Transfer to wire rack to cool.
Make Bourbon Honey Butter: In small bowl, stir together butter, honey and bourbon until very well combined. Serve rolls with butter.
Notes
Whole Wheat Variation:  Use 1-1/2 cups whole wheat flour in place of 1-1/2 cups all-purpose flour.
Sweet Potato Tip:  Cook or bake sweet potato.  Or use a can (15 ounces) of sweet potatoes.  Drain well and mash enough to measure 1/2 cup.