DIY Phyllo Cup Appetizer Bar
When I have parties, I like to make A LOT of appetizers. I mean, in all honestly, 50% of my motivation to even host parties is to have the chance to make and eat a lot of appetizers.
The other 50% is to spend time with my awesome friends, of course. But for real, those appetizers  . . .
When I'm making a huge spread, it's really important to have a mix of homemade/from-scratch items and dishes that take a little help from the grocery store.
While the words "semi-homemade" immediately make me think of that lame cooking show involving tablescapes and what not, it really is a pretty good description of my strategy for party food.
Really high-quality store-bought dips are one way I like to keep things simple but delicious. I'm partial to La Terra Fina dips for a few reasons.
First of all, the brand was launched in 1983 when a San Franscisco area caterer known for her delicious quiche and dips took her beloved recipes and started creating products for grocery and club stores.
Well, I was "launched" in 1983 as well, so it's fun that we're the same age.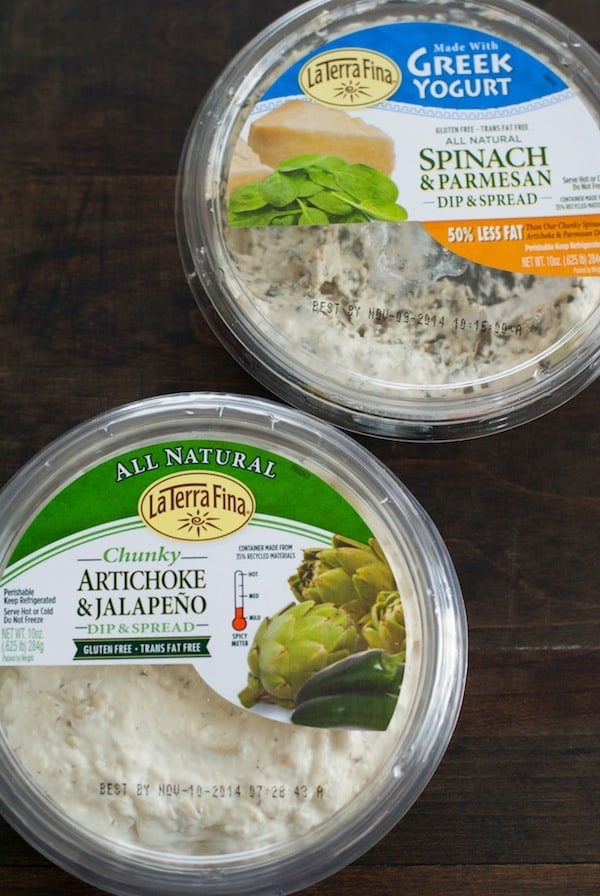 I also really dig that La Terra Fina's products are so clearly chef-inspired. These dips are a far cry from the bland and boring spinach dips that sit ignored at most parties.
Each La Terra Fina flavor is the perfect balance between savory, creamy and tangy. While I love the six varieties made with Greek yogurt for healthier snacking, my personal favorite is the Chunky Artichoke & Jalapeño Dip & Spread.
It's a fun departure from traditional artichoke dip, as it has a nice kick of jalapeño spiciness (but not too much). It's absolutely bursting with flavor, let me tell you.
I'm pretty sure it's the best store-bought dip I've ever tasted, and I'm kind of obsessed with dips, so I don't take that compliment lightly.
While putting out a bowl of crackers and dip is a great way to add another easy snack to your party spread, I've come up with another way to serve this delicious dip that is almost as fast, but a little bit more special.
You'll actually spend more time gathering the ingredients at the store than you will assembling them.
First, is there a nice grocery store near you with an olive bar? Head there.
Along with olives, these bars usually offer things like pickled beans, marinated artichokes, and roasted garlic cloves, tomatoes, and red peppers. Choose a variety of things that look good that day.
Second, pick up a box of frozen phyllo cups. These little guys are always in my freezer because I know I can grab them and make a special phyllo cup appetizer with them right away, no thawing time needed.
By the time you've assembled them, they'll be room temperature! Finally, grab any flavor of La Terra Fina dip you'd like.
Do I really need to walk you through this? I'm guessing I don't, but I will. Place the phyllo cups on a pretty board or plate. Dollop about a tablespoon of dip into each one.
Arrange all the toppings on your table with some small spoons and toothpicks, and let your guests pick and choose their own combinations.
I promise that your guests will love this appetizer, and guess what? You didn't have to cook a darn thing.
To find out more about La Terra Fina, visit their website, and be sure to connect with them on Facebook, Twitter, Pinterest and Google+.
Also, be sure to enter La Terra Fina's Share & Win program to have a chance to win a delicious prize pack! Just re-create this recipe or post a picture of yourself enjoying La Terra Fina on your Facebook, Twitter or Pinterest account, tagged with #LTFShare. Learn more at laterrafina.com/share.
DIY Phyllo Cup Appetizer Bar
Ingredients
Assorted roasted and/or pickled vegetables (find these at your grocery store's olive bar), such as pickled beans, marinated artichokes, roasted garlic cloves, roasted red peppers, roasted mushroom and roasted tomatoes
1 box (15 count) mini fillo (phyllo) shells
1 cup creamy dip, such as La Terra Fina Artichoke & Jalapeno Dip & Spread
Instructions
Cut any larger vegetables into bite-sized pieces.
Arrange phyllo shells on serving platter and spoon 1 tablespoon dip into each shell.
Serve phyllo cups with small bowls of assorted vegetables and let guests create their own combinations.
This is a sponsored post written by me on behalf of La Terra Fina. Sponsored posts help me pay for the costs associated with this blog (groceries…lots of groceries), and help support me as I pursue a career in recipe development and food photography. All opinions are 100% my own.