Snappy Cocktail Meatballs with Creamy Mustard Sauce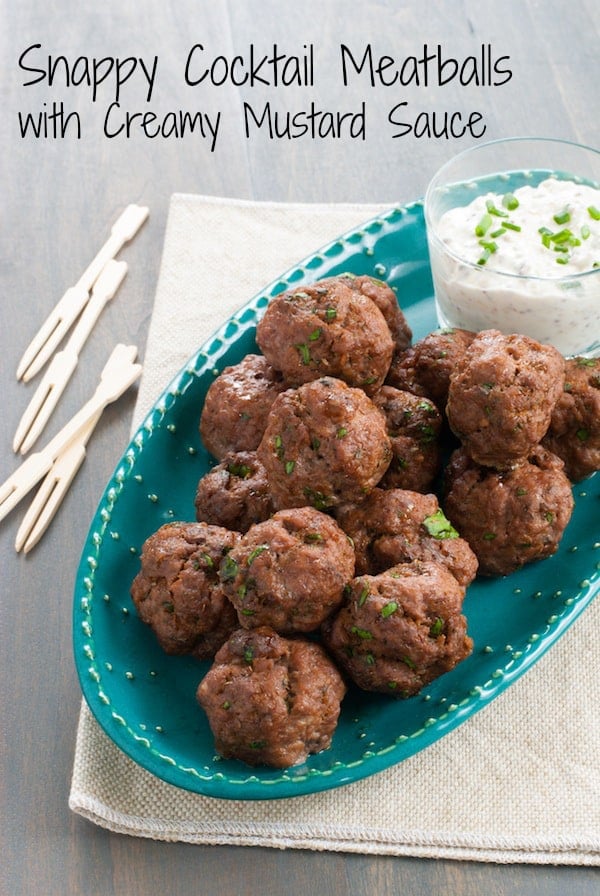 Disclosure: I was asked to participate in the McCormick Gluten-Free Recipe Mixes launch as a member of the Healthy Aperture Blogger Network. I received free samples of McCormick Gluten-Free Recipe Mixes and I was compensated for my time. Sponsored posts help me pay for the costs associated with this blog (groceries…lots of groceries), and help support me as I pursue a career in recipe development and food photography. All opinions are 100% my own.
I'm not sure if you've noticed, because I haven't even really noticed myself. But apparently I've been on a huge meatball kick lately. I've made soup with meatballs, a salad with meatballs, meatball subs, Greek meatballs, Korean meatballs, and heck, even meatless "meat"balls. When I did a quick search of my computer to find the photos I needed to put together this post, I was inundated with "meatball" results. Ummm….maybe I have some sort of problem.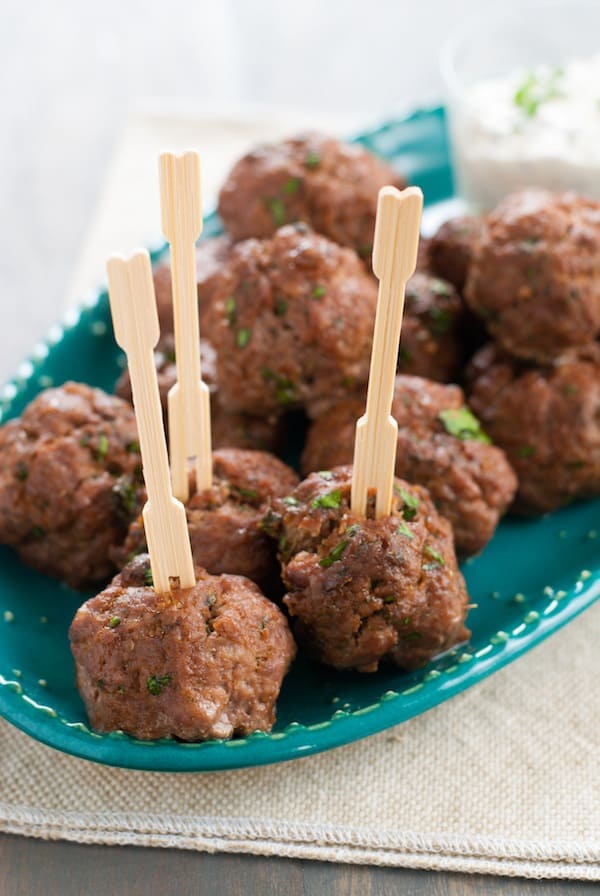 I honestly don't know where this meatball obsession even came from. I mean, my mom did make Swedish meatballs every New Year's Eve, and I looked forward to those. But beyond that, I don't think I grew up eating any other kind of meatball. Maybe the Italian Grandma that is living inside of me is making up for lost time. Maybe they're just delicious, super easy to make, and bring out a party mood whenever they're served.
Now, generally when I make meatballs, I kind of just grab a large bowl, throw the meat in, crack in an egg, and stir in some breadcrumbs and assorted herbs and spices. If I'm feeling really inspired (or if they're for an important event), I'll do the ol' test meatball to make sure they're seasoned properly. But usually, I just roll them up, bake them, and hope for the best.
But even an old dog can learn new (meatball) tricks. And when I discovered this recipe for Gluten-Free Snappy Cocktail Meatballs on McCormick's website, I realized that I don't even need the breadcrumbs I've become accustomed to throwing in the mix. In fact, these delicious meatballs don't contain any gluten at all, which makes them perfect for any gluten-free party guest you might have!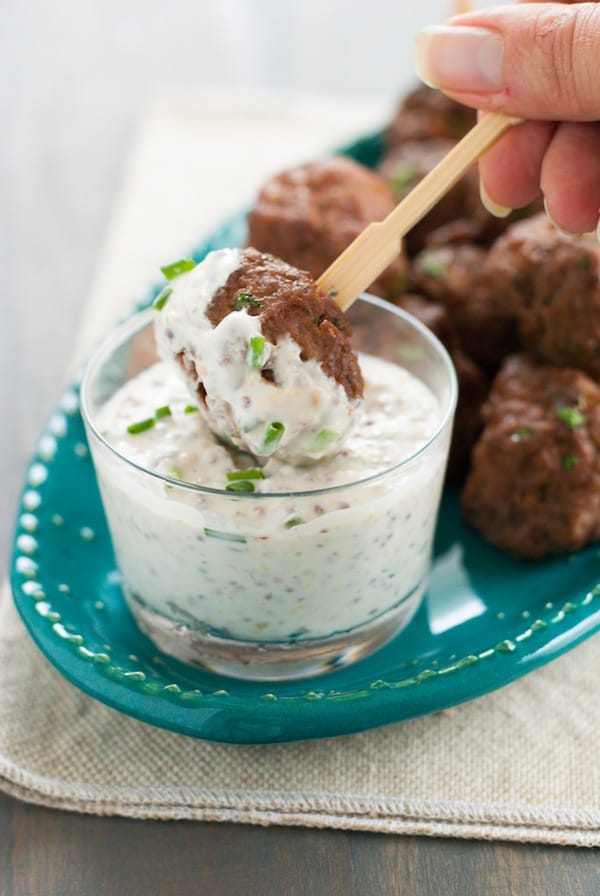 These cocktail meatballs truly couldn't be any simpler to prepare. Just combine lean ground beef, horseradish, fresh parsley, dried basil leaves and McCormick Gluten-Free Brown Gravy Mix. This mix has all of the seasoning you need to give your meatballs a burst of flavor. In fact, four favorite McCormick recipe mixes are gluten-free: Taco, Chili, Brown Gravy and Turkey Gravy – which means that going gluten-free for any occasion has never tasted better. Certified by the National Foundation for Celiac Awareness, these mixes are made with natural herbs and spices, and no MSG or artificial colors or flavors.
While these meatballs are fantastic on their own, I'm of the belief that it's not a party without a dipping sauce. I just stirred together some creamy Greek yogurt, whole grain mustard and chopped chives and I was good to go!
Snappy Cocktail Meatballs with Creamy Mustard Sauce
Yield:
Makes 36 meatballs
Ingredients
For the Snappy Cocktail Meatballs:
1 package (1 ounce) McCormick Gluten-Free Brown Gravy Mix
1-1/2 pounds lean ground beef
1 tablespoon chopped fresh parsley
1 tablespoon prepared horseradish
1 teaspoon McCormick basil leaves
For the Creamy Mustard Sauce:
1 cup Greek yogurt
1/4 cup whole grain mustard
2 tablespoons chopped fresh chives
Instructions
Make the Snappy Cocktail Meatballs: Preheat oven to 375 degres F. In large bowl, combine gravy mix, beef, parsley, horseradish and basil. Stir (or mix with hands) until just combined. Do not overmix. Using hands, gently form into 1-inch balls and place on large baking pan.
Bake meatballs 14 to 16 minutes until internal temperature reaches 160 degrees F.
Meanwhile, make Creamy Mustard Sauce: In small bowl, stir together yogurt, mustard and chives. Serve meatballs with sauce.