Hazelnut Chocolate Chip Gelato Sandwiches
This is a sponsored post written by me on behalf of Talenti Gelato & Sorbetto for IZEA. All opinions are 100% mine.
So, I realize that I just made a batch of Red Velvet Chocolate Chip Cookie Ice Cream Sandwiches a few weeks ago, but um, I don't know what happened. They disappeared from my freezer just like that. I gave a few away to friends, and the rest . . . they must have just gotten up and walked away. Whatever happened, the top shelf of my freezer was looking a little bare.
I've long enjoyed Talenti gelato straight from the container. Made using artisanal methods with fresh milk and extra fine pure cane sugar, real fruits and real nut pastes created in-house, Talenti will always be a quality product that will satisfy my sweet tooth. I decided to double up on hazelnuts and chocolate chips here, by making a batch of chocolate chip cookies made with hazelnut flour, and then sandwiching them with Talenti Hazelnut Chocolate Chip gelato.
Talenti is giving you the chance to create a gelato flavor based on your personality, through the "Flavorize Me" campaign! It's sort of like a personality quiz, but you don't have to answer any questions. Talenti connects to your social channels, processes the content of your posts, and generates a new flavor of gelato that's specifically inspired by you. Millions of flavor combinations are possible! The best part? A handful of lucky fans will have their unique flavor created and delivered to them! Some flavors are delicious, others end up being a bit weird, but it's always fun. My flavor ended up being Peach Cobbler Anise Peanut Butter Cup, which sounds . . . interesting, to say the least. Click here to create a custom flavor of Talenti Gelato inspired by your personality!
Talenti is the best-selling gelato in the United States. Talenti offers 33 flavors and is availble at grocery stores nationwide. Click here for more information on where to find Talenti.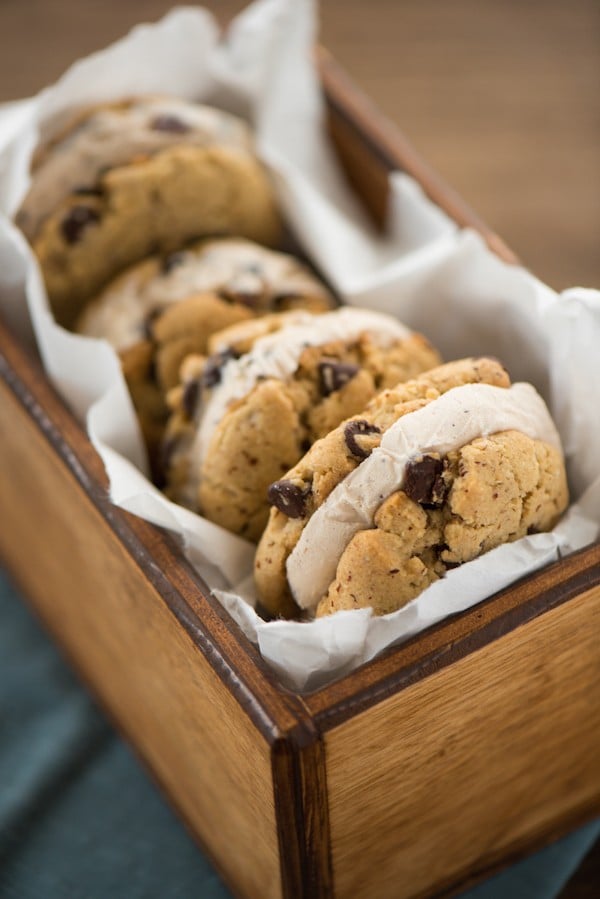 Hazelnut Chocolate Chip Gelato Sandwiches
Ingredients
3-1/2 cups all-purpose flour
1 teaspoon sea salt
3/4 teaspoon baking soda
1/2 teaspoon baking powder
1-1/2 sticks (12 tablespoons) unsalted butter, softened
1 cup granulated sugar
1 cup packed light brown sugar
2 teaspoons vanilla extract
2 eggs
1-1/2 cups semisweet chocolate chips
1 cup hazelnut meal/flour
2 pints Talenti Hazelnut Chocolate Chip Gelato
Instructions
In small bowl, stir together flour, salt, baking soda and baking powder. Beat butter, sugar and brown sugar in large mixer bowl until creamy. Add vanilla; then beat in eggs, one at a time, until well combined. Gradually beat in flour mixture. Stir in chocolate chips and hazelnut meal. Cover and refrigerate at least 2 hours or up to overnight.
Preheat oven to 350 degrees F. Drop cookie dough by 2-tablespoon-fuls onto parchment-lined baking sheets and gently press to flatten slightly. Bake 13 to 14 minutes or until cooked through. Cool on baking sheets for 2 minutes; remove to wire racks to cool completely.
Assemble the sandwiches: Turn 32 cookies over so that flat sides face up (you may have some extra cookies left over). Place 1/4 cup of gelato onto 16 cookies. Press remaining cookies onto gelato to form sandwiches. Wrap individually in plastic wrap and store in freezer up to 2 weeks.