Italian Enchiladas
When I go grocery shopping, I have three goals in mind: 1.) Buy lots of whole, minimally processed foods, 2.) Buy as many made-in-the-U.S. (preferably Michigan!) products as I can, and 3.) Get in and out of there as fast as humanly possible. Let's be honest – Goal #3 is the one that keeps me sane, but it's totally possible to also meet Goals #1 and #2 if I know what to look for.
When it comes to dairy products, I've started looking for the REAL® Seal as I'm racing through the aisles. It was created by America's Dairy Farmers to differentiate their products from imitations. When you spy the REAL® Seal, it's an assurance that what you are buying is made entirely with U.S.-produced cow's milk.
It's a small emblem on most packages, but once you know what to look for, it's easy to spot. It's important to look for, as real dairy provides essential nutrients that keep our bodies in optimal health. As somebody who suffers from frequent sinus infections, it's reassuring to know that the Vitamin A in real dairy will help strengthen my immune system.
It's February, the month of love, and I'm in love with real dairy and comfort food. These Italian Enchiladas combine my two loves. I like to think of them as a lazy man's version of stuffed shells. They have the same sort of filling I would make for that classic dish, but instead of boiling water and cooking pasta shells, I just grab a stack of flour tortillas.
The filling is easily adaptable to suit your tastes and what you have on hand. Here, I used a combination of ground beef, spicy Italian sausage and chopped pepperoni, along with mushrooms, artichokes, chopped spinach (gotta get some veggies in there!) and creamy ricotta. I rolled it all up in tortillas, then topped it marinara and gooey mozzarella.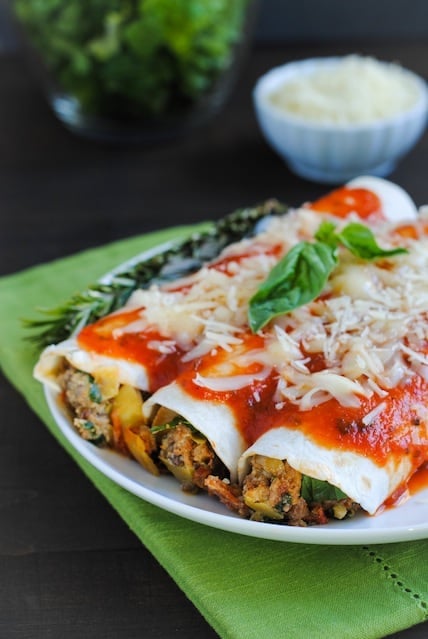 Italian Enchiladas
Ingredients
1 tablespoon olive oil
8 ounces button mushrooms, chopped
3 garlic cloves, minced
1/4 teaspoon chopped fresh rosemary
1/2 pound ground beef
1/2 pound hot or mild Italian sausage, removed from casings if necessary
7 ounces (1/2 of a 14 ounce can) artichoke quarters, drained and roughly chopped
2 ounces organic pepperoni slices, cut into 1/2-inch pieces
2 cups baby spinach, roughly chopped
1 cup ricotta cheese
1/4 cup chopped fresh basil leaves
3 cups (24 ounces) marinara sauce (homemade or store-bought)
10 (8-inch) flour tortillas
8 ounces mozzarella cheese, shredded
Shredded Parmesan cheese, for garnish (optional)
Instructions
Preheat oven to 350 degrees F. Heat oil in large skillet over medium-high heat. Add mushrooms; cook 4 to 6 minutes or until brown, stirring occasionally. Stir in garlic and rosemary; cook 1 minute, stirring constantly. Transfer mushroom mixture to small bowl.
Return skillet to medium-high heat; add beef and sausage. Cook 8 minutes or until meat is cooked through, breaking up meat with side of spoon as it cooks. Remove skillet from heat; stir in artichokes, pepperoni, spinach, ricotta, basil and mushroom mixture.
Spread 1 cup marinara sauce in bottom of 11x14-inch baking dish. Place flour tortilla on work surface. Spoon 1/2 cup meat mixture down center of tortilla. Roll up and place seam side down in prepared baking dish. Repeat with remaining tortillas. Top enchiladas with remaining marinara sauce; sprinkle with mozzarella cheese.
Transfer to oven and bake 25 minutes. Serve garnished with Parmesan cheese, if desired.
Disclosure: This is a sponsored post written by me on behalf of REAL® Seal. Sponsored posts help me pay for the costs associated with this blog (groceries…lots of groceries), and help support me as I pursue a career in recipe development and food photography. All opinions are 100% my own.