Lemon Margarita (Tequila Lemon Cocktail)
A Lemon Margarita is a fresh twist on a classic cocktail where you don't need any limes at all. This tequila lemon cocktail has a unique tangy and sweet flavor profile.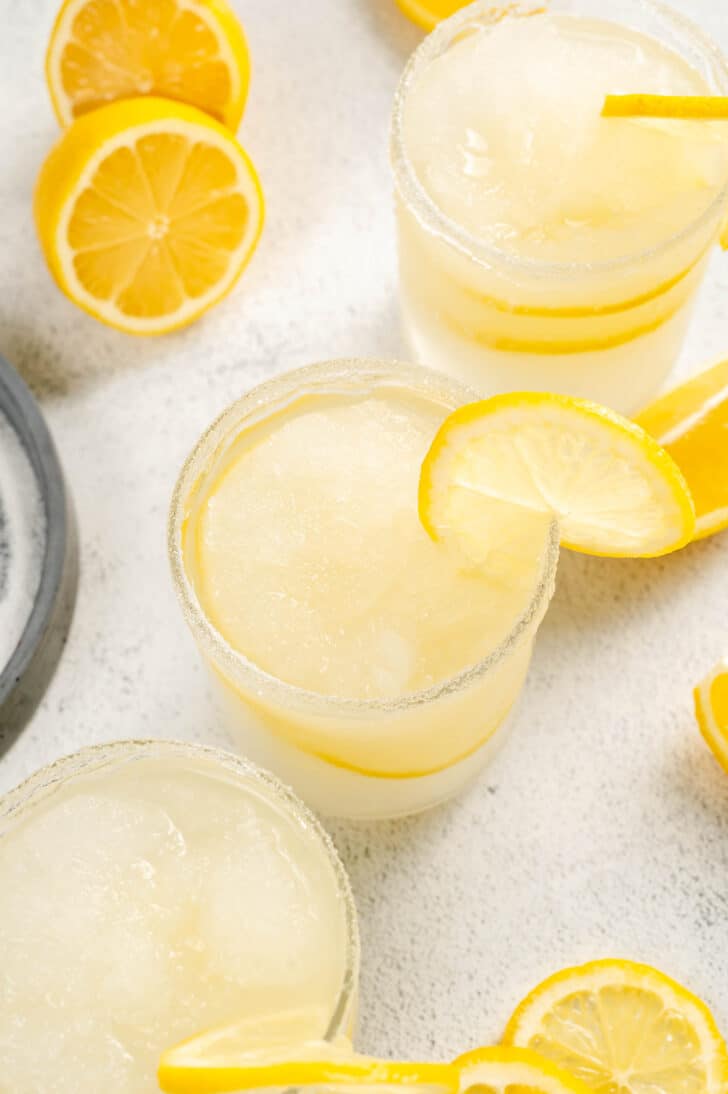 If the name of this blog didn't already give it away, OF COURSE I have a drawer in my fridge that's always filled with lemons.
They're cheap and plentiful and are as perfect for making something sweet like lemon curd cake as they are for making something savory like creamy feta dressing or Greek yogurt mashed potatoes.
My drawer full of lemons always means that homemade margaritas to go along with Sonoran hot dogs don't have to be a "great, now we have to go buy 20 limes" situation.
It's more like a "let's have margaritas because we have a few lemons" situation.
Side note – don't you hate it when you get those dud limes? Like, the ones that have hardly any juice and are all mealy inside? Seems like I ONLY get those when I want to make margs or basil cocktails and really really need juicy ones instead.
Well, we don't ever need to worry about dud limes again because we have lemon margaritas!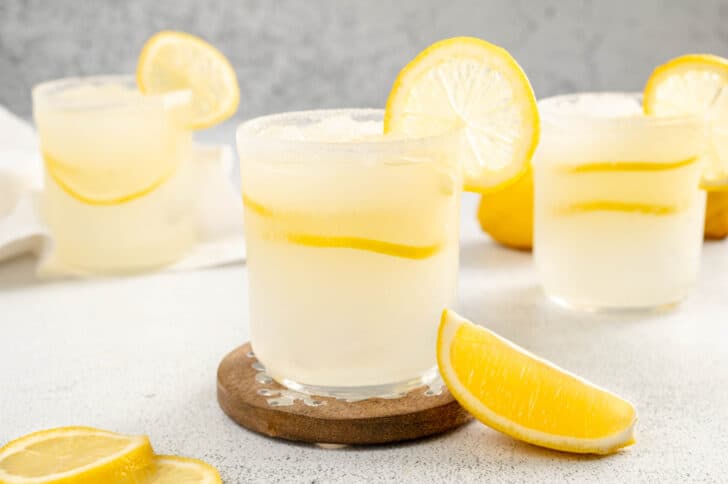 Can you make a margarita with lemon instead of lime?
Naturally, the first thing everybody thinks of when they think of a margarita is limes (even my blood orange margarita also has lime juice).
But what if you don't have limes, but you DO have a bunch of lemons (left over from a lemon smoothie or blueberry lemon smoothie, perhaps). Can you make a margarita with lemons?
Well, just like brandy old fashioneds don't need any bourbon, margaritas can be made with no limes at all. I'm going to teach you how today.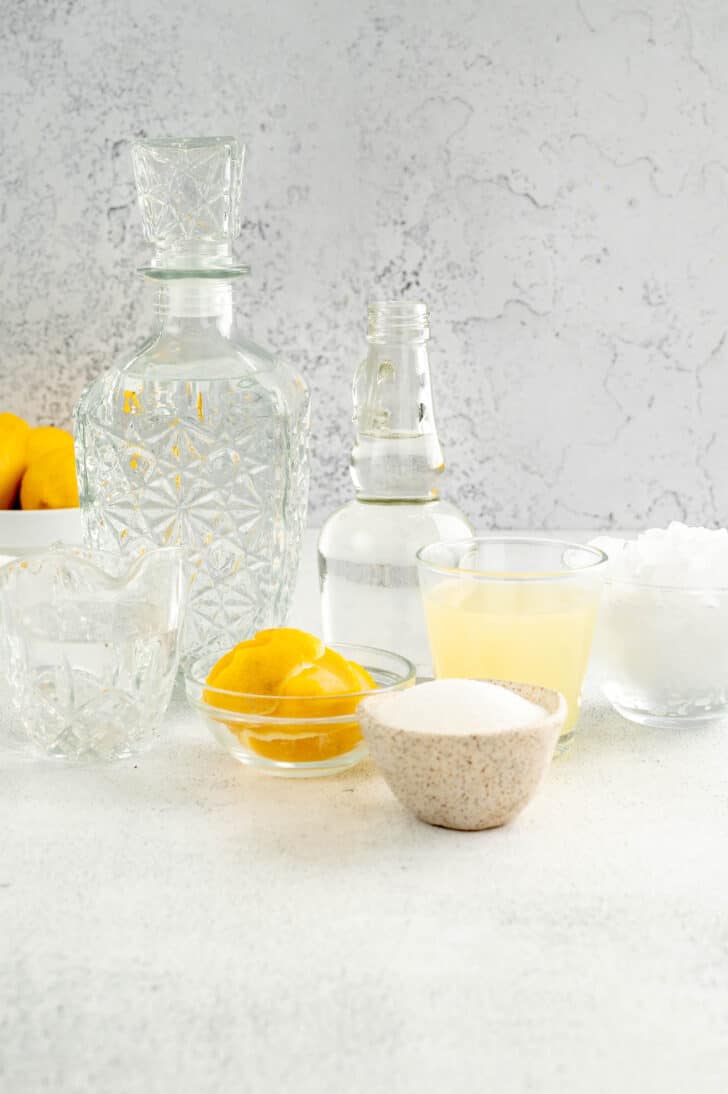 What you'll need for this lemon margarita recipe:
sugar – regular white granulated sugar is what we'll need for making the lemon simple syrup.
lemons – fresh ones! You'll need the peel of 1 whole lemon to make the simple syrup, plus lots more fresh lemon juice to make the margaritas. You can also make lemon shandies if you have any left!
tequila – I prefer a blanco (white/clear) tequila for this recipe, but you can use whatever you have on hand.
triple sec – this orange-flavored liqueur both sweetens and adds extra flavor to these lemon magaritas. I prefer a higher end one like Cointreau, but an affordable brand like Dekuyper works just as well.
sugar and/or salt for the glass rims – you might prefer your tequila glasses rimmed with all sugar or all salt, or a combination of the two. Whatever you like best is what you should do!
You can use store-bought simple syrup but PLEASE use fresh lemon juice for a great lemon margarita:
If you want to save a little bit of time and use store-bought simple syrup instead of making your own lemon simple syrup for these lemon drop margaritas, by all means, do it!
Your lemon margaritas will be slightly less lemony using plain simple syrup instead of lemon simple syrup, but thanks to the generous amount of fresh lemon juice in the cocktail, it should still be plenty lemony.
But one thing I do NOT recommend is store-bought bottled lemon juice for this tequila lemon cocktail. I don't recommend that for anything, actually. If you're going to the trouble to make margaritas from scratch, just buy and juice some fresh lemons, please. It's worth it!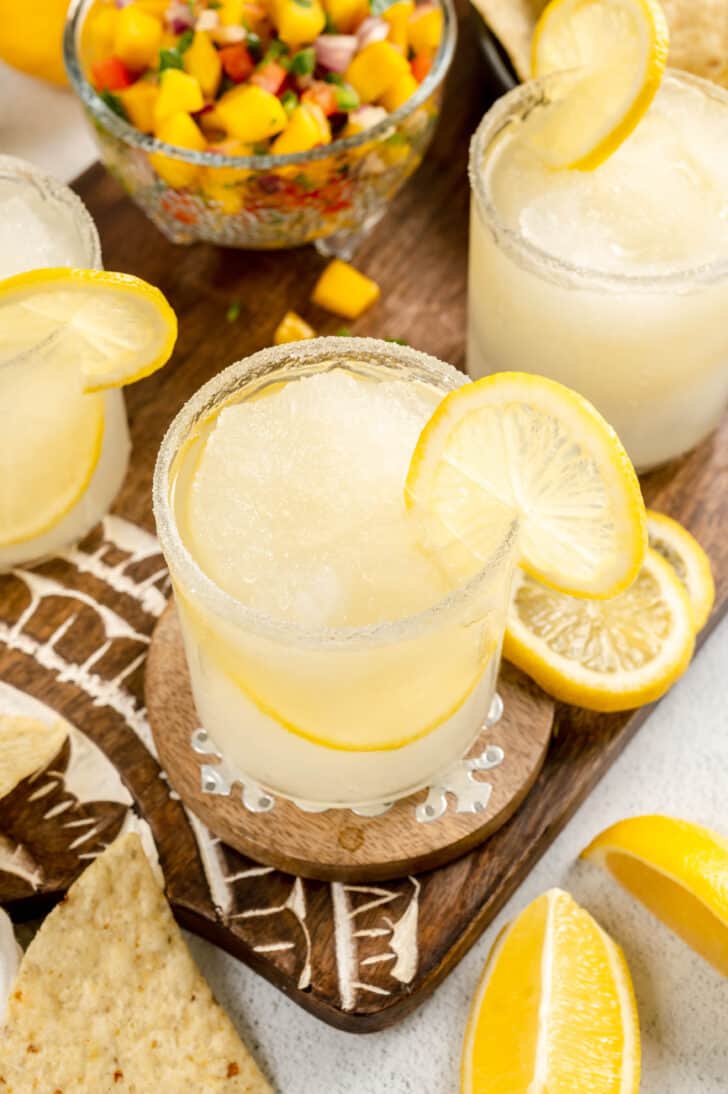 Go ahead and use the good tequila for this tequila lemon cocktail!
When I make this lemon margarita recipe, not only do I use fresh lemons, but I use really good tequila. My husband takes business trips to Mexico relatively frequently, and brings home the good stuff for the price of bottled water, basically.
Thus, we generally have pretty nice tequila on hand, and we use it for tequila mojitos and margaritas on any old Tuesday night alongside crock pot burrito bowls with fajita veggies, or Mexican mac and cheese.
So, while there was lots of citrus flavor in these lemon drop margaritas, what's interesting is that by the time it muddled with the tequila, my tastebuds couldn't tell much of a difference between lemon and lime here. It was mostly the great tequila flavor was coming through.
You'll have to try it for yourself and tell me what you think. I highly encourage throwing a party with a fajita bar so your friends can try these too!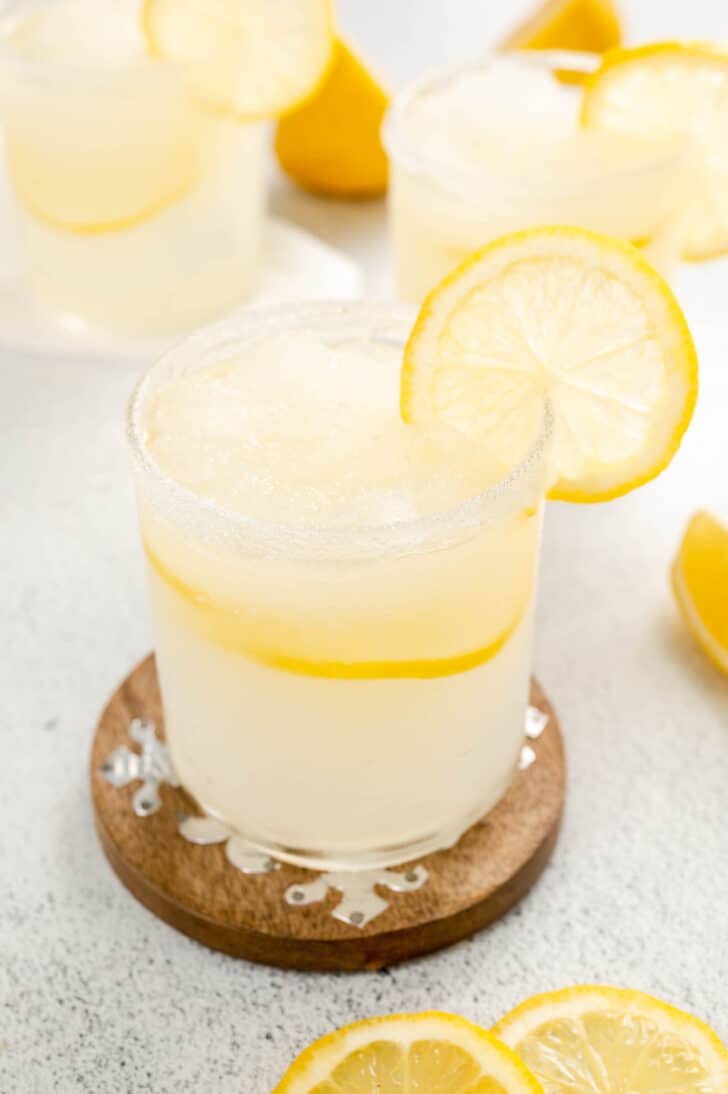 Variations on this lemon drop magarita:
Lemon Margarita On The Rocks – don't love a frozen beverage? Simply stir the ingredients together with some ice cubes in a glass for a tequila lemon cocktail on the rocks.
Jalapeño Lemon Margarita – spicy margaritas have been super popular at bars and restaurants the last few years! This is easy to make at home by adding a few slices of fresh jalapeño to the blender before you blend the drink up. Incorporate the rest of the pepper into jalapeño cornbread.
Strawberry Lemon Margarita – add a handful of fresh sliced strawberries to the blender! Or blueberries, or blackberries or raspberries.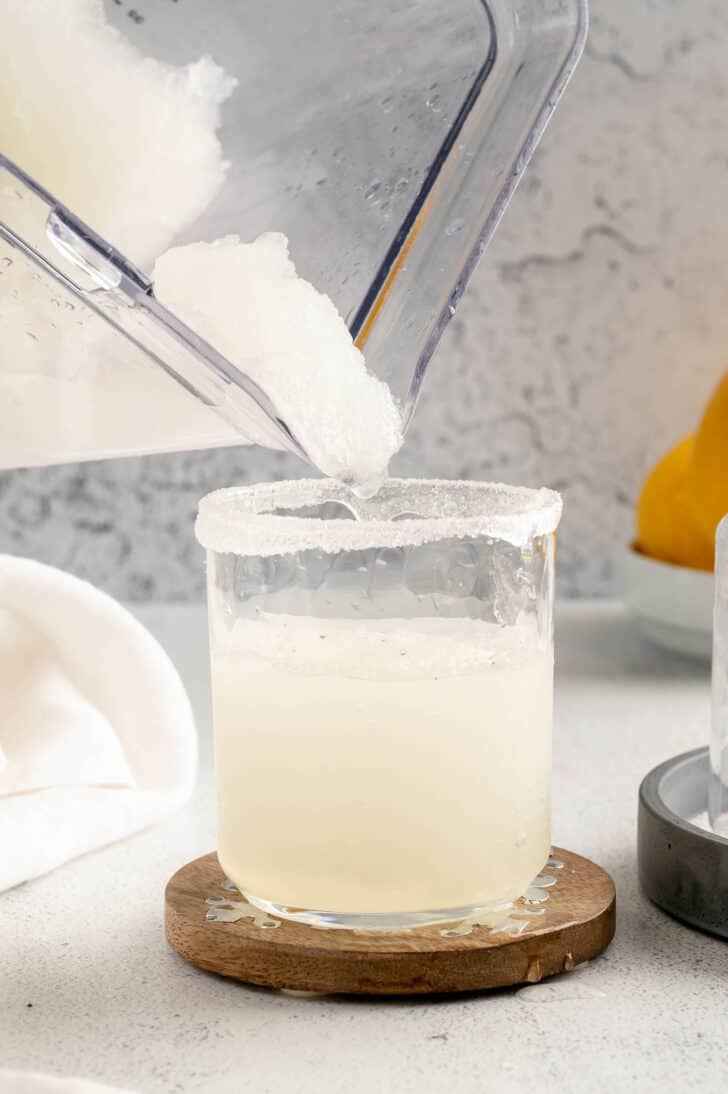 You can also serve this drink as a shot, like a tequila lemon drop.
If you want to serve this lemon margarita recipe more like a shot (maybe alongside some New Year's Eve finger foods?), you can keep the proportions of the liquid ingredients the same as listed below, but just shake everything up with one scoop of ice in a cocktail shaker.
Then, once everything is shaken and nicely chilled, divide the liquid between shot glasses, and you've got tequila lemon drops!
The recipe below will yield 8 generous 2 ounce shots.
Psst – Another great cocktail recipe for when you don't have limes is my apple cider mule or grapefruit mule. While traditional Moscow mules call for lime juice, these ones does not.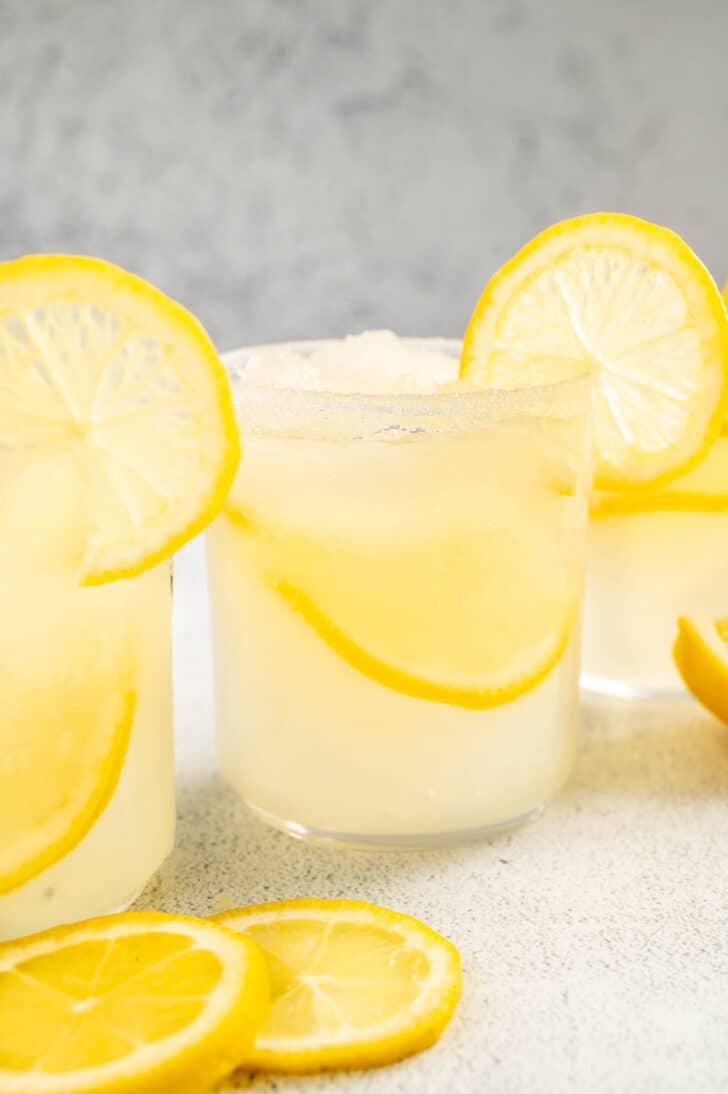 More Foxes Love Lemons Favorites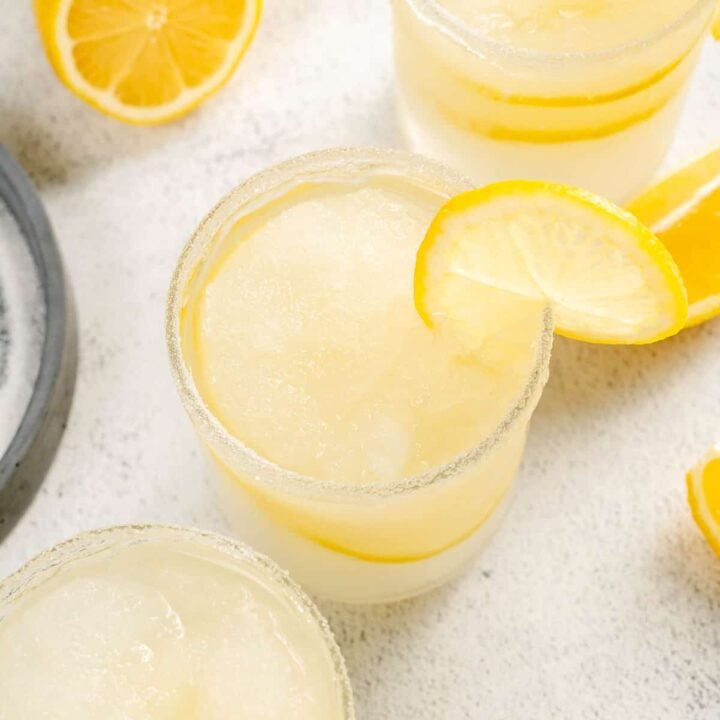 Lemon Margarita
Additional Time:
10 minutes
A Lemon Margarita is a fresh twist on a classic cocktail where you don't need any limes at all. This tequila lemon cocktail has a unique tangy and sweet flavor profile.
Ingredients
For the Lemon Simple Syrup:
3/4 cup granulated sugar
3/4 cup water
Peel of 1 lemon
For the Lemon Drop Margaritas:
4 cups ice
6 ounces fresh lemon juice
6 ounces tequila
4 ounces Lemon Simple Syrup
1 ounce triple sec
Salt and/or sugar, for rim of glasses (optional)
Instructions
Make the Lemon Simple Syrup: In small saucepot, heat sugar, water and lemon peel over medium-high heat. Cook until all sugar is dissolved, stirring occasionally (do not boil). Remove from heat; let stand 10 minutes. Remove and discard lemon peel; transfer syrup to jar or bottle and refrigerate until completely cool. Makes about 8 ounces (enough for 8 margaritas).
Make the Lemon Drop Margaritas: Place ice, lemon juice, tequila, 4 ounces Lemon Simple Syrup and triple sec in blender; blend until well combined. Divide between 4 glasses garnished with salt and/or sugar, if desired.
Notes
Home Chef Tip: Want to make just one margarita? Let me do the culinary math for you: 1 cup ice, 1-1/2 ounces fresh lemon juice, 1-1/2 ounces tequila, 1 ounce Lemon Simple Syrup, and 1/4 ounce triple sec.
Recommended Products
Foxes Love Lemons, LLC is a participant in the Amazon Services LLC Associates Program, an affiliate advertising program designed to provide a means for sites to earn advertising fees by advertising and links to Amazon.com. There is no additional cost to you.
Nutrition Information:
Yield:

4
Serving Size:

1
Amount Per Serving:
Calories:

194
Total Fat:

0g
Saturated Fat:

0g
Trans Fat:

0g
Unsaturated Fat:

0g
Cholesterol:

0mg
Sodium:

12mg
Carbohydrates:

23g
Fiber:

0g
Sugar:

21g
Protein:

0g
This website provides estimated nutrition information as a courtesy only. You should calculate the nutritional information with the actual ingredients used in your recipe using your preferred nutrition calculator.
Note: This recipe was originally published in 2016. The recipe was updated in 2023 to be even better, the photos were reshot, and the post was revised accordingly. The original photos appear below.