Peach Pie Ice Cream Bars
I'm going to need a little cheese with my whine, because: power outages. Let's start at the top: Jeff and I are actually moving to a new home!
It's only about six blocks from our current home, but is ever-so-slightly larger, and in an ever-so-slightly nicer part of town.
But the sad fact is that moving to the nicer part of town isn't always an upgrade in every possible way.
You see, at our old house, we never had power outages. Well, in seven years, we had ONE, and that was because a transformer exploded.
But through wind, hail and ice storms, we never lost power. Our friends in other parts of town faced power outages up to a week long after bad storms, while we were sitting pretty.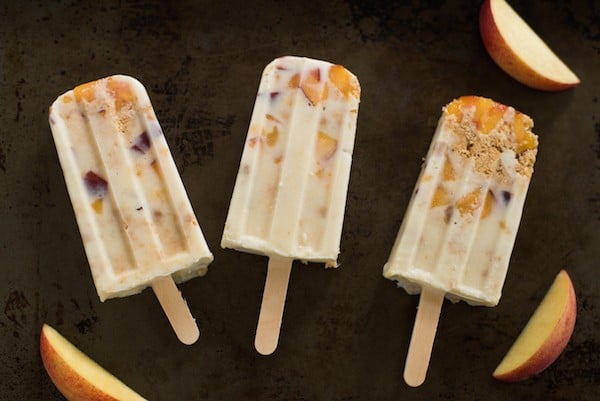 So when we immediately fell in love (hard) with our new home, we definitely overlooked the fact that it was in the part of town with the most power outages each summer.
And wouldn't you know it, two days after I moved the kitchen stuff (including all the fridge and freezer food) over to the new house, we were hit with a power outage due to high winds. And I lost mostly everything in the fridge.
Welcome home, right?
While I was bummed to throw away a bunch of groceries I had just purchased, and sorry to tell some recipe development clients that they would have to re-send me the refrigerated products I needed for their projects, I was mostly sad to lose these Peach Pie Ice Cream Bars.
I had just made them the day prior to the outage. I'm glad I ate two right after taking these photos, because those were the only two I got to eat.
The combination of fresh, juicy peaches, crumbled pie crust and rich yogurt, milk and cream make these an irresistible summer treat. I'll be making them again, when the 10-day forecast shows no storms on the horizon!
Peach Pie Ice Cream Bars
Ingredients
1 container (5.3 ounces) peach Greek yogurt
3/4 cup whole milk
1/3 cup granulated sugar
1/4 cup heavy cream
1-1/2 tablespoons cornstarch
2 teaspoons vanilla extract
2 peaches, finely diced (about 2 cups)
1 pie crust (9-inches / 5 ounces), baked and crumbled
Instructions
In medium saucepot, combine yogurt, milk, sugar, cream, cornstarch and vanilla. Heat over medium-high heat until mixture comes to a simmer, whisking frequently. Once mixture reaches a simmer, cook 2 minutes until mixture thickens, whisking constantly. Remove from heat and transfer to large liquid measuring cup; let cool slightly.
Divide peaches and crumbled pie crust between 10 (2.5 ounce) popsicle molds, alternating peach and pie crust layers (2 layers of each; you may not need all the pie crust). Pour milk mixture into molds, filing each mold about 3/4 of the way. Use a chopstick or skewer to gently stir the filling in each mold and release any air bubbles. Top each mold off with additional milk mixture. Gently tap molds on counter several times, then insert wooden sticks, cover and freeze overnight.
Remove pops from molds. Pops can be served immediately or individually wrapped and frozen up to one month.
MORE GREAT FROZEN DESSERTS: