Rigatoni Bolognese (Rigatoni with Meat Sauce)
A bowl of this Rigatoni Bolognese will hit the spot whenever you have a pasta craving. This easy but elegant meat sauce recipe will give you a restaurant quality dish right at home.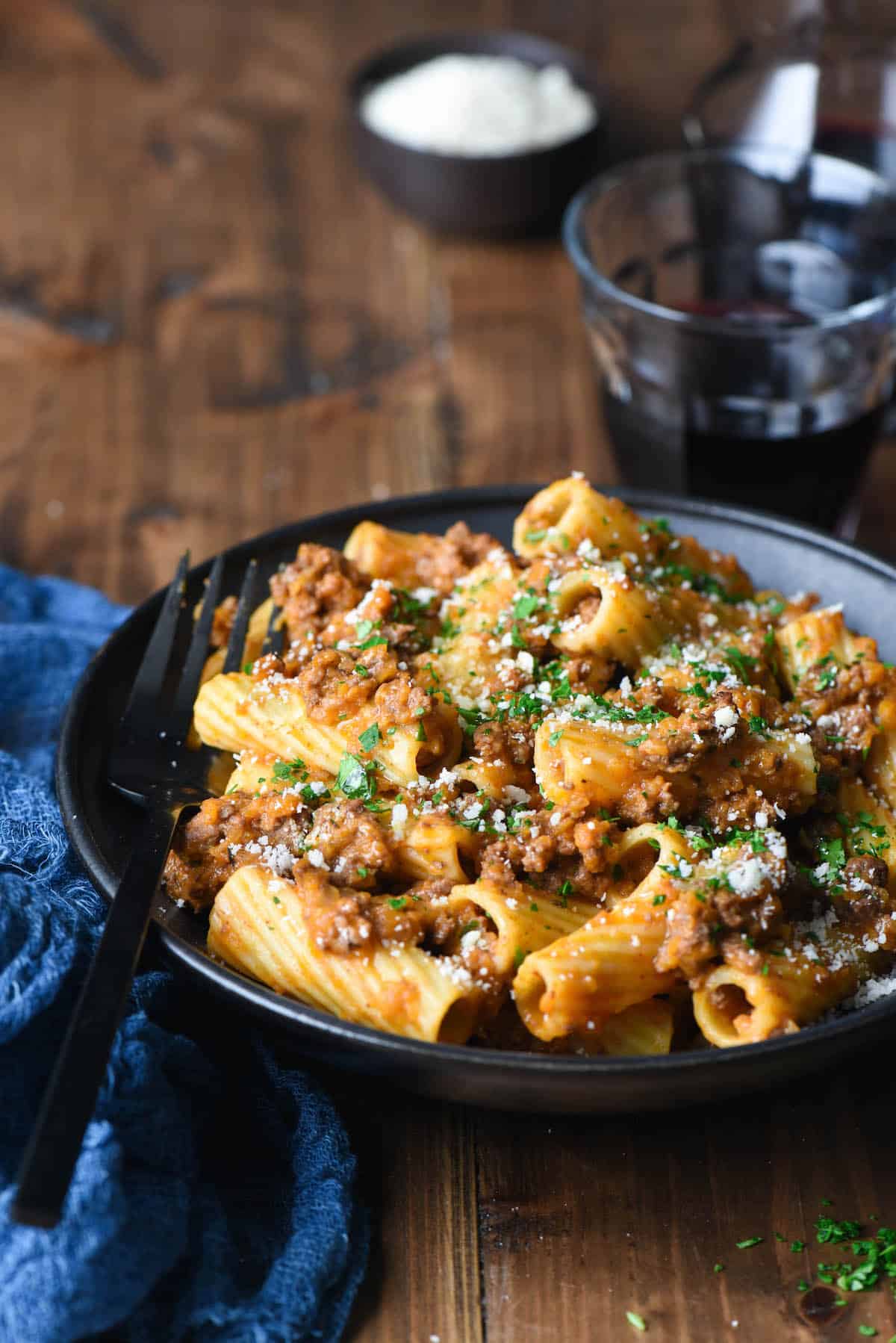 The days are getting shorter and colder here in Michigan. I'll be honest – it's a little hard to handle during a year that has already been very hard to handle. I kind of want to curl up under a blanket with a bowl of creamy salmon pasta or lentil ragu.
But, getting outside each day, and soaking in the warmth and sunlight had been the highlight of my days.
We'll still get outside each day, we'll just have to bundle up. And spend 30 minutes bundling up a toddler who enjoys flexing her toes as we try to put her boots on. It's fun.
And when we get inside and strip down all our extra layers, I'd ideally like a crock pot full of slow cooker chicken burrito bowls, or a pot of something comforting on the stove, to be waiting to warm us up.
Just like my slow cooker beef stroganoff and fettuccine bolognese, this stovetop Rigatoni Bolognese recipe fits the bill in the richest, meatiest way.
What is rigatoni bolognese?
Bolognese is a meat-based Italian pasta sauce, named for the city of Bologna. It is also known as ragu alla bolognese or simply ragu.
It can be used to prepare lasagna with cottage cheese, or just stirred together with cooked pasta like rigatoni (or other options, discussed below).
Just like my shrimp wonton soup, I classify bolognese as relatively easy – if a little time consuming – but worth it. There's some time spent up front getting a good brown on the beef, then the vegetables, then breaking up the meat into little bits.
But then, you get to the most important (and hands off) part of this rigatoni alla bolognese – the two hour SIMMER.
This is where you can go take a walk around the block, because you only need to stir every 30-40 minutes or so.
After the simmer, you'll just need to cook some pasta and then stir it together with the bolognese before serving.
If you're looking for a quicker pasta dish, my Greek yogurt pasta and lemon caper pasta both come together quickly enough for a weeknight.
What is the difference between bolognese sauce and spaghetti sauce?
In the United States, "spaghetti sauce" is typically very tomato-heavy. It may sometimes have ground meat like beef or sausage in it. And it's always served with, of course, spaghetti!
Bolognese sauce is meat-forward. It may or may not have some type of tomato product in it (in my rigatoni alla bolognese recipe, there's just a smidge of tomato paste). It's thicker and richer than spaghetti sauce.
Bolognese also typically includes milk, which tenderizes the meat.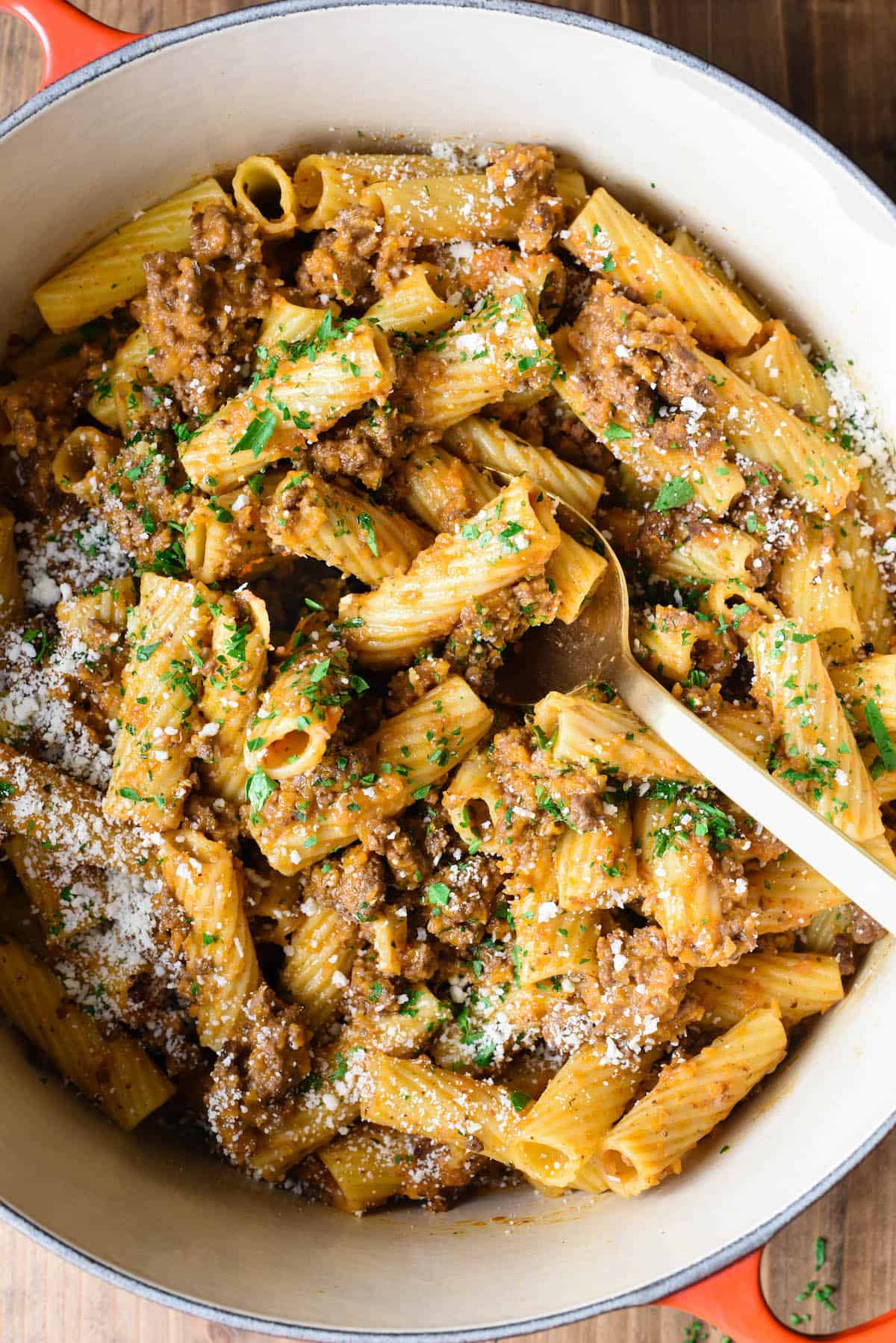 What is the best pasta for bolognese sauce?
While in Italy, it is traditional to serve bolognese with freshly made tagliatelle, that's not something that I can typically get my hands on.
Making fresh homemade pasta is not my favorite thing to do, and I don't always have access to freshly made pasta to buy.
So, as evidenced by the name of this recipe, I'm partial to rigatoni! Both the tube shade of the noodle, and the ridges on the outside, make this the ideal pasta shape for the meaty sauce to cling to.
Penne, like in my Mexican pasta bake, is another great tube shaped pasta with ridges that works well with this sauce. Penne is also fantastic for Greek lasagna.
And if you really want to eat healthy, you could even try butternut squash noodles.
One of my favorite tips for rigatoni with meat sauce:
Don't want to open a bottle of wine to make one batch of rigatoni alla bolognese? Neither do I.
I like to keep mini bottles (187 mL) of both red and white wine on hand, just for cooking.
They're SO handy to have around. Each bottle equals about 3/4 cup, which is exactly what you need for this rigatoni with meat sauce recipe.
What type of red wine should I use for rigatoni alla bolognese?
I typically use cabernet sauvignon in this bolognese recipe, but pinot noir would also be great in this rigatoni alla bolognese.
As long as it's not too sweet, just about any red wine will be just fine for rigatoni with meat sauce. Or, if you have white wine left over from wine and cheese board, that works for this rigatoni bolognese recipe too!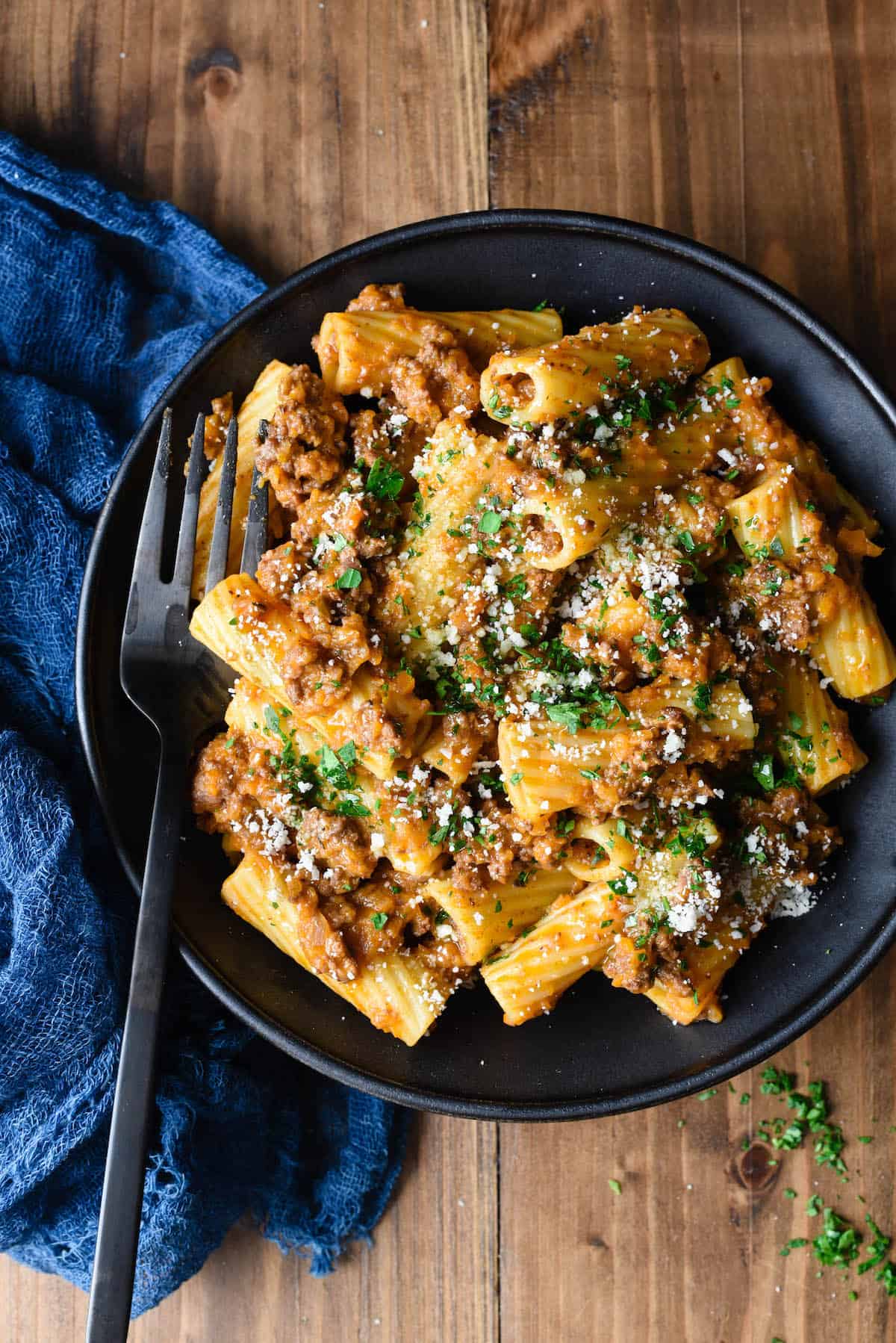 Variations on rigatoni alla bolognese:
rigatoni bolognese with sausage – replace half or all of the ground beef in this recipe with ground Italian sausage (either mild or spicy).
rigatoni bolognese with ricotta – dollop a spoonful of ricotta cheese on top of each bowl when you serve! Use the extra cheese to make baked lemon ricotta cheese!
baked rigatoni bolognese – this works great for making the bolognese ahead of time and reheating, or with leftovers. Prepare the recipe through step 8, then transfer pasta to a baking dish. Sprinkle with Parmesan cheese and bake at 350 degrees F until warmed through and bubbly.
rigatoni bolognese with peas – stir thawed frozen peas (also great for breakfast fried rice!) in at Step 8 in the recipe below to add an extra serving of vegetables to this dish.
rigatoni bolognese with cream – to make a creamy rigatoni bolognese, stir in 1/2 cup heavy cream at Step 8.
lamb bolognese – swap out the beef for lamb using my lamb bolognese recipe!
Can you freeze this rigatoni bolognese recipe?
Yes! Bolognese sauce itself freezes great!
I recommend that you make and freeze the sauce on it's own (make the recipe through step 6, then freeze).
Then, when you're ready to eat it, simply thaw and warm the sauce, and cook the pasta at that point. Then, stir it altogether and eat (steps 7 through 9).
What to serve with rigatoni bolognese:
There's hidden veggies built right into this rigatoni with meat sauce, but if you'd like even more, I'd suggest a simple green salad with feta dressing.
My Christmas salad and Easter salad also pair really well with rich, meaty dishes like this rigatoni bolognese recipe, whether it's Christmas or Easter or not!
You can also never go wrong with some maple Brussels sprouts, balsamic roasted carrots or a simple scoop of fruit salad.
And how about a rosemary gin cocktail to drink and some frozen tiramisu cups for dessert?
More great pasta recipes:
Pair it with meat, seafood, or keep it vegetarian. Pasta is just about the most versatile ingredient ever!.
Rigatoni Bolognese (Rigatoni with Meat Sauce)
Cook Time:
2 hours
50 minutes
Total Time:
3 hours
10 minutes
A bowl of this Rigatoni Bolognese will hit the spot whenever you have a pasta craving. This easy but elegant meat sauce recipe will give you a restaurant quality dish right at home.
Ingredients
2 celery stalks, roughly chopped
2 small carrots, peeled and roughly chopped
1 medium onion, roughly chopped
2 tablespoons olive oil
1 pound ground beef
Kosher salt
3/4 cup red wine
1/3 cup tomato paste
1 bay leaf
1 large sprig thyme
2 cups water
1 cup whole milk
12 ounces dry rigatoni
Parmesan cheese and chopped fresh parsley, for serving
Instructions
In bowl of food processor fitted with knife blade attachment, pulse celery, carrots and onion until very finely chopped.
Heat oil in large pot over medium heat. Break ground beef into about 8 chunks and add to pot. Season with salt. Cook, stirring occasionally but not breaking up meat, 6 to 8 minutes or until outside of beef chunks are browned. Using slotted spoon, transfer beef to medium bowl.
Add celery mixture to pot and cook 10 to 15 minutes or until all moisture has evaporated and vegetables begin to lightly stick to bottom of pot, stirring occasionally.
Stir in wine and reserved beef. Reduce heat to medium-low and cook 8 to 10 minutes or until wine is evaporated, using spoon to break beef into small bits as it cooks.
Add tomato paste, bay leaf and thyme and cook 5 minutes or until tomato paste is slightly browned, continuing to break beef up as it cooks.
Stir in water, milk, and a pinch of salt. Reduce heat to low and cook, uncovered, 2 hours or until mixture has reduced to a sauce consistency and meat is very tender, stirring about every 30 minutes. Remove and discard bay leaf and thyme sprig. Taste sauce and season with additional salt if necessary.
Heat large pot of salted water to boiling over high heat. Add rigatoni and cook for 2 minutes less than package directions for al dente.
Reserve 1 cup pasta cooking water. Drain pasta and transfer to pot with bolognese. Add 1/2 cup reserved pasta cooking water. Increase heat to medium, and cook, while stirring pasta and sauce together, 2 minutes or until pasta is al dente and everything is combined. Add additional pasta water if necessary, to keep things saucy!
Serve topped with Parmesan cheese and parsley.
Recommended Products
Foxes Love Lemons, LLC is a participant in the Amazon Services LLC Associates Program, an affiliate advertising program designed to provide a means for sites to earn advertising fees by advertising and links to Amazon.com. There is no additional cost to you.
Nutrition Information:
Yield:

4
Serving Size:

1
Amount Per Serving:
Calories:

623
Total Fat:

30g
Saturated Fat:

10g
Trans Fat:

1g
Unsaturated Fat:

16g
Cholesterol:

108mg
Sodium:

348mg
Carbohydrates:

40g
Fiber:

4g
Sugar:

9g
Protein:

39g