Dry Rub for Ribs (Best Rib Rub Recipe!)
This homemade dry rub for ribs is the best rib rub recipe for baby back ribs, spare ribs, or just about any other kind of meat!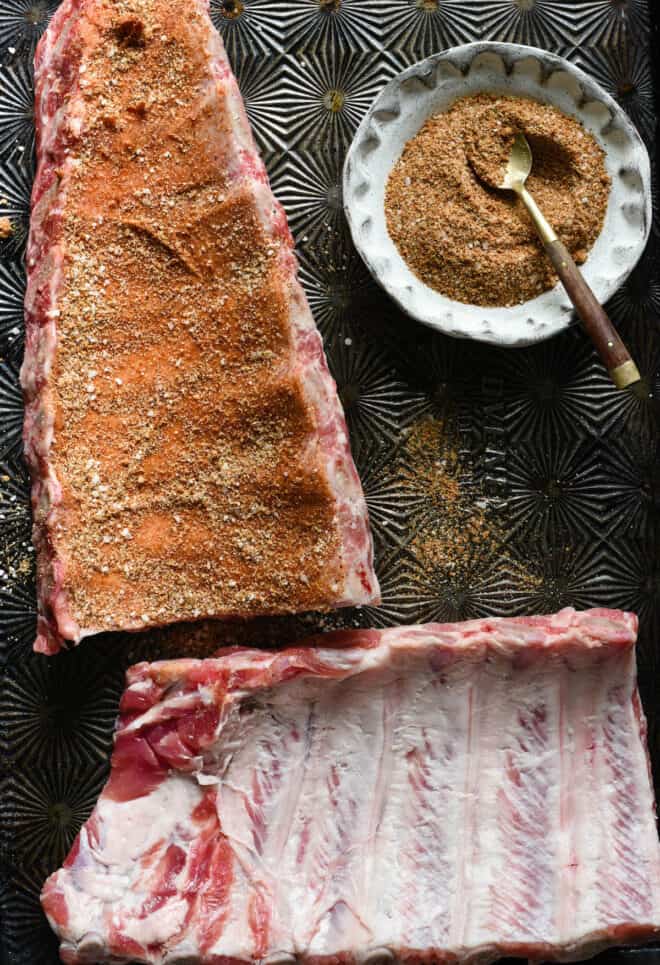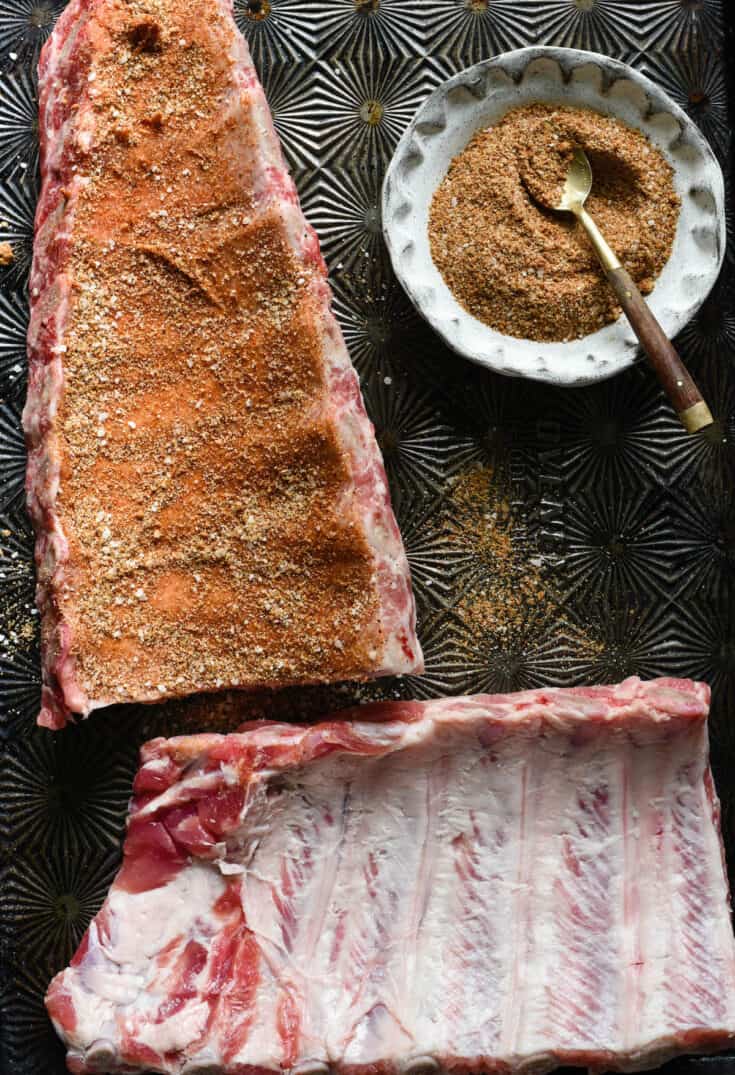 A little known fact about me: I hate most product packaging! Anything that I can transfer to a clean, beautiful mason jar and store that way, instead of in it's original packaging, I do.
So, an entire shelf of one of my kitchen cabinets is filled with various sizes of mason jars, with every pasta, grain, dried fruit and toddler snack imaginable.
I also have a small corner devoted to jars of homemade spice rubs and seed blends, like the homemade taco seasoning I sometimes use for crockpot taco soup, and the everything bagel seasoning that I sprinkle on . . . everything.
And today, I'm sharing my best rib rub recipe. Use this dry rub for ribs in conjunction with either my root beer ribs or crock pot ribs recipe, or simply slather ribs with this rib seasoning and grill them up! It's even great on lamb lollipops!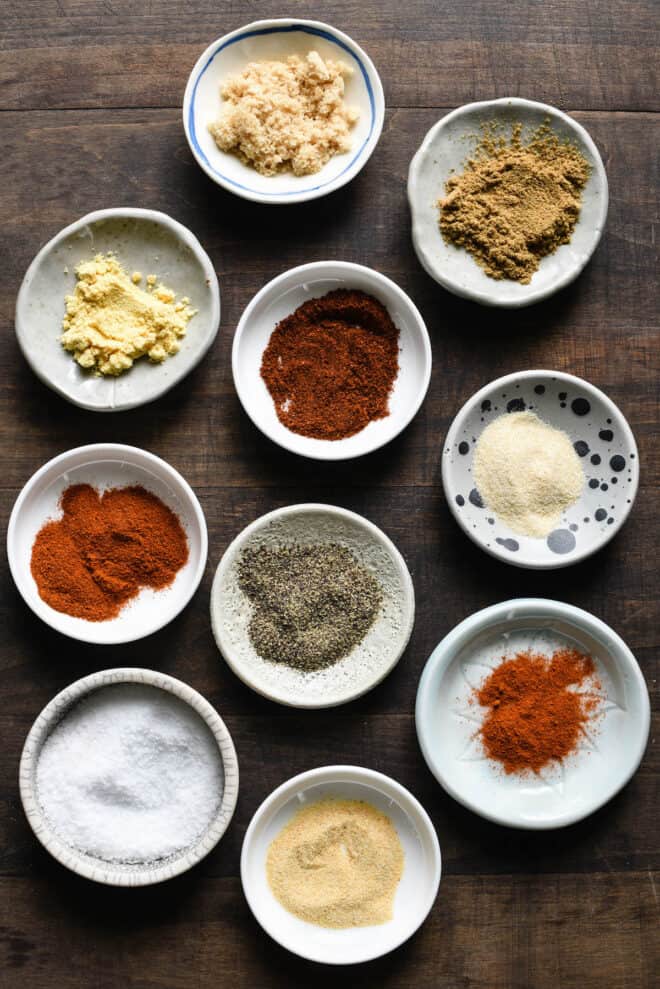 Why make your own dry rub for ribs?
I make my own dry rub for ribs in oven for the same reason I make my own salad dressings (like tahini dressing and miso dressing), sauces (General Tso's meatballs) and marinades (like Greek chicken marinade and buttermilk chicken marinade): I can control what's in it!
I've purchased pre-packaged meat rubs before, and sometimes they're OK. But often, I'm simply not happy with the flavor.
Sometimes they'll only taste like salt and not much else, or sometimes there is just wayyyy too much rosemary, and it overpowers everything else in the rib seasoning.
When I make my own pork rib rub recipe, I can go heavier on the spices that I really like (chili power, garlic powder, onion powder) and go lighter or omit the ones I'm not as crazy about. I do the same thing for my spicy potato chips seasoning.
Why this brown sugar rib rub is the best rib rub recipe:
Even though salt is the predominant ingredient in this dry rub for ribs (as it is in most dry rubs), I sometimes refer to this as a brown sugar rib rub, since there's quite a bit of that too.
The molasses flavor of brown sugar is a nice way to add a touch of sweetness to savory foods, and it's a key element in my harissa bbq sauce as well.
The balance of the salt and the sugar in this rib seasoning means the finished ribs have a sweet and savory quality. The chili powder and paprika give the ribs a deep brick red color, while the ground mustard and cayenne give them a little kick.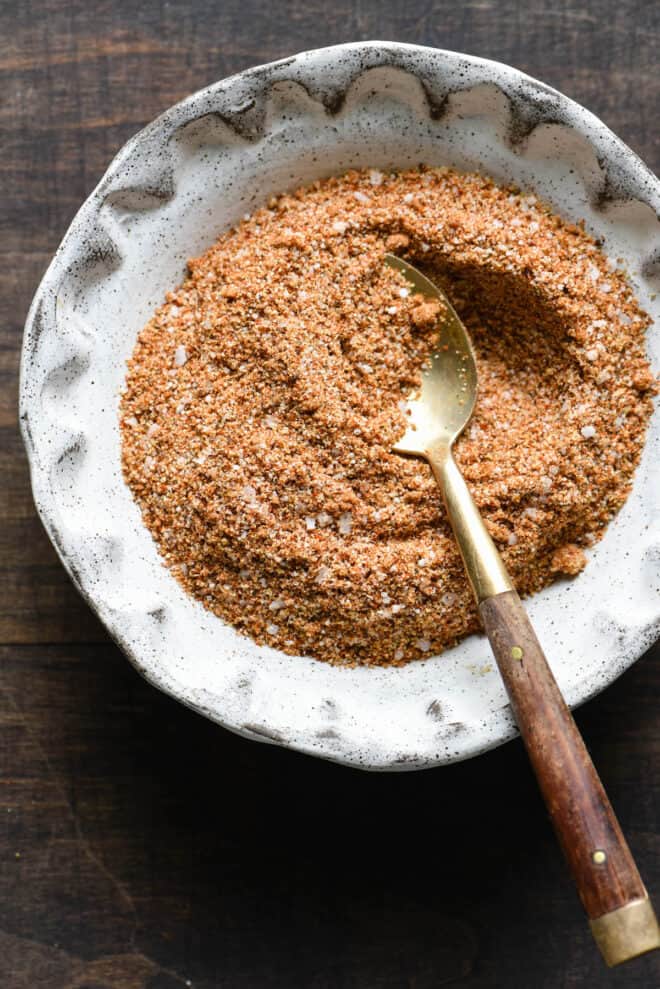 How long should dry rub be on ribs before cooking?
Short answer: At least 15 minutes, but it's kind of up to you, and there's really no wrong answer.
Long answer: Depends on how deep you want the flavor to be, and if you're using a sauce or not. The longer the dry rib sits on the ribs, the deeper the flavor will be.
And if you're planning to smoke or grill the ribs with JUST the dry rub (no sauce), you'll probably want a more pronounced flavor from the rub, since it's your only flavoring agent. In that case, I usually rub the ribs in the morning and refrigerate them all day before grilling.
But, if you're planning to slather the ribs with a thick and sticky barbecue sauce (like my country style pork ribs), you can cook the ribs 15 minutes after you rub them.
One final note: don't let the rub sit on the meat any longer than about 12 hours or so. Any more than that, and the meat can start to dry out, similar to a curing effect.
Use this dry rub for baby back ribs or spare ribs!
I most often use this dry rub for ribs recipe on baby back ribs, simply because they're my favorite. But this brown sugar rib rub can also be used on spare ribs. This article from Eater does a good job of explaining the difference between baby back ribs and spare ribs.
And I don't JUST use this pork rib rub recipe on ribs. Since I always have a jar of it in the cabinet, I reach for it for just about any grilled meat, including steak, chicken and even salmon for my salmon pasta recipe! It's also great on Instant Pot short ribs.
More great summer recipes:
Summer is short (at least where I live), so make every meal count with these delicious summer favorites!
Dry Rub for Ribs (Best Rib Rub Recipe!)
This homemade dry rub for ribs is the best rib rub recipe for baby back ribs, spare ribs, or just about any other kind of meat!
Ingredients
2 tablespoons kosher salt
1 tablespoon chili powder
1 tablespoon garlic powder
1 tablespoon light brown sugar
1 tablespoon onion powder
1 tablespoon paprika
2 teaspoons ground cumin
2 teaspoons ground mustard
1 teaspoon ground black pepper
1/2 teaspoon cayenne pepper
Instructions
In small bowl, stir together all ingredients. Store at room temperature, in airtight container, for up to 1 month.
Recommended Products
Foxes Love Lemons, LLC is a participant in the Amazon Services LLC Associates Program, an affiliate advertising program designed to provide a means for sites to earn advertising fees by advertising and links to Amazon.com. There is no additional cost to you.
Nutrition Information:
Yield:

9
Serving Size:

1
Amount Per Serving:
Calories:

20
Total Fat:

1g
Saturated Fat:

0g
Trans Fat:

0g
Unsaturated Fat:

0g
Cholesterol:

0mg
Sodium:

868mg
Carbohydrates:

4g
Fiber:

1g
Sugar:

1g
Protein:

1g
Nutrition information is for 1 tablespoon of rub.