Mummies and spiders and bats, oh my! Make all the critters or just a few, but be sure to serve this Halloween Snack Dinner for a spooky good time!
Last year, I told you about my husband's love affair for Halloween. I mean, look at the outside of our house for all of October (and some of September and November, too). When we were first married, Jeff was really the biggest Halloween fan I'd ever met, whereas I was just along for the ride (and sometimes being startled by all of the zombies stored in the basement). But somewhere along the way, I really started enjoying it all, too. I even made an epic Halloween cake last year!
For many years now, I've been collecting fun Halloween recipes on Pinterest. I probably assumed that Jeff would want to have a big Halloween party some year, and I wanted to be ready. It's not in the cards for us this year, since he's traveling for work too much, BUT, I didn't let that stop me from celebrating a little earlier in the month with this Halloween Snack Dinner when I knew he'd be home.
For any epic snack dinner, it's usually smart to have a theme that ties everything together, like "food that is vaguely Polish," or "spring ingredients." The theme of this Halloween Snack Dinner is mango! One of the most popular fruits in the world, mangos are available year-round, making them perfect for everyday meals as well as holidays.
I love mangos because they pack a nutritional punch. A 1-cup serving provides 100% (!!!) of your daily Vitamin C, with 100 calories. Guys, they're a superfood. Long story short: eat more mangos.
And this Halloween Snack Dinner will help you do just that. Yes, there's a lot going on here, and I'll break it all out in the recipe card below. But as a quick overview, here's what's happening:
BAT tortilla chips with mango salsa
Jalapeño popper MUMMIES with mango sweet and sour sauce
SPIDER pizzas
Apple MONSTERS with mango tongues
PUMPKIN deviled eggs
A glass of mango-pineapple sangria would be great to wash this all down. Just sayin'.
Happy Halloween!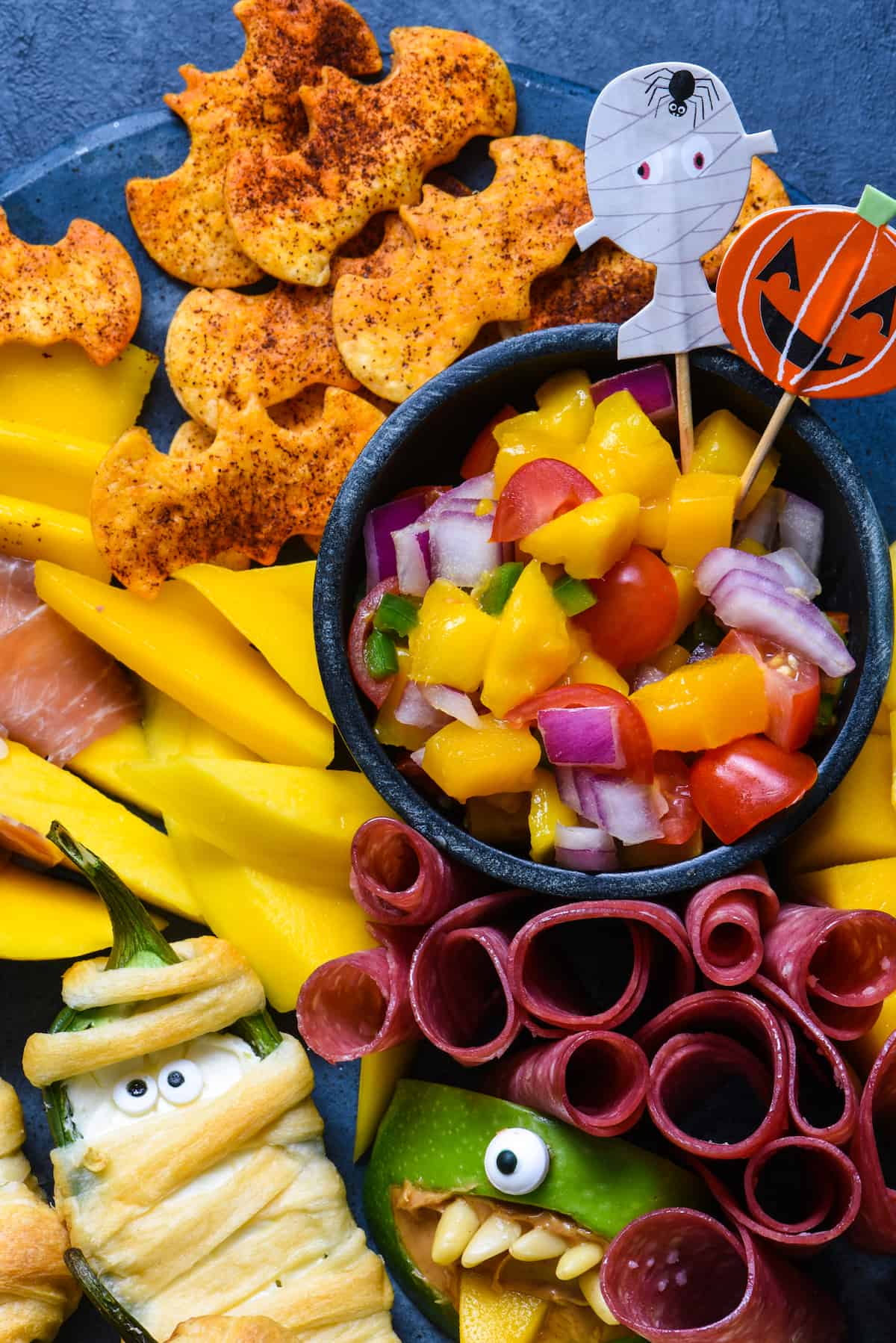 To find out more about the National Mango Board, be sure to connect with them on Facebook, Twitter, Pinterest and Instagram. A little unsure about how to choose and ripen a mango? There's a wealth of information on mango.org that'll help you out. Need to figure out how to cut a mango? Check out the video below and you'll be an expert in no time.
Halloween Snack Dinner
Mummies and spiders and bats, oh my! Make all the critters or just a few, but be sure to serve this Halloween Snack Dinner for a spooky good time!
Ingredients
For the Bat Tortilla Chips:
Flour tortillas
Nonstick cooking spray
Chili powder
For the Mango Salsa:
1 mango, peeled and chopped
1/2 jalapeño pepper, minced
1/2 cup chopped tomato
1/3 cup chopped red onion
Juice of 1 lime
For the Jalapeño Popper Mummies:
Jalapeño peppers, halved lengthwise, seeds and membranes removed
Cream cheese
Crescent roll dough
Small candy eyeballs
For the Sweet and Sour Mango Dipping Sauce:
1 cup chopped mango
1/4 cup water
3 tablespoons apple cider vinegar
3 tablespoons honey
2 tablespoons ketchup
1 tablespoon soy sauce
For the Pumpkin Deviled Eggs:
6 hard boiled eggs, halved, whites and yolks separated
3 tablespoons mayonnaise
1 teaspoon Dijon mustard
Pinch of kosher salt
Orange food coloring
Paprika and chives, for garnish
For the Spider Pizzas:
Frozen mini pizza bagels
Pitted black olives
For the Apple Monsters:
Green apples, quartered
Peanut butter
Pine nuts
Mango, cut into small triangles
Medium candy eyeballs
Other items, for serving:
Fresh mango slices
Salami
Mango slices wrapped in prosciutto
Instructions
Make the Bat Tortilla Chips: Preheat oven to 350 degrees F. Use small bat cookie cutter to cut bats from tortillas. Spray rimmed baking pan with cooking spray; arrange bats on pan. Spray bats with cooking spray; sprinkle with chili powder. Transfer to oven and bake 8 to 10 minutes or until crisp.
Make the Mango Salsa: In medium bowl, stir mango, jalapeño, tomato, onion and lime juice until well combined.
Make the Jalapeño Popper Mummies: Preheat oven to 375 degrees F. Fill each jalapeño half with cream cheese. Unroll crescent roll dough and cut into thin strips. Wrap strips of dough around each pepper to resemble a mummy, leaving a space for the "eyes." Place peppers on rimmed baking pan; transfer to oven and bake 11 to 13 minutes or until dough is golden brown. Let cool 10 minutes; arrange candy eyeballs on mummies.
Make the Sweet and Sour Mango Dipping Sauce: Place mango and water in blender; puree until smooth. Transfer mango mixture to medium saucepot; stir in vinegar, honey, ketchup and soy sauce. Cook over medium-high heat until thickened to a thin sauce consistency (mixture will continue to thicken as it cools), stirring occasionally.
Make the Pumpkin Deviled Eggs: Place egg yolks, mayonnaise, mustard and salt in small bowl; stir with fork until well combined. Stir in food coloring one drop at a time or until desired orange color is achieved. Fill egg whites with yolk mixture. Use a damp finger to smooth the yolk mixture. Use a toothpick to make lines in the yolk mixture to resemble a pumpkin. Lightly sprinkle yolk mixture with paprika, and garnish with a small piece of chive to make the pumpkin "stem."
Make the Spider Pizzas: Prepare mini pizza bagels according to package instructions. Use sharp knife to cut olives into "spider" parts, and arrange spiders on top of pizzas.
Make the Apple Monsters: Using a sharp knife, cut a "mouth" out of each apple quarter. Fill gap with peanut butter. Press pine nuts and mango piece into peanut butter to resemble teeth and a tongue. Using a small dab of peanut butter, "glue" one or two candy eyeballs onto apple above mouth.
Disclosure: This is a sponsored post written by me on behalf of the National Mango Board. Sponsored posts help me pay for the costs associated with this blog (groceries…lots of groceries), and help support me as I pursue a career in recipe development and food photography. All opinions are 100% my own.