Easy Halloween Food Ideas (Halloween Snacks)
Looking for easy Halloween food ideas? Look no further than this simple guide to Halloween party snacks. Make these edible mummies, spiders and bats for a spooky good time!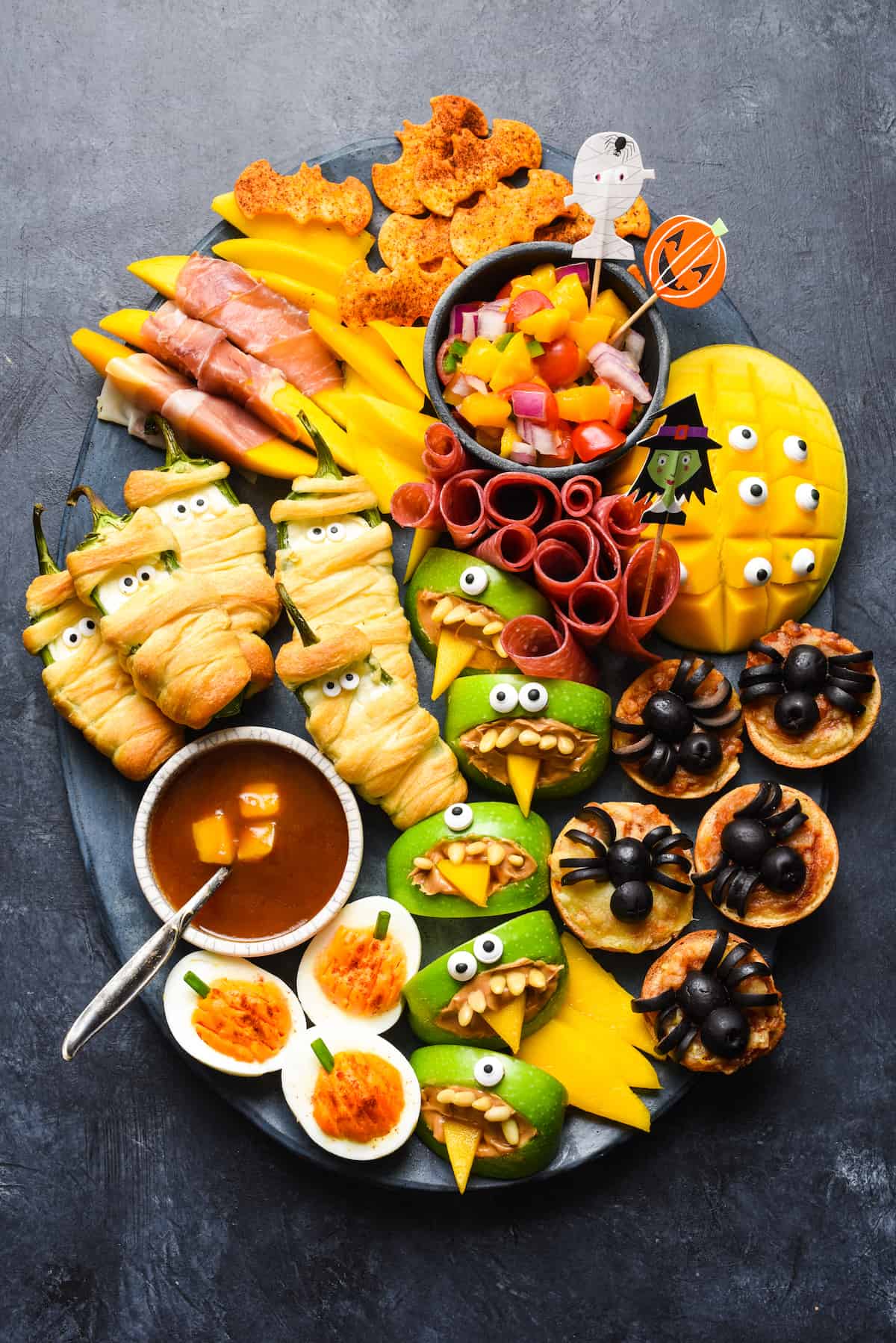 Last year, I told you about my husband's love affair for Halloween.
When we were first married, Jeff was really the biggest Halloween fan I'd ever met, whereas I was just along for the ride (and sometimes being startled by all of the zombies stored in the basement).
But somewhere along the way, I really started enjoying it all, too. I've gotten into it so much that I've even made some Halloween snacks like Halloween deviled eggs, and an epic Halloween cake with orange ganache frosting.
I've made a gigantic Halloween charcuterie board and Halloween bark. Oh, and I decorated our Little Free Pantry with skeleton rats!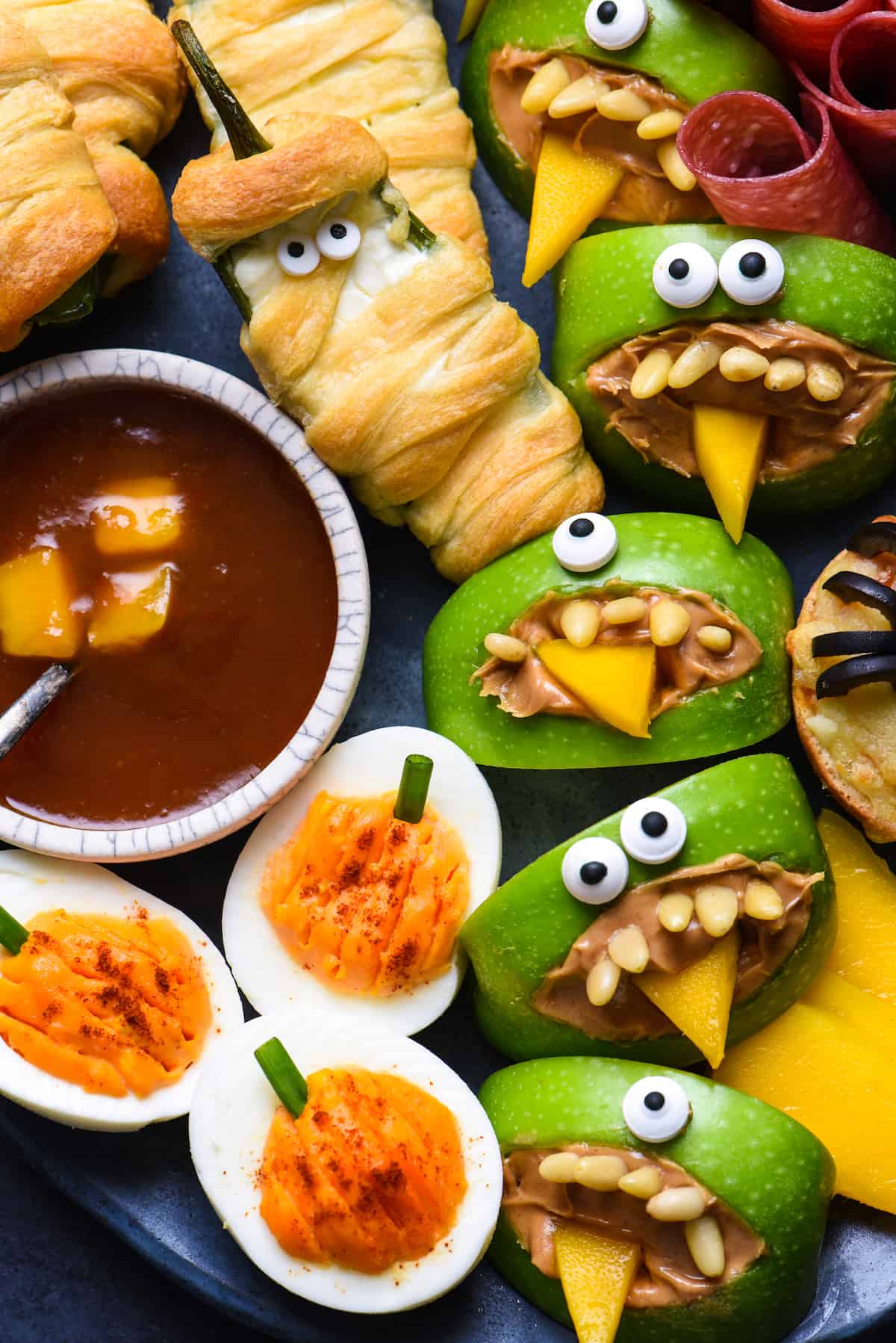 And for many years now, I've been collecting easy Halloween food ideas on Pinterest. I probably assumed that Jeff would want to have a big Halloween party some year, and I wanted to be ready with all the fun Halloween snacks.
It's not in the cards for us this year, since he's traveling for work too much, BUT, I didn't let that stop me from celebrating a little earlier in the month with this Halloween party food ideas platter and some savory pumpkin dip when I knew he'd be home.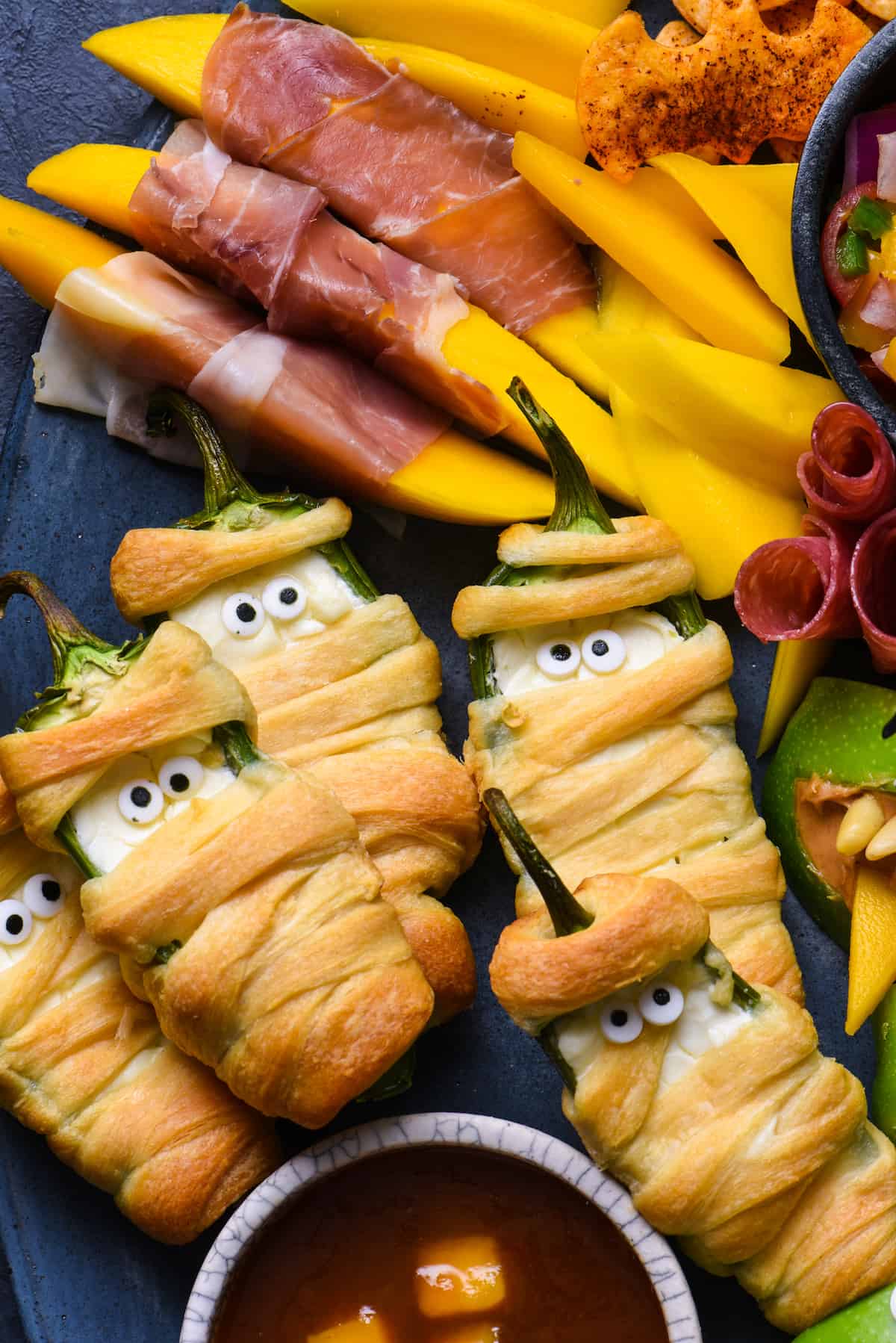 What foods do people eat on Halloween?
I think there's two camps for Halloween themed food – creepy or cute. Creepy involves lots of slimy eyeballs and fake blood. Personally, I don't find that the least bit appetizing.
I don't want to eat a snack covered in fake blood! So, I took a more "cute" approach for these Halloween snacks, and my Halloween cake pops, too.
OK, so maybe the spider pizza bagels are a little bit creepy, but the mummies and monsters are just adorable, in my opinion.
Spooky but not too scary, I think this Halloween party food ideas platter would be perfect for a party for kids, as well. And if the kids DON'T like these Halloween snacks, maybe throw a chicken pizza or cheeseburger pizza into the oven. You know, kids.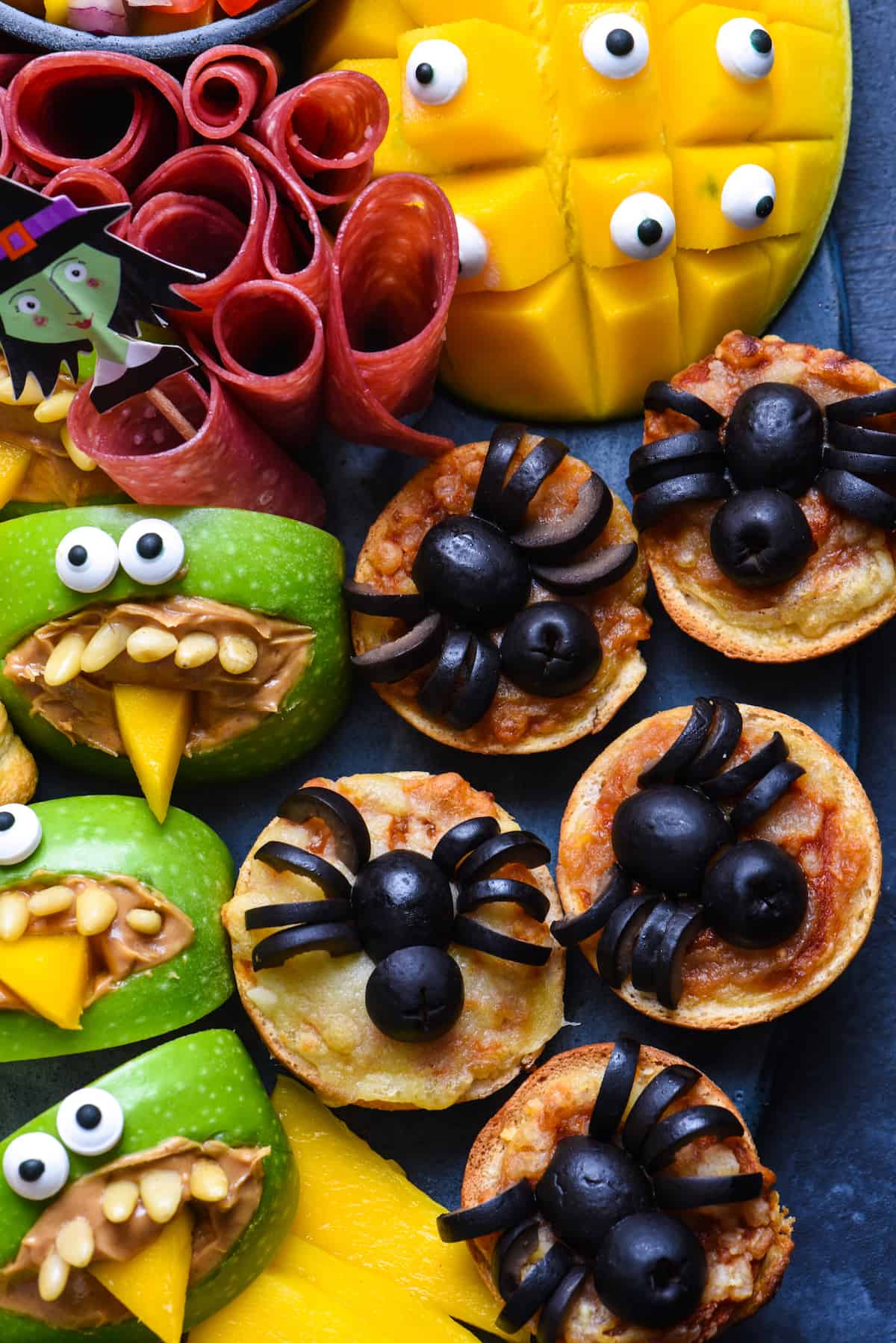 About these easy Halloween party food ideas:
For any and all unique charcuterie board ideas, it's usually smart to have a theme that ties everything together, like "food that is vaguely Polish," like my kielbasa snacks platter.
Or, "spring ingredients," like my spring snack platter. The theme of these easy Halloween food ideas is mango!
One of the most popular fruits in the world, mangos are available year-round, making them perfect for everyday meals, mango lemonade, as well as holidays.
There's a lot going on with these Halloween snacks, and I'll break it all out in the recipe card below. But as a quick overview, here's what's happening:
Homemade BAT tortilla chips with mango salsa
Jalapeño popper MUMMIES with mango sweet and sour sauce
Mini pizzas topped with SPIDER olives
Apple and peanut butter MONSTERS with mango tongues
PUMPKIN deviled eggs (not pumpkin flavored, they just look like little pumpkins!)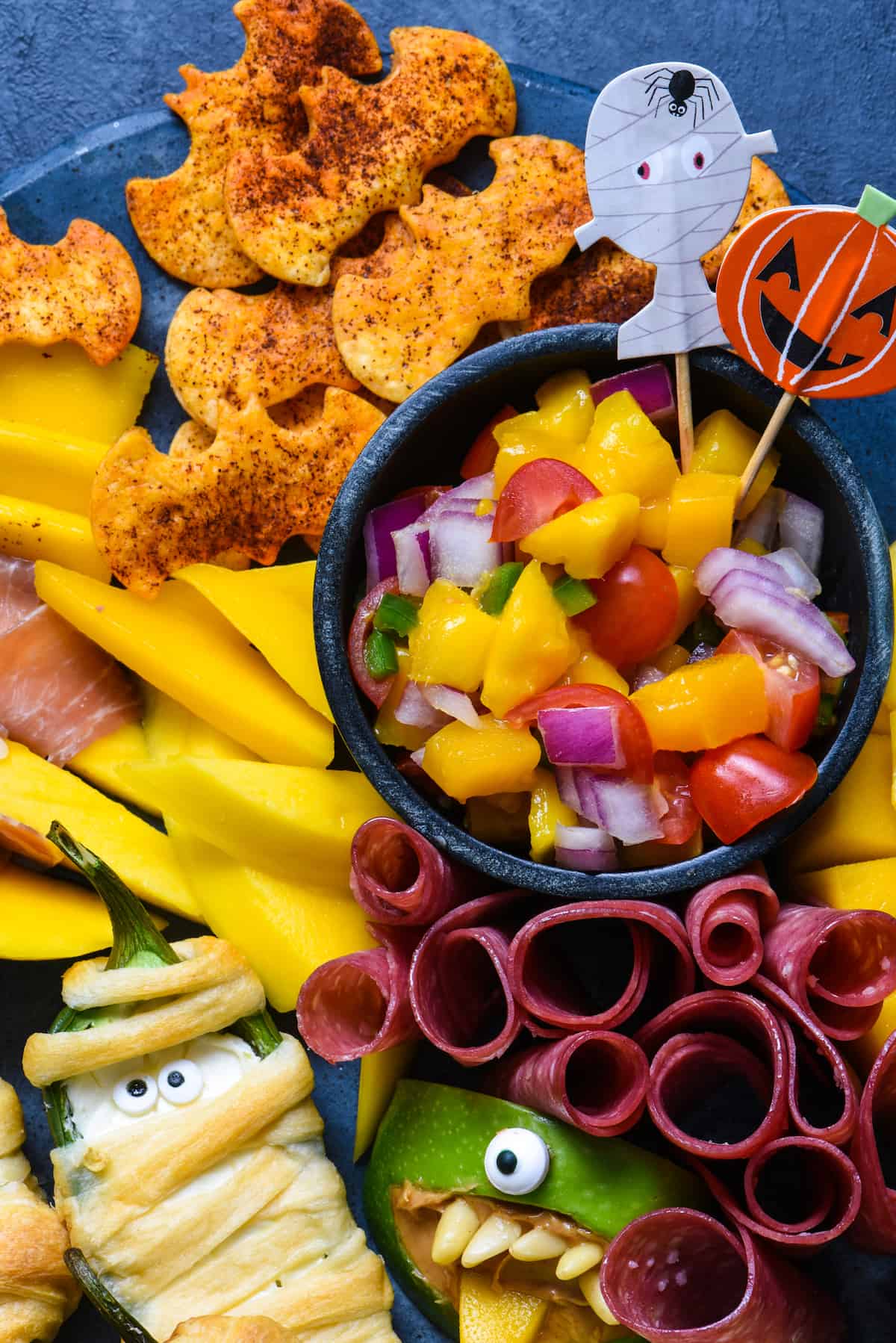 What Halloween snacks should I bring to a Halloween party?
If you're attending a Halloween party at somebody else's house rather than hosting, most of these Halloween snacks can be carefully packed up and taken with you (so can Halloween dirt cups)!
The bat tortilla chips and mango salsa are, of course, a no brainer to pack up and take. The pumpkin deviled eggs and apple monsters also travel just fine if you pack them carefully.
The jalapeño popper mummies are still really good at room temperature – bake them and cool them just before leaving, and then pack them up.
Make sure the mummies are fully cool before you put them in any sort of airtight container, otherwise they'll steam and the crescent roll dough will get soggy.
However, the spider pizza bagels are really best when fresh. If you're traveling with these, I would recommend cutting the olives into "spider parts" and taking them with you.
Then, when you get to your host's house, bake the pizza bagels and then assemble the spiders on top and serve them right away.
Happy Halloween!
More great Halloween snacks and easy Halloween food ideas:
Some of these Halloween party food ideas are spooky, some are sweet, and some are even sophisticated! There's no wrong way to celebrate Halloween.
Easy Halloween Food Ideas
Total Time:
1 hour
45 minutes
Looking for easy Halloween food ideas? These jalapeño popper mummies, spider pizzas, bat tortilla chips and apple monsters are the best homemade Halloween snacks for a spooky good time.
Ingredients
For the Bat Tortilla Chips:
6 (6-inch) flour tortillas
Nonstick cooking spray
1/4 teaspoon chili powder
1/4 teaspoon kosher salt
For the Mango Salsa:
1 mango, peeled and chopped
1/2 jalapeño pepper, minced
1/2 cup chopped tomato
1/3 cup chopped red onion
Juice of 1 lime
For the Jalapeño Popper Mummies:
8 jalapeño peppers, halved lengthwise, seeds and membranes removed
8 ounces cream cheese, softened
8 ounces crescent roll dough
32 mini candy eyeballs
For the Sweet and Sour Mango Dipping Sauce:
1 cup chopped mango
1/4 cup water
3 tablespoons apple cider vinegar
3 tablespoons honey
2 tablespoons ketchup
1 tablespoon soy sauce
For the Spider Pizzas:
1 box (7 ounces) frozen mini pizza bagels
1 can (6 ounces) pitted black olives, drained
For the Apple Monsters:
2 Granny Smith apples, quartered
1/2 cup peanut butter
40 pine nuts
1/4 mango, cut into small triangles
8-16 medium candy eyeballs
For the Pumpkin Deviled Eggs:
Other items, for serving (optional):
Fresh mango slices, wrapped in prosciutto or not
Salami
Instructions
Make the Bat Tortilla Chips: Preheat oven to 350 degrees F. Use small bat cookie cutter to cut bats from tortillas. Spray rimmed baking pan with cooking spray; arrange bats on pan in even layer. Spray bats with cooking spray; sprinkle with chili powder and salt. Transfer to oven and bake 8 to 10 minutes or until crisp.
Make the Mango Salsa: In medium bowl, stir mango, jalapeño, tomato, onion and lime juice until well combined.
Make the Jalapeño Popper Mummies: Preheat oven to 375 degrees F. Fill each jalapeño half with cream cheese. Unroll crescent roll dough and cut into thin strips. Wrap strips of dough around each pepper to resemble a mummy, leaving a space for the "eyes." Place peppers on rimmed baking pan; transfer to oven and bake 13 to 15 minutes or until dough is golden brown. Let cool 10 minutes; arrange candy eyeballs on mummies.
Make the Sweet and Sour Mango Dipping Sauce: Place mango and water in blender; puree until smooth. Transfer mango mixture to medium saucepot; stir in vinegar, honey, ketchup and soy sauce. Cook over medium-high heat until thickened to a thin sauce consistency (mixture will continue to thicken as it cools), stirring occasionally.
Make the Spider Pizzas: Prepare mini pizza bagels according to package instructions. Use sharp knife to cut olives into "spider" parts, and arrange spiders on top of pizzas.
Make the Apple Monsters: Using a sharp knife, cut a "mouth" out of each apple quarter. Fill gaps with peanut butter. Press pine nuts and mango pieces into peanut butter to resemble teeth and a tongues. Using small dabs of peanut butter, "glue" one or two candy eyeballs onto each apple above mouth.
Make the Halloween Deviled Eggs according to the recipe card in that post.
Arrange all of the Halloween food on a large platter, along with fresh mango slices (wrapped in prosciutto if you want) and salami, if desired. Serve immediately.
Recommended Products
Foxes Love Lemons, LLC is a participant in the Amazon Services LLC Associates Program, an affiliate advertising program designed to provide a means for sites to earn advertising fees by advertising and links to Amazon.com. There is no additional cost to you.
Nutrition Information:
Yield:

8
Serving Size:

1
Amount Per Serving:
Calories:

756
Total Fat:

48g
Saturated Fat:

17g
Trans Fat:

0g
Unsaturated Fat:

26g
Cholesterol:

191mg
Sodium:

1038mg
Carbohydrates:

68g
Fiber:

6g
Sugar:

26g
Protein:

18g
This website provides estimated nutrition information as a courtesy only. You should calculate the nutritional information with the actual ingredients used in your recipe using your preferred nutrition calculator.