Pastitsio (Greek Lasagna)
Greek Lasagna is comforting layers of noodles, meaty tomato sauce and creamy yogurt bechamel sauce. This pastitsio recipe can be assembled in advance, even frozen, and baked later.
You will love this Pastichio Recipe
Since the start of this blog I have tried to consistently bring you recipes that my family eats and loves. With an emphasis on classic, well-loved dishes without fussy ingredients, like my fettuccine bolognese.
They might make you feel like a chef right in your own home, but mostly, they're just delicious.
You know I have an affinity for comforting baked pastas like my family's Midwestern classic, lasagna recipe with cottage cheese, and it's vegetarian cousin, vegetables lasagna.
And my taste buds often crave Greek flavors, so Greek chicken meatballs with Greek yogurt mashed potatoes are a dinner we make often, and melomakarona are our favorite Christmas cookie.
So add that all up, and what do you get? This Greek Lasagna, which is something I have been making for my family for years and years, but haven't published on this blog until today.
What is pastitsio?
So, first off, what is pastitsio? Also spelled pasticio, pastisio, and pastichio, it is commonly referred to as "Greek lasagna," and I think that nickname both does and doesn't apply in certain ways.
Yes, it's pasta, meat sauce and something cheesy that is placed in a casserole dish, baked until bubbling, and served in square pieces. In that way, it is a lot like lasagna!
But personally, because it doesn't use the classic sheets of pasta that we so often associate with traditional lasagna, I think pastitsio skews closer to a baked meat sauce rigatoni (with a layer of bechamel sauce on top).
In fact, as I discuss later on, a lot of people even use rigatoni or a similar type of noodle to make their pastitsio recipe.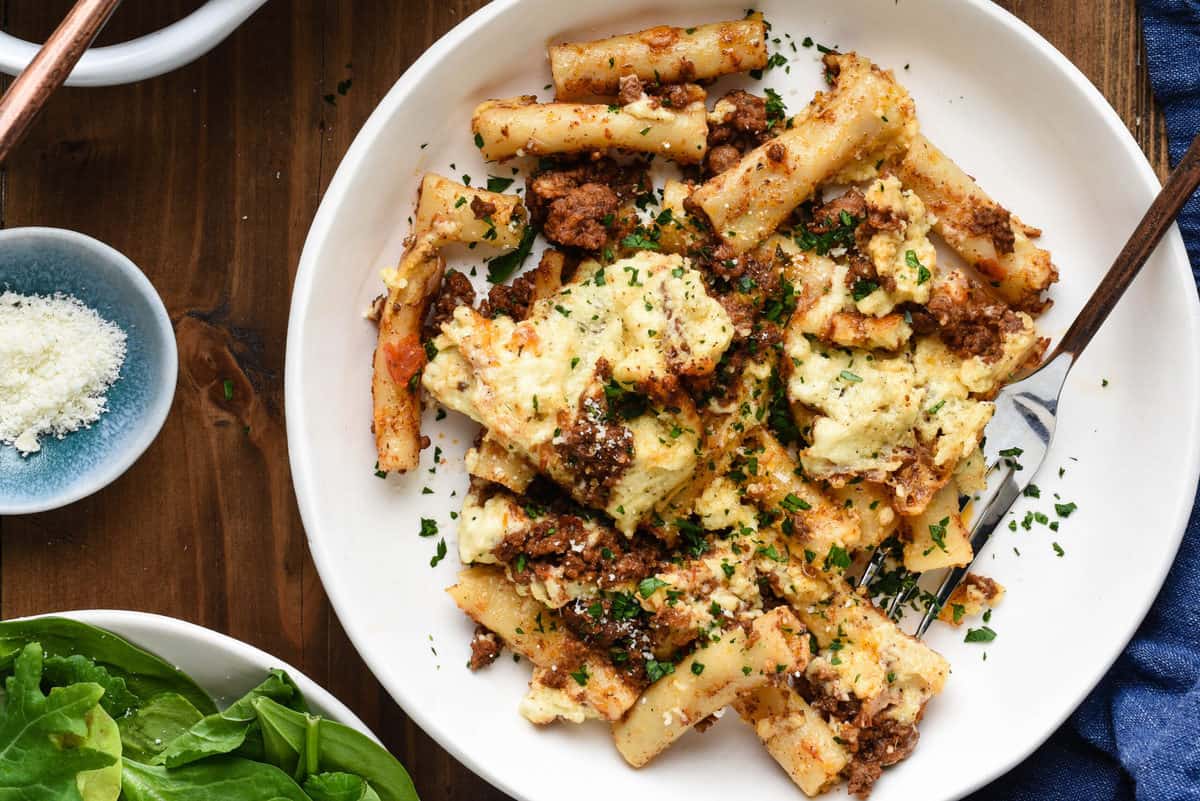 Ingredients for Greek Lasagna
ground beef and/or lamb – I like to use a combination of these two meats to give the dish a rich and meaty flavor, but you could use all one or the other. This is personal preference. More on this below.
onion – this is used to add flavor and texture to the meat sauce.
olive oil – for sauteeing the onion and meat.
red wine – deglazing the pan with wine adds depth of flavor and richness to the sauce.
garlic – because I wouldn't dream of making a lasagna without garlic!
cinnamon – if you're not used to cinnamon in savory dishes, it might seem strange, but don't skip this. It adds a subtle sweetness and complexity to the meat sauce.
salt and pepper – seasoning is always key.
thyme – I like to use fresh thyme for this Greek lasagna recipe when I have it, but you can substitute with half of the amount of dried thyme.
oregano – this is a spice I typically use the dried version of, to add an earthy element to the sauce.
cayenne – adds a bit of heat to the sauce and balances the cinnamon.
canned crushed tomatoes – these are the binder for the meat sauce, and they also add acidity and sweetness to the dish.
butter – this is the start of the bechamel sauce!
flour – will be combined with the butter to create a roux that will thicken the bechamel.
milk and cream – whole milk and heavy cream are the best combo for a rich, velvety sauce. If you use lower-fat substitutes, your sauce will not turn out the same.
Parmesan cheese – this goes into the bechamel sauce, and more is sprinkled on top of the finished dish, too!
nutmeg – just a pinch of nutmeg is used to add a warm, nutty flavor to the bechamel sauce.
eggs – beaten eggs help thicken the bechamel and allow it to set up nice and firm as the pastitsio bakes.
Greek yogurt – plain Greek yogurt adds tanginess and creaminess to the bechamel. Buy a big tub of it and try my Greek yogurt pasta sauce on spaghetti another night!
pasta – I like to use ziti, but I discuss other options below!
parsley – this is an optional garnish but adds a pop of color to the plated dish.
Can I substitute beef for lamb in this Pastichio Recipe?
While I personally love the flavor of lamb, and even use it in lamb tacos and lamb bolognese, not everybody prefers it. It can also be expensive (hello, lamb lollipops).
So yes, you absolutely can use ground beef in place of the lamb in this Greek lasagna recipe. So, you would need two pounds of ground beef total.
What Pastitsio noodles should I use?
If you're lucky enough to have access to a grocery store with lots of authentic Greek products, you may be able to find special pastitsio noodles.
Now, what do the rest of us use? Well, many people like to use bucatini, which is a long noodle similar to spaghetti, but thicker and with a hollow center. I have never personally tried it for pastitsio, but according to Google, it seems to be a popular choice.
I love a lot of the elements of the Ina Garten pastitsio recipe (in fact, my recipe is largely adapted from it), but I do not like her choice of small shells for pastitsio noodles.
I feel that it's too easy to overcook the small shells between boiling them and then baking them. The one time I tried it, the noodles were simply too mushy for me.
Personally, my favorite noodles to use for this Greek lasagna recipe are ziti or rigatoni (or even mezzi rigatoni like in my Skillet Pasta with Sausage).
Here, I've used ziti. I like how this tube shaped pasta is easy to work with and eat, and the tubes collect some of the meat sauce inside.
How to make Pastitsio
This is one of those recipes where you might be in the kitchen a little longer than you would be for a typical weeknight meal, like say, my Mediterranean fried rice or pimento mac and cheese.
In fact, like moussaka, I would consider this a Sunday afternoon project. And to be honest, you'll be using a fair amount of dishes (specifically, pots and pans) to complete this recipe.
However, please don't misconstrue what I'm saying – this recipe is NOT. HARD. In fact, just like my salmon pasta and salmon pesto pasta, I often find myself saying "I forgot how easy this is to make!"
When I say easy, I mean there's not a lot of chopping and no difficult techniques. You just chop one onion, and that's it.
Beyond that, it's simply measuring ingredients and adding them when the recipe tells you to.
It certainly helps to gather all of your ingredients for this Greek lasagna recipe before you start cooking, so you're not scrambling to find the oregano when it's time to add it.
Give this recipe a try yourself, and I think you'll understand what I mean. It takes some time, and some dish washing, but it's not hard.
Can this Pastitsio Recipe be made in advance?
I love just about anything I can assemble and cook later (hello, cornbread breakfast casserole), and making a Sunday afternoon project out of this pastitsio recipe means delicious meals in the weeknights ahead.
And just like with my vegetarian quiche recipe, this Greek lasagna recipe can be made in advance and frozen (directions for doing that below).
One way to make this pastitsio in advance is to simply prepare it as written, all the way up to the part where you bake it. Instead of baking it, wrap it tightly in foil and refrigerate for up to 3 days.
When it comes time to bake and serve, simply let it stand at room temperature for 1 hour before baking as directed.
Another way to make some of this pastitsio recipe in advance, so as to break up some of the work, is to prepare the meat sauce (all the way through Step 5) on one day, and then cool it down, cover and refrigerate it.
Then, on Day 2, you would proceed with steps 6 – 12. You may need to rewarm the meat sauce slightly so that it's loose enough to stir together with the pasta.
How to serve Pastichio
Pasta and salad are a classic combination, and I love mixed greens or spinach with feta salad dressing. Or sometimes I'll do a "village salad" with tomatoes, cucumbers and onions just dressed with olive oil and lemon juice.
A tomato beet salad is also a great match for these Mediterranean flavors. And my Christmas salad is the perfect pairing at any time in the winter, not just Christmas.
If salad isn't your thing, how about a simple vegetable side dish like roasted radicchio or balsamic asparagus? Roasted glazed carrots also a really good pairing here.
How to store Greek Lasagna
Can you freeze Pasticio?
Yes, like my chocolate creme brulee, this Greek lasagna recipe freezes well! What I usually do is prepare and bake the full pastitsio as written below, and then refrigerate the whole thing (or the leftovers after I've served it for dinner once) in the pan overnight.
Trust me, it's MUCH easier to portion and wrap the pieces when the Greek lasagna is chilled than when it is warm.
The next day, I remove the chilled pieces of pastitsio from the pan and wrap them individually in plastic wrap, then foil. I freeze the wrapped pieces in freezer bags.
To reheat, I unwrap as many pieces as I need and place them in a small casserole dish with a little bit of water in the bottom. I cover the dish with foil and bake at 350 degrees F until they are heated through.
Pastitsio FAQs
How do you pronounce Pastitsio?
Pastitsio is pronounced "pas-STEE-tsee-oh," with the emphasis on the second syllable.
What's the difference between moussaka and pasticcio?
While these two dishes share some similarities, they are each distinct.

Moussaka is a traditional Greek layered dish made with eggplant, ground meat (usually beef or lamb), a tomato-based sauce and a creamy bechamel sauce. It doesn't include pasta, although it is served in square slices, almost like a lasagna.

Pastitstio is a Greek layered dish similar to lasagna made with pasta, meat sauce (made with beef or lamb) and bechamel sauce. It does not contain eggplant.
Pastisio
Prep Time:
1 hour
20 minutes
Total Time:
2 hours
20 minutes
Greek Lasagna is comforting layers of noodles, meaty tomato sauce and creamy yogurt bechamel sauce. This pastitsio recipe can be assembled in advance, even frozen, and baked later.
Ingredients
For the Meat Sauce:
2 tablespoons olive oil
1 medium white onion, chopped
1 pound ground beef
1 pound ground lamb
1/2 cup dry red wine
4 garlic cloves, minced
1 tablespoon ground cinnamon
2 teaspoons kosher salt
1-1/2 teaspoons fresh thyme leaves
1-1/2 teaspoons ground oregano
1 teaspoon ground black pepper
1/4 teaspoon cayenne pepper
1 can (28 ounces) low sodium crushed tomatoes in puree
For the Cream Sauce:
4 tablespoons unsalted butter
1/4 cup all-purpose flour
1-1/2 cups whole milk
1 cup heavy cream
3/4 cup shredded Parmesan cheese
1 teaspoon kosher salt
1 teaspoon ground black pepper
1/4 teaspoon ground nutmeg
2 eggs, beaten
2/3 cup plain Greek yogurt
For Assembly and Serving:
12 ounces ziti pasta
3/4 cup shredded Parmesan cheese
2 tablespoons chopped fresh parsley, for garnish (optional)
Instructions
Make the Meat Sauce: In large Dutch oven, heat oil over medium heat. Add onion and cook 4 to 6 minutes or until lightly browned, stirring occasionally.
Add beef and lamb; cook 8 to 10 minutes or until meat is cooked through, breaking up meat with back of wooden spoon as it cooks.
Add wine; cook 2 minutes, stirring occasionally.
Add garlic, cinnamon, salt, thyme, oregano, black pepper and cayenne. Cook 5 minutes, stirring occasionally.
Stir in tomatoes. Heat mixture to boiling over medium-high heat, then reduce to medium-low and simmer 45 minutes, stirring occasionally.
Meanwhile, make the Cream Sauce: In medium saucepan, melt butter over medium heat. Add flour and cook 1 minute, whisking constantly.
Gradually pour in milk and cream while whisking constantly. Cook 5 to 7 minutes or until slightly thickened, stirring frequently.
Remove from heat and whisk in cheese, salt, pepper, and nutmeg. Allow sauce to cool for 10 minutes, then whisk in eggs and yogurt.
To assemble, preheat oven to 350 degrees F. Heat large pot of salted water to boiling over high heat and cook pasta 1 minute less than package instructions for al dente.
Drain pasta and add to meat sauce; toss until well combined. Spread pasta evenly into large baking dish.
Spread cream sauce over pasta evenly. Sprinkle with cheese. Transfer to oven and bake 1 hour or until golden brown and bubbly around the edges. Let stand 10 minutes before serving garnished with parsley.
Recommended Products
Foxes Love Lemons, LLC is a participant in the Amazon Services LLC Associates Program, an affiliate advertising program designed to provide a means for sites to earn advertising fees by advertising and links to Amazon.com. There is no additional cost to you.
Nutrition Information:
Yield:

8
Serving Size:

1
Amount Per Serving:
Calories:

721
Total Fat:

50g
Saturated Fat:

24g
Trans Fat:

1g
Unsaturated Fat:

21g
Cholesterol:

226mg
Sodium:

1354mg
Carbohydrates:

19g
Fiber:

2g
Sugar:

7g
Protein:

45g