Picadillo-Stuffed Chiles Rellenos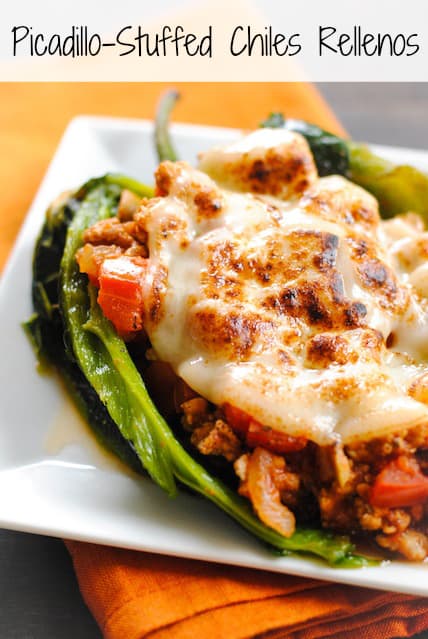 My favorite thing about Sunday Supper is pretending that I'm an Italian grandma, cooking enough food for a family of 10, even though it's just my husband and I. Needless to say, most of my Sunday suppers have tons of leftovers. But as much as I love leftovers, sometimes I want to eat something a little different later in the week.
This week, I guess my inner Italian grandma took a backseat and let my inner Cuban grandma take over at the stove. Yes, I'm a grandma with split-personality disorder at heart. Picadillo is a dish made in many Latin American countries as well as the Phillipines. It's generally made with ground beef (although here I'm using pork), tomatoes, and a variety of other ingredients that vary by region. I love the Cuban version, because it's the dish that finally made me love olives! The first time I made it, the balance of salty olives and sweet raisins really won over my tastebuds, and I couldn't get enough of this dish.
I decided to combine it with another Latin American classic – chiles rellenos (except for my version, I roasted and broiled instead of fried them). I roasted some huge poblano peppers until they were nice and toasty. I rubbed their skins off, then stuffed them with the cooked picadillo mixture. I threw a little Monterey Jack cheese on top and broiled them until the cheese got all bubbly and gooey. Sunday Supper – complete. Plenty of leftovers for a new creation later in the week – check.
Speaking of leftovers, how do you like to re-invent yours? I toss leftover meat and vegetables with some pasta and maybe a simple marinara and call it a new meal. Sometimes I'll break out the wok and stir-fry any extra vegetables I have around. Sandwiches are, of course, a leftover classic, and salads can be interesting, too. I'll be sharing my re-invented picadillo dish on Thursday, so make sure you check back for that. (Update: check out my Picadillo Fried Rice HERE!)
After you make a huge Sunday Supper of your own, be sure to check out American Family Insurance's Back To The Family Dinner Table Campaign. American Family is creating an e-cookbook to inspire families to come back to the table, and we need your help! Share your recipes for your chance to be featured in the cookbook by submitting a family favorite recipe.  You will be entered to win one of six $100 Williams-Sonoma gift cards, and one lucky entry will win one valued at $500! When the e-cookbook comes out later this fall, you'll be among the first to receive a copy. You can also find American Family Insurance on Twitter, Facebook, Pinterest, Google+, YouTube and Linked In.
Picadillo-Stuffed Chiles Rellenos
Yield:
Serves 4, plus leftovers for Picadillo Fried Rice later in the week (or use 8 poblano peppers and 8 slices of cheese to serve 8)
Ingredients
5 large poblano peppers
2 tablespoons extra virgin olive oil
6 garlic cloves, minced
4 bay leaves
1 large white onion, diced
2 pounds ground pork
6 plum tomatoes, seeded and diced
1 can (6 ounces) tomato paste
2 cups water
2/3 cup sliced pimento-stuffed green olives
1/2 cup golden raisins
2 tablespoons cumin
2 tablespoons dried oregano
1 teaspoon kosher salt
1/4 teaspoon cayenne
1/4 teaspoon ground black pepper
4 slices Monterey Jack cheese
Instructions
Preheat broiler to high heat. Place poblano peppers on rimmed baking pan, place under broiler and cook 5 to 7 minutes or until dark brown and blistered on all sides, turning and rotating frequently. Transfer peppers to large bowl; cover with plastic wrap and let stand 5 minutes. Use paring knife and paper towel to scrape/rub skin off peppers. Cut slit in each pepper lengthwise and carefully remove seeds, leaving stem and as much of the peppers as possible intact, as we will be stuffing them later.
Meanwhile, heat oil over medium-high heat in large high-sided skillet. Add garlic, bay leaves and onion; cook 3 minutes, stirring frequently.
Add pork; cook 10 to 12 minutes or until cooked through, breaking up pork with side of spoon.
Add tomatoes, tomato paste, water, olives, raisins, cumin, oregano, salt, cayenne and black pepper; heat to simmering. Reduce heat to low; cook 10 minutes or until most liquid is absorbed, stirring occasionally.
Set 1 poblano pepper aside in refrigerator for use later in the week. Stuff remaining 4 peppers with about 3/4 cup hot picadillo mixture each (you should have about 1/3 of picadillo mixture left for leftovers). Top each pepper with 1 slice cheese. Place under broiler and broil 1 to 2 minutes or until cheese is browned and bubbly. Serve immediately.
This post is sponsored by American Family Insurance. All opinions are my own. Sponsored posts help me pay for the costs associated with this blog (groceries…lots of groceries), and help support me as I pursue a career in recipe development and food photography.