Mexican Roasted Corn (Elote Salad)
Inspired by Mexican roasted corn, this elote salad has a bright and creamy flavor that is always a crowd pleaser. Can be served chilled or at room temperature.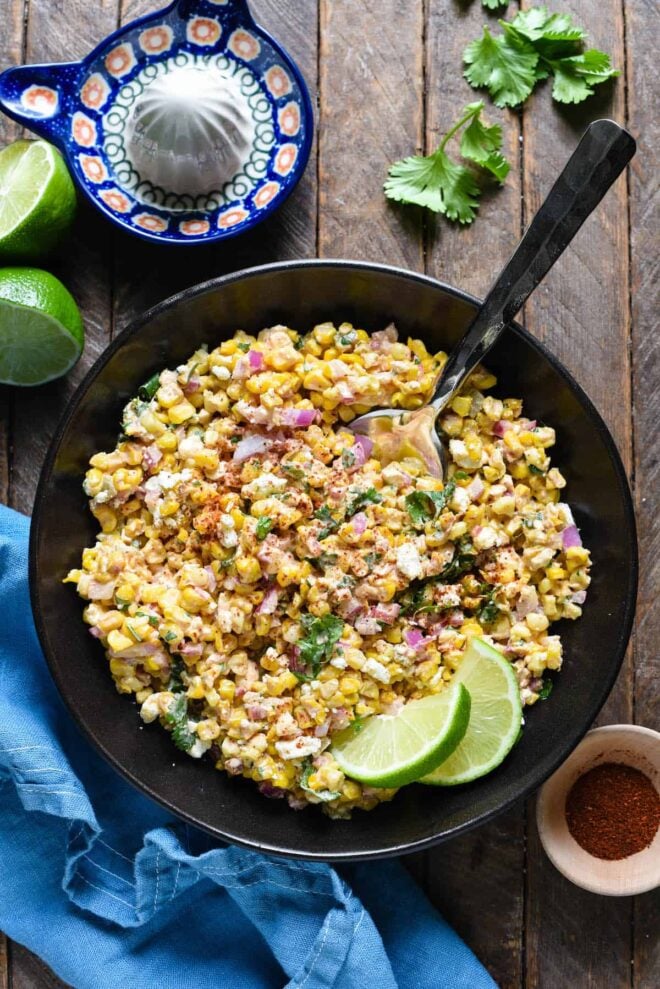 If it's summer, then it's just about time for me to publish some sort of Mexican corn recipe! Here in the Midwest, corn is so plentiful that sometimes it feels like the farmers are almost paying you to take it off of their hands.
Once you get it home, there's all kinds of things to do with it, particularly if you're a fan of the Mexican street food snack called elote.
I love this type of corn so much that I'll put it on top of Mexican bratwurst. I'll serve it in little tortilla cups as mini elote. I'll include it as part of a fajita bar. I've even published a guide on how to make elote in a cup (a DIY-style "bar" for a party).
This elote salad has all the classic flavors of Mexican roasted corn, but served in an easy-to-eat off-the-cob format. Make a round of tequila mojitos or agave lemonade, grill some burgers, and let's make roasted street corn salad!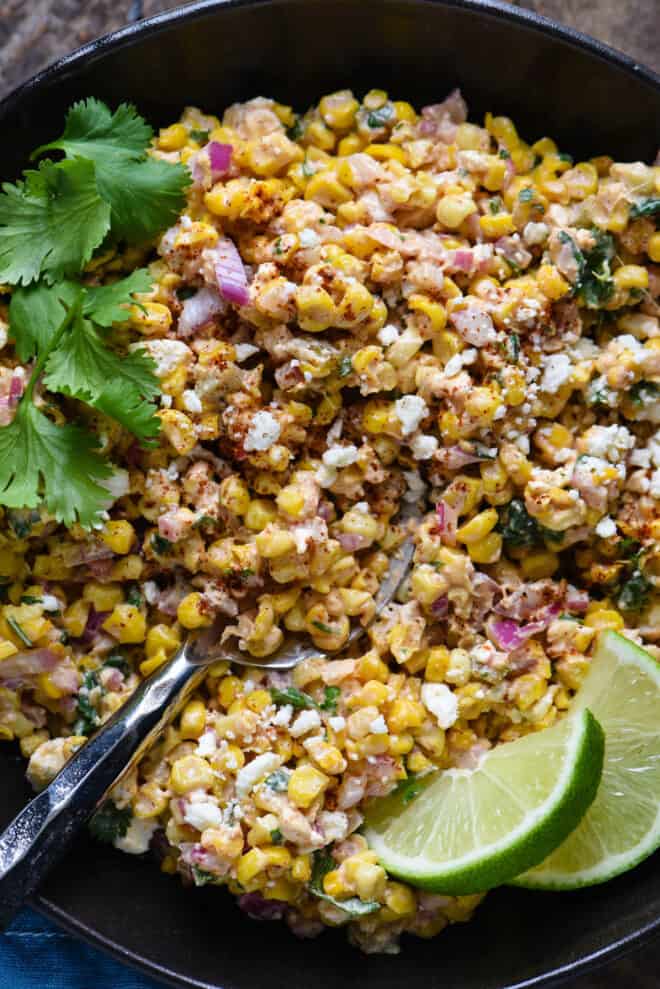 What is elote?:
Traditional elote (Mexican roasted corn) is fresh corn on the cob, generally grilled or boiled, that is coated with mayonnaise and toppings like chili powder, cheese, lime juice and hot sauce.
A version of elote where the roasted street corn kernels are cut from the cob and mixed with the toppings is called esquites. This version is eaten with a spoon.
So, the elote salad recipe below is actually most similar to esquites, although elote seems to be the term that Americans recognize more often.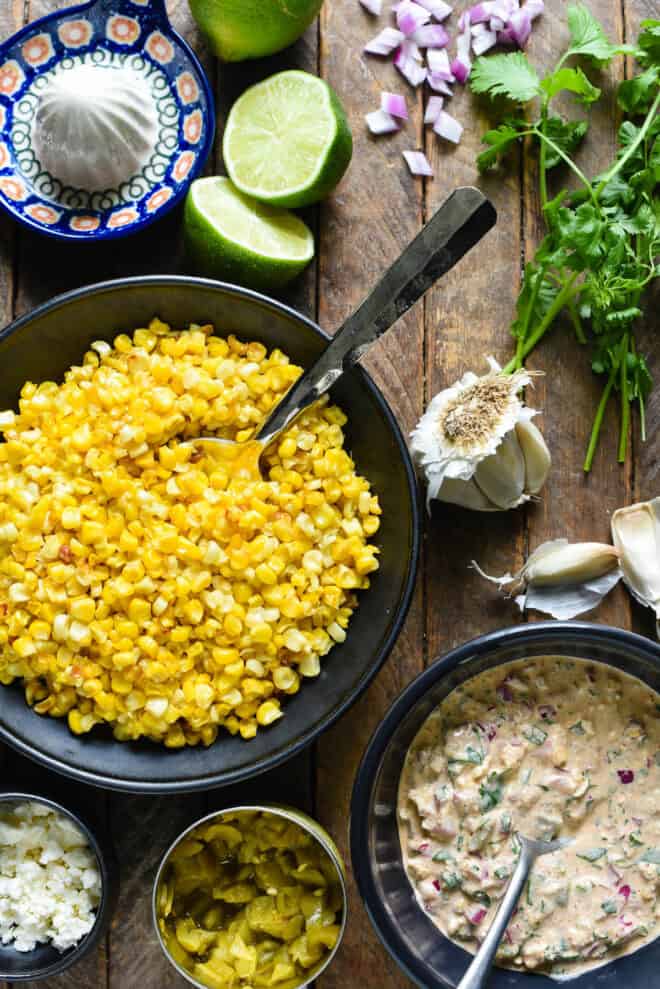 How to make elote salad:
Roasting makes almost any vegetable more delicious, including roasted radicchio and this Mexican roasted corn, so we'll start by roasting the corn for this Mexican corn recipe.
After cutting kernels off of fresh ears of corn (I also love fresh corn in my acini de pepe pasta salad!), roast the kernels for 30 to 40 minutes to bring out their sweetness.
While the kernels are roasting, make the sauce by combining minced garlic, finely diced red onion, crumbled cotija cheese, chopped cilantro, fresh lime juice, diced green chiles (also a key ingredient for my taco mac and cheese), mayonnaise, sour cream, chili powder, cayenne and salt.
When the corn finishes roasting, let it cool just slightly, and then toss the corn with the sauce. Sprinkle the salad with a bit more cheese.
Then, serve it warm right away, or cover and refrigerate it up to 2 days before serving. Serve this elote corn salad next to a slab of root beer ribs or crock pot ribs, along with some Dr. Pepper baked beans and enjoy!
What are the ingredients in roasted street corn?
sweet corn (extra can be used to make mushroom tacos)
diced green chiles
garlic
red onion
cotija or feta cheese
cilantro
lime juice (also a key ingredient in my strawberry Moscow mules!)
mayonnaise
sour cream
chili powder
cayenne pepper
salt
What kind of cheese is in elote corn salad?
I generally like to use either cotija or feta cheese in this roasted street corn salad. Cotija cheese is a dry, firm Mexican cheese that is quite salty. Bon Appetit calls cotija "the salty, crumbly, addictive cheese that we'd find any excuse to eat," and I have to agree!
While it's not something I would eat on it's own, it's saltiness makes it perfect to balance the sweetness of the corn in this elote corn salad.
But if I'm shopping at a store where cotija is not available, I won't go out of my way and make another stop to find it just for this Mexican corn salad. I'll just grab a tub or a chunk of feta cheese to use in this Mexican roasted corn instead.
While not exactly the same, feta has a similar salty flavor profile and crumbly texture as cotija, and works just fine for this elote salad.
For a unique twist, you could even crumble some goat cheese into this salad, especially if you have extra after making my fried goat cheese salad!
Do I have to use fresh corn for Mexican roasted corn? Can I use frozen corn?
Yes, just like with my corn casserole with cheese, you can definitely use frozen corn for roasted street corn! In fact, I've made this elote corn salad using frozen corn myself several times when fresh corn wasn't quite in season in my area.
If using frozen corn, try to thaw and pat the kernels dry before making Mexican roasted corn.
Also, be aware that they may take a little bit longer to roast than fresh corn kernels, because even after you dry them, they'll still likely be a little more "wet" than fresh kernels.
Keep an eye on them while they're roasting, and just cook as long as it takes until they become golden brown.
I have not tried making this elote salad with canned corn, as I prefer frozen to canned when fresh is not available, but I think as long as you pat it dry before roasting, it would work!
I don't like mayonnaise. What can I substitute for it in this elote salad?
Hey, if you're a mayonnaise hater, you can still enjoy this elote corn salad. Just use extra sour cream, or Greek yogurt (you can also use these substitutes in my coleslaw with celery seed and seafood pasta salad).
So, you would need 1/4 cup sour cream or 1/4 cup Greek yogurt if you're leaving out the mayonnaise in this elote salad.
I've tried this roasted street corn salad all three ways, and it's delicious every time.
If you have extra Greek yogurt after making this Mexican corn recipe, try my frozen yogurt pie!
More great summer salad recipes:
All of these salads are great to prep in advance and take to the beach, or on a picnic!
Mexican Roasted Corn (Elote Salad)
Inspired by Mexican roasted corn, this elote salad has a bright and creamy flavor that is always a crowd pleaser. Can be served chilled or at room temperature. 
Ingredients
6 ears of sweet corn, silks and husks removed
Nonstick cooking spray
2 small garlic cloves, minced
1/2 small red onion, finely chopped (about 1/2 cup)
3/4 cup crumbled cotija or feta cheese, divided
1/4 cup coarsely chopped fresh cilantro
3 tablespoons fresh lime juice
2 tablespoons canned diced green chiles
2 tablespoons mayonnaise
2 tablespoons sour cream
1/2 teaspoon chili powder
1/8 teaspoon cayenne pepper (or 1/4 teaspoon if you'd like it more spicy)
1/4 teaspoon kosher salt
Instructions
Preheat oven to 375 degrees F. Cut corn kernels from cobs. Spray rimmed baking pan with nonstick spray. Spread corn in single layer on prepared pan. Roast 30 to 40 minutes or until golden brown, stirring twice.
Meanwhile, in large bowl, stir together garlic, onion, 1/2 cup cheese, cilantro, lime juice, green chiles, mayonnaise, sour cream, chili powder, cayenne and salt.
Let corn cool slightly, then toss with mayonnaise mixture until well combined. Serve sprinkled with remaining 1/4 cup cheese. Serve immediately, or cover and refrigerate for up to 2 days. Can be served cold or at room temperature.
Recommended Products
Foxes Love Lemons, LLC is a participant in the Amazon Services LLC Associates Program, an affiliate advertising program designed to provide a means for sites to earn advertising fees by advertising and links to Amazon.com. There is no additional cost to you.
Nutrition Information:
Yield:

4
Serving Size:

1
Amount Per Serving:
Calories:

313
Total Fat:

18g
Saturated Fat:

7g
Trans Fat:

0g
Unsaturated Fat:

8g
Cholesterol:

36mg
Sodium:

547mg
Carbohydrates:

31g
Fiber:

4g
Sugar:

8g
Protein:

12g