Seafood Pasta Salad (with Crab and Shrimp)
This seafood pasta salad is a New England summer vacation in a bowl! Creamy pasta shells are tossed with Old Bay seasoning, lots of shrimp and crab, lemon, onion, celery and herbs.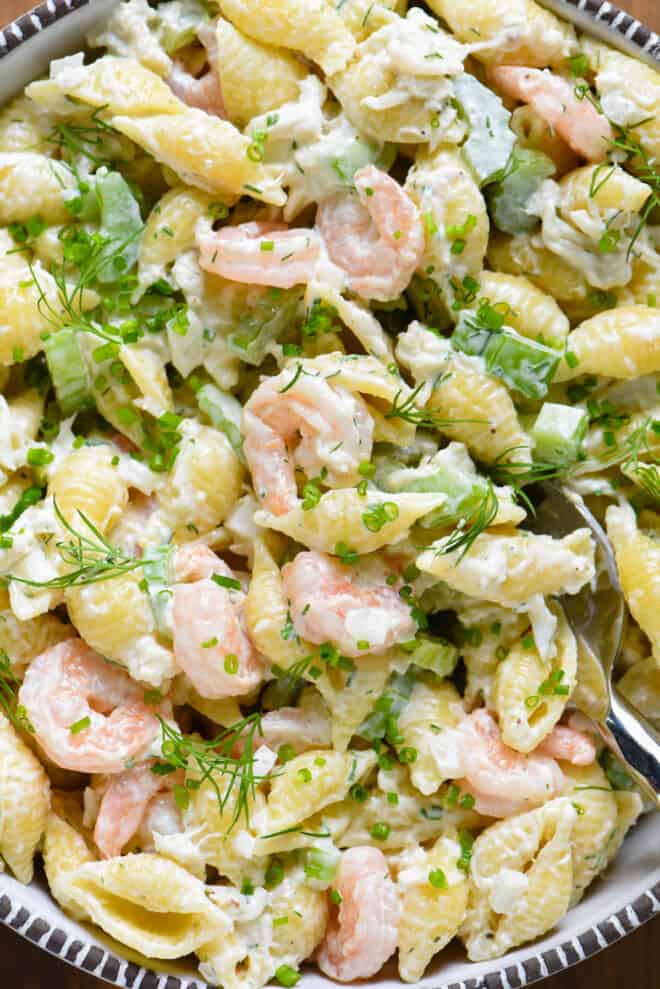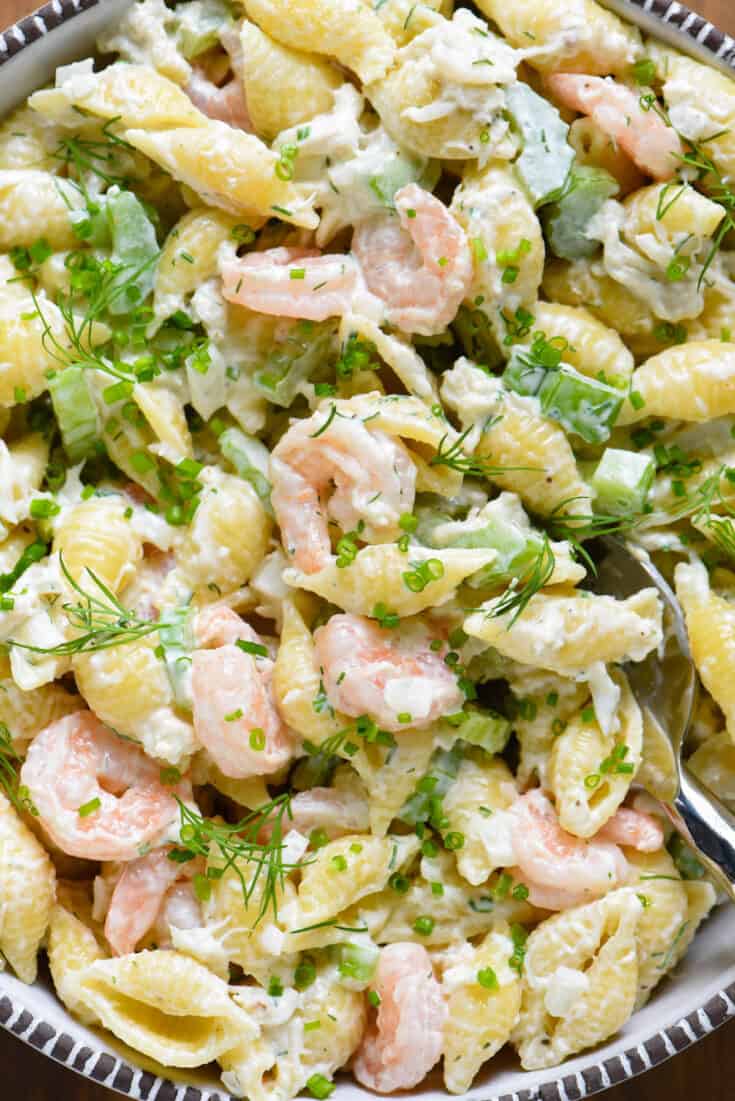 With as much as I love seafood, I think I could easily move to New England and fit right in. But maybe I'd bring a few Midwest quirks with me, like buttermilk grilled chicken and watermelon feta salad, and a deep love of pasta salad of all kinds.
Whether it's my mom's classic macaroni salad that I grew up with, or fancified versions full of tomatoes and asparagus like my goat cheese pasta salad and acini de pepe pasta salad, cold noodle dishes are a staple on my dinner menu in the summertime.
And while I generally think of shrimp as a main dish protein for my coconut risotto, shrimp ramen or buffalo shrimp pizza, it really fits right into pasta salad quite nicely.
This seafood pasta salad recipe with both shrimp and crab is my virtual trip to New England this summer. Don't forget to pack the Old Bay seasoning!
What is in this seafood pasta salad recipe?
pasta – I used medium shells, since they kind of remind me of the ocean (they're also a great shape for slow cooker beef stroganoff and chicken stroganoff). You can also use elbows to make seafood macaroni salad; bowties and fusilli are also popular choices for this seafood pasta salad recipe.
mayonnaise – not "salad dressing," please. Real mayo, Hellman's preferred for this pasta salad with seafood! (same for my elote corn salad).
sugar – just a teaspoon, which helps bring out the natural sweetness of the crab (works like a charm in potato salad with bacon, too).
lemon juice – freshly squeezed from a real lemon. Buy an extra lemon so you can make a lemon smoothie, too!
Old Bay seasoning – absolutely crucial to get that "New England" flavor into this crab and shrimp pasta salad. This seasoning mix includes celery salt, black pepper, crushed red pepper flakes and paprika. It's also perfect in shrimp deviled eggs.
salt – for a little extra seasoning.
shrimp – look for a bag of frozen "salad shrimp" at the store. This is very small (100+ or even 200+ per pound) cooked, peeled and deveined shrimp. Just thaw and it's ready to eat! If you can't find this, you can buy larger cooked shrimp and chop them up into bite-sized pieces (like I do for shrimp wonton soup).
crab meat – I used canned, lump crabmeat. It wouldn't be my first choice, but you CAN use imitation crabmeat here, especially if you have some left over from a crab rangoon pizza or something.
celery – two stalks, chopped up, for crunch! Use any extra celery to make the green sauce that goes with my chilean sea bass recipe, or my rigatoni bolognese recipe.
onion – I carefully measure this out so I'm sure I'm using 1/4 cup. Just enough to lend the shrimp and crab pasta salad a little onion flavor, but not so much that it overpowers the flavor of the seafood.
dill – I love the flavor of fresh dill, but you can also use half the amount of dried dill. Extra dill can be used in pimento mac and cheese.
chives – thinly sliced green onion (green parts only) also works.

Extra chives can be used in my summer beet salad recipe or sprinkled over roasted garlic dip.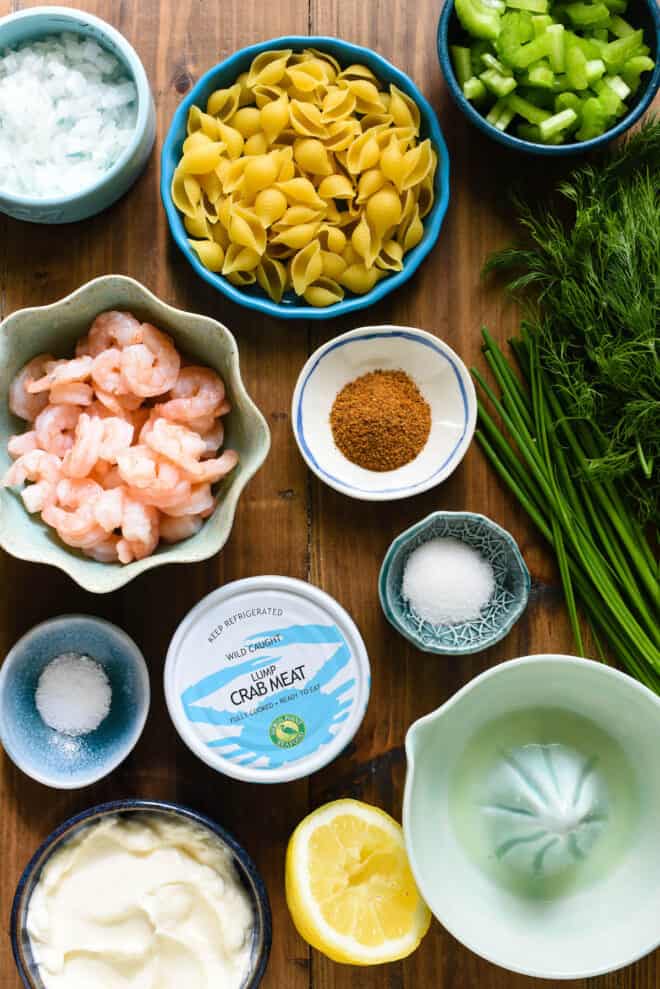 How to make crab and shrimp pasta salad:
First, get your water boiling. When it's boiling, add a generous amount of salt, and the pasta, and cook according to the package instructions for "al dente."
Thaw the shrimp in a colander under some cold running water, if necessary, and open the can of crabmeat.
Chop up the vegetables (onion and celery) and herbs (dill and chives).
Then, make the shrimp and crab pasta salad dressing by stirring together the mayonnaise, sugar, lemon juice, Old Bay and salt. Make the dressing in a bowl large enough to add all the other salad ingredients.
By now, the pasta should be done cooking. Drain it, rinse it under cold water to stop the cooking process, then drain it again, very well.
Add the pasta to the bowl with the dressing, along with the seafood, vegetables and herbs. Gently toss everything together with a spatula, and this crab and shrimp pasta salad is done!
Cover and refrigerate this seafood pasta salad at least two hours before serving (or up to two days) to allow the flavors to develop. Whip up some steak lettuce wraps or my country style pork ribs recipe (it's one of my very favorite side dishes for ribs) for dinner while you wait!
Can you make this shrimp and crab pasta salad the night before? How long does it last?
Yes! You can make and refrigerate this seafood pasta salad for up to two days, so I highly recommend making it the night before you plan on serving it.
Can you freeze seafood pasta salad?
The answer here is that you probably COULD freeze this shrimp and crab pasta salad, but I really don't recommend it.
One time I tried to freeze some traditional pasta salad (just noodles, Italian dressing and veggies), and honestly, once it was thawed again, the texture was just off. It really wasn't too enjoyable to eat the second time around.
Not only will the texture of the noodles in this seafood pasta salad recipe suffer, but I don't think the texture of the shrimp and crab will be very good after freezing and thawing.
So, just like my salmon pasta and salmon pesto pasta, this recipe is best eaten fresh, not frozen.
So, if possible, refrigerate this crab and shrimp pasta salad and eat it within two days of making it for the best flavor and texture.
What can I do with leftover dill and chives?
You'll probably have leftover herbs after making this crab and shrimp pasta salad. But don't worry, they don't need to go to waste.
Chives are most often used as a garnish, such as for ham and potato soup or phyllo cup appetizers. Chives can also be used to make my homemade tartar sauce easy. I also love chives sprinkled over my fried goat cheese salad if I have them on hand.
Extra dill left over from pasta salad with seafood can be used to make lemon herb mayonnaise for a smoked salmon BLT. Chives are also a key ingredient in yogurt dipping sauces for my Greek chicken meatballs and air fryer turkey meatballs.
Or, if you're so inclined, Better Homes & Gardens has a nice tutorial on how to freeze fresh herbs.
My favorite main dishes to serve with shrimp and crab pasta salad:
Honestly, a lot of times (especially on really hot summer days), I'll eat this seafood pasta salad as my entree. I've even been known to serve it on a brunch buffet.
But, if I'm serving it more as a side dish to a main course for dinner, some of my favorite entrees to serve this with are crock pot ribs (don't forget the dry rub recipe), grilled zucchini roll ups and my umami burger recipe.
More Foxes Love Lemons Favorites
Seafood Pasta Salad
This seafood pasta salad is a New England summer vacation in a bowl! Creamy pasta shells are tossed with Old Bay seasoning, lots of shrimp and crab, lemon, onion, celery and herbs.
Ingredients
1/2 pound medium shell pasta
3/4 cup + 2 tablespoons mayonnaise
1 tablespoon lemon juice
1 teaspoon granulated sugar
1 teaspoon Old Bay seasoning
1/2 teaspoon kosher salt, plus additional for pasta water
6 ounces salad shrimp, thawed and patted dry
4 ounces lump crabmeat
2 celery stalks, chopped
1/4 cup finely chopped white onion
2 tablespoons chopped fresh chives
2 tablespoons chopped fresh dill
Instructions
Heat large pot of salted water to boiling over high heat. Add pasta and cook according to package directions for al dente. Drain pasta, rinse with cold water, and drain again.
Meanwhile, in large bowl, whisk mayonnaise, lemon juice, sugar, Old Bay and salt until smooth. Add shrimp, crabmeat, celery, onion, chives, dill and pasta; toss until well combined.
For best flavor, cover and refrigerate at least 2 hours or up to 2 days before serving.
Recommended Products
Foxes Love Lemons, LLC is a participant in the Amazon Services LLC Associates Program, an affiliate advertising program designed to provide a means for sites to earn advertising fees by advertising and links to Amazon.com. There is no additional cost to you.
Nutrition Information:
Yield:

6
Serving Size:

1
Amount Per Serving:
Calories:

205
Total Fat:

8g
Saturated Fat:

1g
Trans Fat:

0g
Unsaturated Fat:

6g
Cholesterol:

61mg
Sodium:

497mg
Carbohydrates:

21g
Fiber:

2g
Sugar:

2g
Protein:

11g