Smoked Salmon & Avocado Mousse Phyllo Cups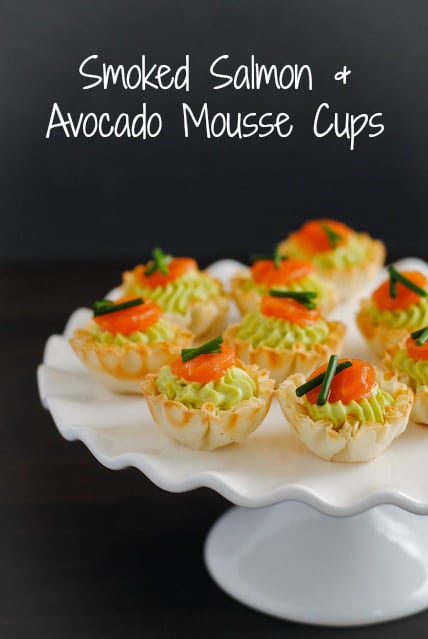 I've been working on a huge project for the last few months. My husband and I are taking a trip to Italy and the Greek Islands later this year! This is especially huge for me, as I've never been out of the United States, except to Canada (which sort of counts because you go through customs, but doesn't really count because Canada is 23 minutes from my house).
But I say that it's a huge project because my least favorite part of any trip is actually planning the trip. Luckily, we've had the help of a travel agent, but we've still had to decide where we want to go, when we want to do it, how long we want to stay in each place, and what we want to see while we're there.
Please don't think I'm complaining about planning an amazing European vacation, but if I could just be magically whisked away instead? Yeah, I'd take that option.
It's also a huge project because we'll need to save money for our trip of a lifetime this year! A trip like this doesn't exactly come cheap, but I know it'll be worth every penny that we're able to set aside. That's why I'll be looking for ways to celebrate occasions we have throughout the summer (our wedding anniversary, birthdays, get-togethers with friends) in an affordable but special way.
I love the refreshing, crisp flavor of prosecco, and thought it would pair well with a wide range of foods, from fancy party bites to sweet desserts. Because I so enjoy little one-bite nibbles, I paired prosecco with these phylllo cups filled with a quick avocado "mousse" and little circles of smoked salmon (smoked salmon lovers will not want to miss my smoked salmon pizza).
Because these Smoked Salmon & Avocado Mousse Phyllo Cups are small but full of flavor, and prosecco is such an affordable luxury, you can throw a party without spending too much money. Perfect for somebody saving to be whisked away to Italy!
Smoked Salmon & Avocado Mousse Cups
Ingredients
2 ripe avocados, peeled and pitted
1/4 cup sour cream
2 ounces smoked salmon
1 box (15 count) mini fillo (phyllo) shells, thawed
3 chives, roughly chopped
Instructions
In food processor, puree avocados and sour cream until smooth.
Using 3/4-inch round cutter, cut 15 circles from smoked salmon. Alternatively, just use a sharp knife to cut salmon into small squares or pieces.
Use a star-tipped piping bag to pipe avocado mixture into phyllo shells, or use a small spoon to scoop it in.
Top each phylllo shell with a piece of smoked salmon and chopped chives.