Almond & Broccolini Salad
You know how sometimes, the simplest meals, the ones you're not expecting anything great from, end up blowing your mind? Additionally, you know how sometimes, meals you have on vacation end up being a flavor souvenir (is that a thing? no?). This is the tale of when both of those forces collided and I went nuts.
Jeff and I visited Montreal last summer, with no real agenda other than to rent bikes from the bike-on-demand system (Bixi) that was all over the city, and to eat at a few great restaurants. After a morning of biking like mad and doing a good bit of walking as well, we needed a quick lunch.
We ducked into a little coffee shop called Olive & Gourmando, expecting nothing more than a simple sandwich and salad that would give us some fuel for the entirely uphill bike ride back to our hotel.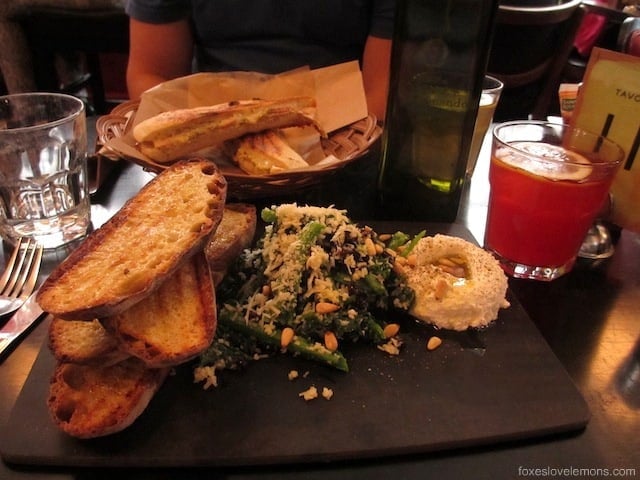 Many of the meal choices were presented in a glass-front cooler, and I was won over by the slate board presenting a broccolini salad, ricotta cheese and toasted baguette. I ordered it because it was visually beautiful, but as soon as I started eating, all I could do was make grunting noises and mumble "soooo gooooood" between bites.
All of the elements separately were perfect. The bread was crunchy and warm. The ricotta was soft, super-spreadable and lusciously topped with olive oil. And the broccolini salad was cold, crunchy, and a flavor explosion – the broccolini was sort of bitter, which was balanced by the sweet currants, salty Parmesan cheese, and nutty (of course) pine nuts.
All of the flavors and textures on the plate worked in perfect harmony, and I simply couldn't stop raving about how amazing it was.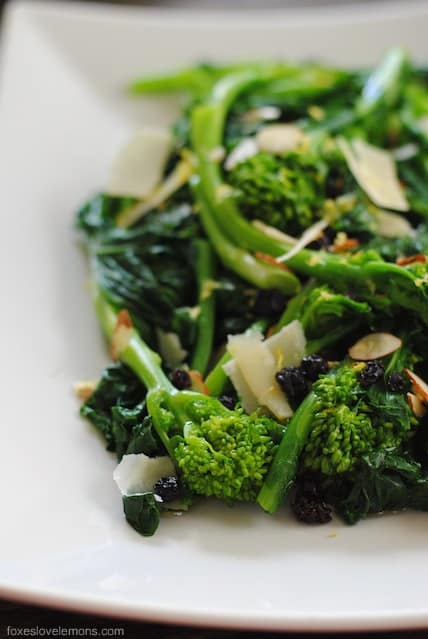 Because I won't be heading back to Montreal anytime soon (I'd love to, but too many other places to visit first!), I decided to try to re-create some of the magic at home. I skipped the baguette and ricotta this time, and just focused on creating a broccolini salad with a perfect balance of flavors.
I used currants, sliced almonds, and shaved Parmesan, and topped it all with a drizzle of olive oil and lemon juice. It can be served as a warm side dish (skip the ice water bath for the broccolini) or cold salad. It transports me right back to Montreal and that cute little coffee shop meal that ended up blowing my mind.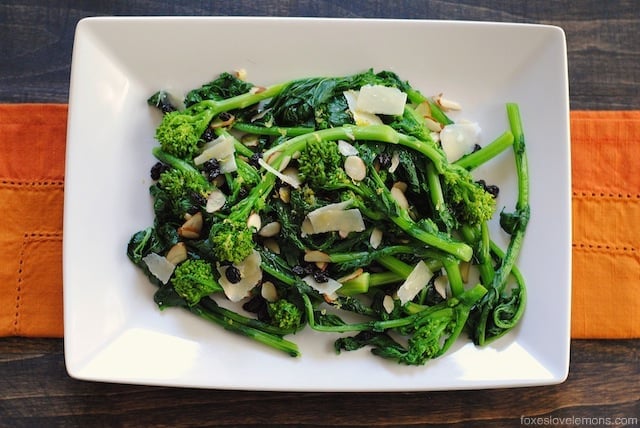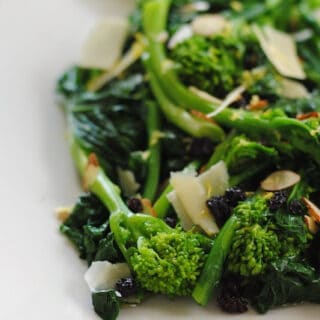 Almond & Broccolini Salad
Ingredients
2 bunches broccolini, ends trimmed
2 tablespoons extra virgin olive oil
2 tablespoons fresh lemon juice
1/4 cup Naturebox Zingy Currants
2 tablespoons shaved Parmesan cheese
2 tablespoons sliced almonds
1 teaspoon grated lemon zest
Instructions
Bring a large pot of salted water to a boil. Prepare an ice water bath – fill a large bowl with ice and water. Blanch about 1/4 of broccolini in boiling water until stems are tender-crisp, about 2 to 3 minutes, depending on thickness of stems. Using tongs, transfer broccolini to ice water bath. Repeat with remaining broccolini. Drain broccolini well.
Transfer broccolini to serving platter. Drizzle with oil and lemon juice. Sprinkle with Zingy Currants, Parmesan cheese, almonds and lemon zest.