Gingered Mulberry-Orange Crumble with Pecan Crunch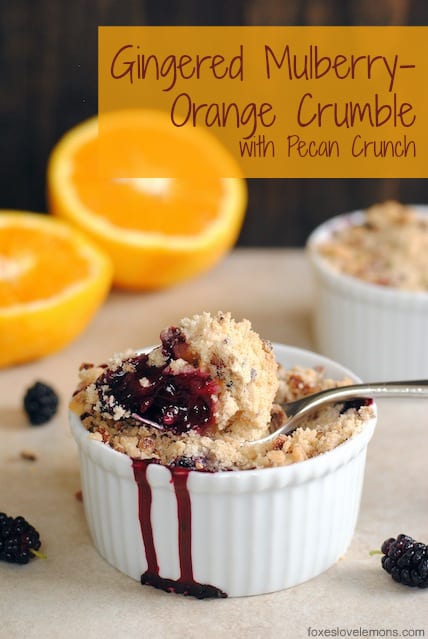 Something compelled me to do another mulberry dish. According to my rough estimate, my backyard trees are producing about one million berries (ok, this may be a high estimate). TheMulberry-Ginger Sorbet went a long way to making me feel better about all of the fruit just going to waste back there. But with the mulberry season winding down, I wanted to squeeze in one more use for them this summer.
Since the cold dessert mulberry option was already taken care of, a hot oven-baked treat was in order. And nothing says "I have an abundance of fruit I need to use up" like a crumble/crisp/cobbler (what's the difference? Food 52 tries to answer this age-old question here).
Even though I used ginger in the sorbet as well, I still had it on hand. Last time I told Jeff to pick up some fresh ginger while grocery shopping, he returned with a piece the size of my forearm. So yeah, I'm still using it. I thought that a citrus fruit like orange would play nicely with these flavors, and give the mulberries the acidity they so badly need. For the topping, I did a riff on a basic streusel topping I learned in culinary school, and added some chopped pecans.
Feel free to substitute blackberries here if you're not lucky enough to have overgrown yard nuisances giant mulberry trees dotting your landscape.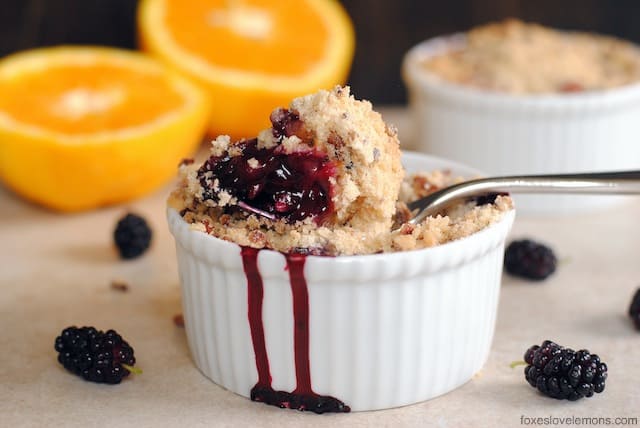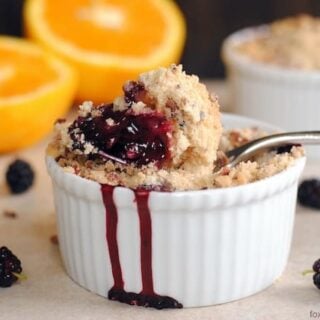 Gingered Mulberry-Orange Crumble with Pecan Crunch
Ingredients
For the Pecan Streusel Topping:
4 tablespoons unsalted butter
2 tablespoons granulated sugar
2 tablespoons light brown sugar
3/4 cup all-purpose flour
1/4 teaspoon cinnamon
Pinch of salt
1/4 cup finely chopped pecans
For the Mulberry Mixture:
3-1/2 cups mulberries (stems removed), or blackberries
7 tablespoons granulated sugar
3 tablespoons flour
2-1/2 tablespoons fresh orange juice
5 teaspoons grated orange zest
1 teaspoon grated fresh ginger
Instructions
Preheat oven to 350 degrees F. Make Pecan Streusel Topping: Mix butter and sugars on medium speed for 5 minutes or until sugars appears to be dissolved in butter. In a small bowl, stir together flour, cinnamon and salt. Rub butter mixture into flour mixture until you get coarse crumbs. Stir in pecans. Spread streusel on plate or small baking pan and place in freezer 20 minutes.
Meanwhile, make Mulberry Mixture: In a large bowl, gently toss together all ingredients. Divide mixture between 6 (6-ounce) oven-safe ramekins. Place ramekins on rimmed baking sheet. Divide Pecan Streusel Topping over mulberries.
Bake 15 minutes or until bubbly. Let stand 5 minutes before serving.