Breakfast Fried Rice
Break out a big cast iron skillet and feed a crowd with this Breakfast Fried Rice. Full of sausage, eggs and lots of veggies, this will keep you fueled all morning.
In culinary school, one of the early classes I took was called "Breakfast & Pantry." Each morning, the class was responsible for putting on a HUGE brunch buffet that was open to the public for a shockingly small fee.
When I say huge, I mean huge. The class was divided into groups.
One group would do eggs, another would do meats, a third group would make pancakes and waffles and french toast, and the fourth group was responsible for fruit, salads, sandwiches and any other miscellaneous items.
On the finished buffet, there would be omelets, vegetarian quiche, scrambled eggs, eggs benedict, deviled eggs and frittatas on one line.
There was waffles AND pancakes AND crepes AND ice cream French toast in another section. Another area would have multiple kinds of sandwiches and a few salads.
There was a huge fruit platter or cups of fruit salad. There was sausage AND bacon (that was how I learned how to cook bacon in the oven), AND ham, AND usually a smoked salmon platter.
As if that wasn't enough, there was always homemade biscuits with sausage gravy, homemade pastries and breads, and probably a bunch of other things I'm forgetting. Oh, and breakfast fried rice.
The best part was that I believe this buffet was $10 or less. I mean, this was back in 2010, but still – what a deal. Seriously, if you have a culinary school locally, see if they have a student-run restaurant that you can go to!
I've already shared many culinary school techniques and recipes with you, and today we'll be chatting about breakfast rice!
Why I love this breakfast fried rice recipe:
It turned out, breakfast rice wasn't just a culinary school thing. On a trip to Maui, Hawaiian fried rice was always on our hotel's brunch buffet, too! And you know what? Why not?
It has eggs, sausage, a little bit of carbs to get you going for the day, and you can fill this cast iron fried rice with a decent amount of veggies if you want, too.
I'm into it, especially for feeding a crowd (my egg muffins recipe being another favorite for a group). Break out the biggest cast iron skillet you have (or two for a double batch if you need it), and you can feed the whole crew with one easy dish with this sausage fried rice.
What you'll need to make breakfast rice:
sausage – you'll want to use the type that's sold in a roll for this cast iron fried rice (like Jimmy Dean or Bob Evans), so you can crumble it as it cooks. Pork sausage is super flavorful, but turkey sausage (like Jennie-O) is a lower fat alternative.
rice – you'll need 4 cups of precooked white rice before you start making fried rice. It's even better if it's made the day before and cooled down.
yellow onion – I used yellow onion for this breakfast fried rice recipe, but white onion is great, too.
green onions – yes, two types of onions! This is what we did in culinary school, so it's what I'm doing now. Feel free to omit the green onions if one type of onion is enough for you.
eggs – it's not fried rice without scrambled egg bits! You will need 3 large eggs.
spinach – I sneak an entire box of spinach into my breakfast rice to get started on my veggie intake for the day. It wilts right down into practically nothing in this fried rice with sausage. I also love sneaking it into my sweet potato breakfast casserole and salmon spaghetti.
peas – I'm not a huge pea lover when eaten on their own, but I love them in fried rice. I sneak them into rigatoni bolognese and fettuccine bolognese sometimes, too. I used frozen peas here.
nonstick cooking spray – this will be helpful for cooking the eggs without having them stick to your skillet.
soy sauce – this is the traditional seasoning for fried rice. It's also my secret weapon for homemade gravy and balsamic glaze!
maple syrup – this is certainly UNtraditional for fried rice, but I love the touch of sweetness it adds, and after all, it's breakfast!
ground black pepper – for seasoning the sausage fried rice. You can also use ground white pepper!
avocado – sliced, ripe avocado makes a great garnish and adds fiber (also so good on Sonoran hot dogs), but this part is optional.
sriracha – for serving, if anybody wants to add a little heat to their fried rice for breakfast.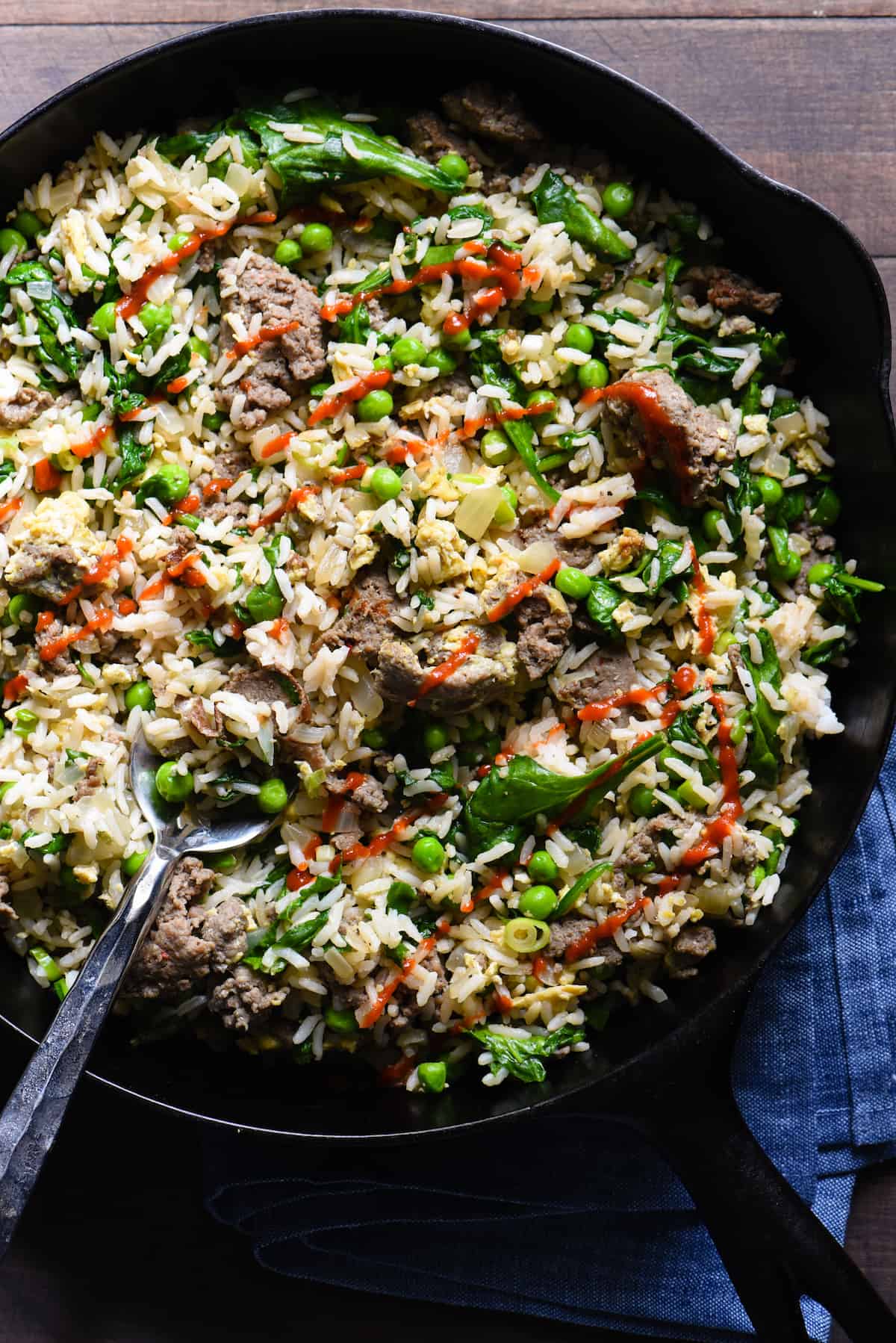 How to make sausage fried rice:
First, grab a wok, a cast iron skillet, or the largest, heaviest skillet you have. Personally, I like to use a cast iron skillet for breakfast rice (and orange glazed chicken), because the pan achieves a hot, even heat perfect for creating some little crusty bits (which are little flavor bits, really).
Get the skillet nice and hot, then add the sausage. Cook the sausage until it is almost all the way cooked through, crumbling it as it cooks.
Add the yellow onion and continue cooking until the onion is softened.
Then, you'll reduce the heat a little bit, and make a well in the center of the pan by pushing the sausage mixture to the outside edges of the pan.
This well is where you're going to put your eggs! This is the same technique I use for Mediterranean fried rice, too.
I find it helpful to first spray the well with nonstick spray so that my eggs don't stick when I pour them in. If you're using a nonstick skillet, you can skip this step.
Cook the eggs for a few minutes, and stir them constantly as they cook so that they scramble!
Next up, you're going to be stirring in all of the remaining ingredients – the rice, along with the spinach, green onions, peas, soy sauce, maple syrup and black pepper.
Forget about the well situation and use the entire pan to throughly toss together all of the ingredients. Cook a few minutes longer or until the spinach is wilted and everything in the sausage fried rice is warmed through.
Serve the breakfast fried rice right away, topped with avocado and sriracha, if you want!
Serve this with a special breakfast drink!
With this breakfast fried rice recipe being so easy and coming together in one pan (if you've cooked the rice the day before), you should have a bit of extra time to make a special brunch drink!
Mimosas and bloody marys are classics, of course. Don't forget the everything bagel bloody mary rim salt and an epic garnish for a bloody mary, too!
You could also try your hand at a fancy coffeehouse style drink at home by using my homemade caramel syrup for coffee to make caramel coffee or caramel iced coffee to serve with this breakfast rice.
More great brunch recipes:
Brunch is definitely one of my favorite meals! Sweet or savory, it's endlessly fun to come up with new recipes for it.
Breakfast Fried Rice
Break out a big cast iron skillet and feed a crowd with this Breakfast Fried Rice. Full of sausage, eggs and lots of veggies, this will keep you fueled all morning.
Ingredients
1 package (16 ounce roll) sausage (pork or turkey)
1 medium yellow onion, chopped
Nonstick cooking spray
3 eggs, lightly beaten
1 package (5 ounces) fresh baby spinach
4 green onions, thinly sliced
4 cups prepared white rice
1 cup frozen peas
1 tablespoon maple syrup
1 tablespoon soy sauce
1/4 teaspoon ground black pepper
Avocado, for serving (optional)
Sriracha, for serving (optional)
Instructions
Heat large cast iron or other heavy skillet over medium-high heat. Add sausage to skillet and cook 8 minutes or until sausage is almost cooked through, breaking up sausage with back of spoon as it cooks.
Add yellow onion to skillet and cook 3 to 5 minutes or until onion is softened and sausage is cooked all the way through, stirring occasionally.
Reduce heat to medium; push sausage mixture to outside edges of pan. Spray center of pan with cooking spray; pour eggs into center of pan. Cook 1 to 2 minutes or until eggs are hard scrambled, stirring constantly.
Stir in spinach, green onions, rice, peas, maple syrup, soy sauce and pepper. Cook 4 to 5 minutes or until spinach is wilted and everything is warmed through, stirring frequently.
Serve topped with avocado and sriracha, if desired.
Notes
Home Chef Tip: Fried rice works best with day-old rice! Use leftovers from Chinese carryout, or make a batch of rice the night before. Spread the cooked rice on a small rimmed baking pan lined with parchment paper. Transfer to refrigerator and let sit, uncovered, overnight.
Recommended Products
Foxes Love Lemons, LLC is a participant in the Amazon Services LLC Associates Program, an affiliate advertising program designed to provide a means for sites to earn advertising fees by advertising and links to Amazon.com. There is no additional cost to you.
Nutrition Information:
Yield:

6
Serving Size:

1
Amount Per Serving:
Calories:

467
Total Fat:

23g
Saturated Fat:

8g
Trans Fat:

0g
Unsaturated Fat:

14g
Cholesterol:

158mg
Sodium:

818mg
Carbohydrates:

41g
Fiber:

3g
Sugar:

6g
Protein:

23g
Nutrition information was calculated using pork sausage. Calculations do not include optional ingredients. This website provides estimated nutrition information as a courtesy only. You should calculate the nutritional information with the actual ingredients used in your recipe using your preferred nutrition calculator.